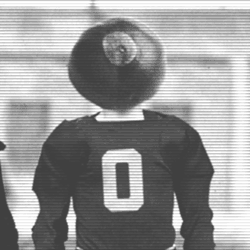 slovak71
---
MEMBER SINCE September 01, 2010
Recent Activity
ESPN: 50 percent of Top 10 comprised of SEC teams.
Velazquez carrying on the tradition of flapping gums before even doing a damn thing. Win first and then talk smack. Don't be another Kalis, Malzone, Hart, Higdon and countless others. STFU and get your DeSales degree.
Yeah, wasn't Nuge 6-6 on the year?
You beat me to it. This is my memory of Sam McGuffie in The Game.
UNC. Academic. That's rich!
Wow! Eastern Bloc architecture in 2017.
This game was awesome. I'm glad u brought this up.
It's amazing. I kinda follow recruiting and remember this guy as a must-get for us (same with Jordan Hicks who was drafted). Then I know he plays for Bama but don't follow him much to know if he is a good pro prospect or not. I see names that I have heard like O'Leary at Florida State and wonder why these guys aren't drafted or drafted in mid-rounds. I think I would be a horrible scout.
Yeah. I saw that piece about Tough Enough on Sunday. Yeah, I think it was a collection of applicants they have received. I went on the WWE website and they show some of the videos from some applicants. I could not find his though. Hope he makes it.
Great job! Always wondered why this day didn't happen sooner. Ohio is a great wrestling state. congrats Bucks!
I always thought the same thing about the letterman jackets when I was in school. Don't understand it.
I was there and loved when Heuerman made mention of something about the fact that many teams don't get this type of crowd for actual games.
I wish it were duck instead of chicken. Not that it's actually chicken, but...
I like Roasted. Seems to be a lazy editor, but it's gold.
https://www.youtube.com/watch?v=15ck6_Hl5jY
Is this to match the Durkin (Ytown) hire?
Locales need to be switched but from the theme song to BJ and the Bear.

Rollin' down to Dallas,
Who's providin' my palace,
Off to New Orleans or who knows where.
Places new and ladies, too,
I'm B.J. McKay and this is my best friend Bear.