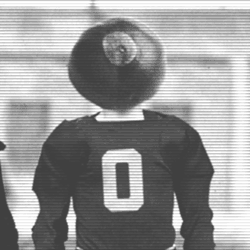 sloopy88
---
Member since 16 November 2011 | Blog
Recent Activity
Weirdly, this feels like one of the more exciting things about moving to Hawaii.
Was thinking this sounded a lot like my experience before I saw who wrote it, heh. Well put. The business of life is weaving meaning into happenstance, and sometimes caring about a bunch of guys running around on grass is the best practice there is.
It doesn't matter how good the medical staff is unless the culture changes. I'm torn between helpless sorrow for the family and friends of this young man and anger that such a wasteful death occurred when there was so much that could have been done if there had been adequate communication and solid priorities. I hope there is some serious outreach and education going on. Nobody needs blame. We do need action. The stupid thing is that most concussions can be recovered from well unless you go out and reinjure the brain while it's trying to heal, and that's what happens. And concussions themselves can influence decision-making and ability to rationally think through the big picture so it can't all be on the kid. Even if they didn't, they're very young men who rely heavily on the approval of others. We need to recognize and reward decisions that lead to long-term ability rather than conflating toughness with willingness to play no matter what.
But without practical solutions, mostly the anger just serves to distract from the sadness. This is unbelievable. It shouldn't have happened. I'm so sorry for everyone involved.
And now 11w is literally exactly like my family's discussions of OSU football. Makes me feel like home.
The Grim Reaper standing in the Black Death display in the history tunnel did it for me!
I love this feature so much, completely unironically. I hope we're saving state rock song for last.
These photo sets are consistently spectacular. Thanks so much.
Oof, I hope Brutus is ok so that I can safely laugh at that image without feeling bad. Mascot heads are not the most safe things to play contact football in.
Thank you for that, friend.
I really love this series. Looking forward to already knowing these names and faces in the fall!
Yeah, I just know these feelings too well to enjoy them. If they had been higher ranked, or if these people had been jerks, or if they were being jerks now, that'd be different. But as is, I just feel for them. Almost everybody ends their season with a loss, and it's always painful, especially when it's so close.
It's amazing. I'm kind of glad I didn't get to see this one live, I think I might have had a stroke.
Nacho Guy puts the one-handed one over the top for me.
Truly, Ohio State over Iona could go down as one of the greatest upsets in tournament history.
Then nonchalantly moseying back onto the court. Just so great.
No kidding! I'd almost forgotten that basketball was something other than anxiously watching a very slowly generated line graph.
Thanks for the reality check, Pam.
Apropos of nothing, I'm glad you're still around, Year2! Your commentary has been great and I hope you continue to drop by.
This is wonderful, and looks like it took a ton of work. Thanks for posting.
I agree, I've always found the gray classy and it sets OSU apart from all the local red/black/white teams. But I like the looks of the floor.
Thanks for putting this feature together. 11W's writers model the kind of intelligent and respectful attitude towards its opponents that it expects to see in its commenters, and the resulting enthusiastic/civil conversations in the comments here are one of my favorite parts of the site.
Also, yes, this game is terrifying.
Yeah, the Michigan commentors here are so generally classy that I was not at all prepared for that-- turns out MGoBlog is more like the Mirror Universe than a sister site. And to be fair, even the commentors there seemed to be calling out some of the more pointless vitriol. Now to read through the 11w archives to recover. No place like home.
Not nearly enough.
http://www.youtube.com/watch?v=d6wRkzCW5qI&feature=player_embedded
Here's what I'm worried about (that I opened an account to ask). Am I remembering this right--didn't Meyer stop coaching at Florida because the pressure was too high and it was taking too much time away from his family? I can't see that sort of thing being better for him here. I've-- very grudgingly-- started to feel better about the possibility of him coming here because of the 11W commentariat, but I don't want a situation where he comes and leaves and the whirlwind starts all over again.