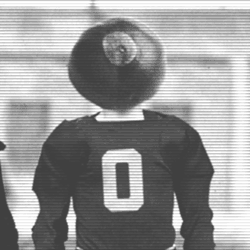 SkoBux
---
MEMBER SINCE August 27, 2018
Recent Activity
Calling it now: Chug from the clouds.
Mattison said he did not want to judge Ohio State's defensive performance from last year and said Greg Schiano is a "great defensive coordinator." He also said he isn't concerned about last year's stats, pointing out onceagain that the Buckeyes went 13-1 last year, and said the only stat he cares about is points.
I understand the context of the question, but it concerns me that the only stat that matters to him is on the scoreboard. I get it. The final score matters, but the final score is a RESULT of a lot of smaller, detailed stats. Penalties/yds, missed tackles, YAC, etc.. Let's not forget the Buckeye's playoff hopes were in question well before the Purdue game, not because of W/Ls or points, but because of those detailed stats that bubbled up to W/Ls and final scores..
I think that says more about the audience than anything. If we've learned anything about journalism in the digital age, it's that outlets give people what they want. But there are people still out there that enjoy a true deep dive into a story with original content and fact-based elaborations.
Journalistic integrity and truth seeking, regardless of affiliation?
Perhaps, but I see sites like The Intercept make it happen. Although they might be venture-backed, not entirely sure.
Brady Quinn at a Coffman 7-on-7, Max Schmidt when playing UA at lacrosse, and Nick Kellogg during pick up at the Westerville Athletic Center. Each a monster in their own right. Super talented guys that expedited my journey to picking up books and learning skills outside the field of play.
But then Chris Rock - not that Chris Rock - arrived in Ann Arbor right around the time Zach Boren was finishing up in Columbus
I work with C Rock and cannot tell you how many new people ask him questions re: his shared celebrity name. Very akin to the Michael Bolton scene in Office Space. Pretty cringe worthy but he's a good dude and takes each question like it's the first time he's heard it.
It's nothing personal, we're just hungry and need the extra lunch money.
I have a sneaking suspicion "Bearcat Nation" is kind of a stretch. Can't tell you how many times I've run into or seen Buckeye alums/fans in airports, restaurants, concerts, and random spots around the country.

... UC on the other hand.
"We had a QB battle last year with Dwayne, Joe (Burrow) and Tate (Martell), really Dwayne and Joe,"
Got the Icy Hot ready and steady for you, Tathan.
Gonna have to mentally-file this under freezing cold take.

Ohio Stadium Food Offering Power Rankings 2018-2019:
1.) Beer (any)
2.) Brat
3.) Giant ass preztel
4.) Cheese steak
5.) Popcorn
....
9.) Nachos
10.) Tim Horton's coffee
Does this mean an XFL team is off the table?
Hey that's cool and all, and glad you know how to use gifs, but maybe don't post a pic of your license plate on the internet? Just a friendly millennial looking out for you.
coming from a guy with a vanity plate?
lazy, unoriginal mouthpiece take. I award you no points.
On behalf of every millennial here, let me Google that for you: http://lmgtfy.com/?q=https%3A%2F%2Fwww.ncdc.noaa.gov%2Fdata-access
And isn't it ironic that most of the older people on here slinging their lazy, stereotype-based takes are probably old enough to be a part of said Lawn Mower Parent group?
Fun fact- apples aren't oranges. Crazy, I know.
What a badge of honor. How did FedEx ever recover after your retirement?
Why are so many people, completely unaffected by this petition, dishing their lazy, stereotype-based takes? Yea, it's kind of funny to see a petition floating around to cancel school, but it has literally no affect on any of our lives outside those student, faculty, and staff members of 11W.
Being cold sucks. Let the kids do their damn thing.

Regards,
- 30 year old OSU Alumnus
I remember their booms like it was yesterday. Man time flies. Good luck gentlemen!
Yet you care enough to write a paragraph to tell people why you don't care enough? Interesting.
Anyone else getting visions of a grunting, muttering Mattison walking into the sauna occupied by visibly nervous coach Hartline only to see Mattison walk up, throw out the rock, ask "what's good fam?", and immediately calm coach H?