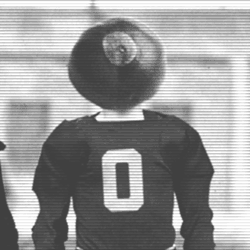 SkoBux
---
MEMBER SINCE August 27, 2018
Recent Activity
https://www.reddit.com/r/OhioStateFootball/comments/ejh9pu/jahmyr_gibbs4_star_recruit_flipped_from_ga_tech/?utm_medium=android_app&utm_source=share
I don't think there's ever been a OSU team I fell in love with in my 32 years until this year. A great ride that ended too soon for my liking. But damn what a team. Love these guys. They'll never be this same team again, and I feel for them. But there's a ton to be proud of and I hope they get a hometown welcome they deserve.
Thanks!
"Tomorrow will be the most beautiful day of Raymond K. Hessel's life...his breakfast will taste better than any meal you and I have ever tasted."
I think the appropriate response is; Thank you, coach, for being an example and someone this team could rally around this season. They needed guidance and you gave them everything you had. You've helped shape a couple young men's lives for the better and represented our University very well this season. You will be missed, but good luck with your future endeavors at BC. You helped make this season very special for Buckeye Nation and for that we thank you.
Once a Buckeye, always a Buckeye. Best of luck to Brendon. I have a feeling he has many good chapters ahead in his story and look forward to following him wherever he ends up.
Not that it matters at all, but does anyone read Labia anytime they see the word Labrum? Just me? Okay, I'll see myself out. Go team.
It's bananaland how much these players and coaches love each other. Coach Johnson, Hafley, Hartline, Washington, and obviously Day getting and delivering the love publicly has to do wonders in so many areas.
Don't care about the logistics and background story: I still consider him a Buckeye.
Battling it out in Houston to make an XFL team's starting roster.
I think it's also worth noting that, while Cephus is on par with UM's WR core, the Wolverines had more options on the outside than UW currently has. Between the tackles is the bread and butter at UW, where UM is able to read 3 very talented receivers in open space.

One of the main reasons why OSU has been dominant is in their ability to quickly make adjustments. Nebraska had a drive. MSU had a drive. UM had a half. UW had a half. Really only PSU challenged an entire game this year, a testament to the PSU staff for adapting to OSU's adjustments.

Long story short: Even if UW throws new wrinkles at OSU, our staff's past ability to identify, adjust, and execute makes me think they can do it again against a team they stack up against very well. If UW gets their TE into the mix, it might take longer to adjust based on evidence throughout this season.
Sheesh. Hate to see it.
Eggplant Emoji City, USA over here
Seeing how I pissed in some mod's Wheaties by creating a thread about this (since closed), I'll post this here as a comment:

Fairly reasonable take re: MGo's Absurdity
Clearly not a UM fan per post history, but great breakdown. Helps filter through the mess I've been readying lately on that site.
=================================================================
everyonechill
I think the delusion starts and ends with the excuses made by this fanbase...
#1 OSU doesn't care about academics
... JH himself says UM admittance and academics for athletes is "borderline"
https://www.espn.com/espn/columns/story?columnist=forde_pat&sportCat=ncf&id=2966536
... UM's average student ACT admittance scores: 29-33
... OSU's average student ACT admittance scores: 27-31
... Northwestern Athletics #1 AAR for athletes, OSU Athletics #2 AAR for athletes, UM #3 AAR for athletes
#2 OSU cheats by paying players
... Former Financial Advisor Marty Blazer admits he paid for UM Football players
https://www.mlive.com/wolverines/2019/04/reports-former-financial-advisor-says-he-paid-michigan-football-players.html
#3 The Refs are against UM football
2019 penalty breakdown: OSU 7 penalties for 66 yards, UM 5 penalties for 38 yards
2018 penalty breakdown: OSU 12 penalties for 150 yards, UM 7 penalties for 72 yards
What else ya'll got? If you wonder why everyone thinks you're crazy, it's because you give everyone else a great place to start: YOUR EXCUSES!
*at the bare minimum
Being there, if it wasn't 30/70 I'd be shocked. What a day.
OSU athletics bodying everyone these days
For our MGoBlog lurkers: eat shit
These situations are always difficult and uneasy. Would it be too much to save a courtside seat empty in memory of his brother when MSU visits this year? Competition aside, I think it'd be a classy act and tribute to his rock and support.
If the SF 49ers didn't fire Chip Kelly, would the Buckeyes be where they are today?
Anyone else get the sense Garbielle lied to D Wade and told them they were getting ice cream before pulling a fast one and diverting to Lincoln? Guy couldn't have been any less interested in being there.
Underbody racing lights on a Prius is on brand for specialists.