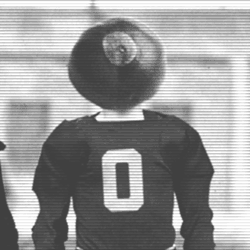 sk4664
---
Member since 22 February 2013 | Blog
Recent Activity
If you watch the game film...less than 5 times did we have a receiver deeper than 20-25 yards. This allows the teams to play zone and not worry about stretching the field. The safeties are staying within 30 yards of the LOS. Can't throw and definitely can't win if you can't stretch the field.
A big point that has not be mentioned is how the team will react. Just because JT is gone, doesn't mean that he won't have friends still on the team that may hold this against Carman. This in turn will create a bad situation within the locker room. A few of you mentioned culture and how important it is to Urb and the team....Carman seems to be a derisive malcontent, who I don't feel will buy into a system of TEAM first.
I think Greg Schiano would be a great fit...not sure Urban could get the 2 year commitment though and if Schiano would want to be a "co-defensive coordinator".....
The mention of Cooper.... makes you think if he would have won a championship or two if the playoffs were around then...
If Braxton is done at TOSU, why not head up to Canada for a season? He'll get paid and will be able to get reps. With his athleticism he would be great there.
Send her to Mr. Spielman's house for a bit of rehabilitation followed by a conversation with Coach Bruce....
DjJ:
There was a play in the 1st qtr of the Mizzou V Bama game, that directly counters your take on DePriest. Jet sweep by Mizzou and Depriest flashed in the hole to set the edge. One of the quickest reads and movements to blow up a play I have seen this year.
Blackledge is not a Buckeye fan! He thought we didn't deserve to be selected based on the only 2 games he witnessed VT and PSU..Don't look at tape of the other games we played or anything....You would think a person who has a voice on a national platfom would do more research besides 2 games.....
Totally agree with your comment on the committee putting TCU 3rd last week. It was a means to provide a buffer in case OSU and BU, who played much tougher opponents yesterday, won.
Interesting point, if the Big 12 had a championship game, TCU most likely would not have been in it because BU & TCU would probably be in the same division......
TMAC- The Boren picture is one of the best slobber knockers ever! Never get tired of seeing that!
Pepper Johnson was a great linebacker for TOSU!
Thanks for the link...just watched the documentary...again!!! Couple of items...
1) I love Earle's passion when he says "Fesler never coaches another game at Ohio State... He's out!"
2) Randy Gradishar should be in the HOF.. he was a great linebacker!
3) I hate, hate Jim Mandich!
4) Tress's press conference is still a goose bump moment!
5) Will we ever hear a response from UFM, "Because they wouldn't let me go for 3??"
6) It's 9:42 and TTUN still sucks!!
GO BUCKS
There was talk about LJ Scott before the MSU, but nothing after. I know he was in East Lansing...any updates?
Haven't seen it mentioned yet, but I noticed that Chris Carter started at DT against MSU
John Cooper went national with recruiting and look what happened! It took JT to put up the fence again around Ohio....seems to me, this may be happening again...That being said...there is so much time between now and '16..anything can happen
Admittedly, I am not a Herman fan and this just adds to my doubt about him. Everyone talks about how smart he is (MENSA) and that may be, but his football IQ is marginal at best!
To me, Cris Carter and Joey Galloway are off the list for their suspensions while in school. Great players though. Boston and Terry Glenn are my two.
52-16, JT has a "Guitonish" performance of 6 passing TD's
Northcampus.... Dane is the modern version of Brian Bashnagel!