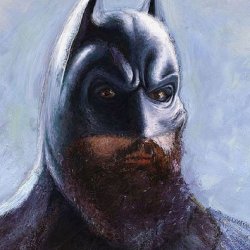 Sir Beard
Columbus, OH (via Grove City )
MEMBER SINCE October 18, 2015
Favorites
SPORTS MOMENT: The entire 2002 season - I lived on campus. Ahhh....
COLLEGE FOOTBALL PLAYER: The Big Kat
NHL TEAM: CBJ
SOCCER TEAM: Crew
Recent Activity
Is the big woman still here?
Tormund...so great.
Good to see Ghost making a cameo. As others have stated, hope he gets some action.
Haha you got it! And I did enforce that again tonight!
I mean....wow. What a game, what a series. I am so. Fucking. AMPED!
Come on heart, hold on throughout the third period!
LETS EFFING GOOOOOOOOOOOOOOOOOO!
Won the first period, let's keep it rolling!
On TV, It looked and sounded like it was one hell of a crowd. The announcers mentioned several times that the noise level was unbelievable.
What a game 3!!! Can they close it out on Tuesday? I think they do.
That's huge. CBJ just needs to come out like they did in game 2 and play as a gritty team who wants it more.
Thank you for that comment. Not sure how much it is on me, but she is a really great kid.
My daughter is in 2nd grade at Wickliffe and he was the principal to my two oldest daughters as well. He was a great man, and we spent a long time talking about him tonight actually.
As a quick story, last night was the showing. My 7 year old made his wife a heart ring out of pipe cleaner. When we got there she gave it to Mrs Collaros . Mrs C smiled and said, "it's my birthday, and this is the first present I've received." It was touching. It's been a rough few days over here.
Anything that Bruce Hooley is associated with (professionally speaking) should be destroyed.
He's got a little bit of an ankle this week
Imagine being a virgin your entire life and losing your v-card to a freakin' Miss Universe. Cheers to you, Tebow.
Definitely not a first class move on his part
I thought I was the only one who thought those commercials were hilarious!
What a busy Day.
waka waka waka!
Bevo is terrifying! It was awesome.
Same. Wearing that 10 gallon cowboy hat was fantastic. I hope he pulls it out for every game next year!
This was very cool to watch. I was born in '80 and so missed these glory days of OSU football, but man was that fun to see those legends in their prime.
Tell me...what is a plethora