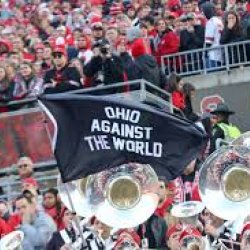 Since1919
---
Jeffersonville, IN (via Mansfield, Ohio)
MEMBER SINCE September 12, 2018
BGSU & CCAF alumni (with a handful of credits from THE). Currently leadership at local call center.
Favorites
SPORTS MOMENT: 02 and 14 nattys, ETs last second shot to beat scUM in B1G tournament
COLLEGE FOOTBALL PLAYER: Keith Byars
COLLEGE BASKETBALL PLAYER: Jimmy Jackson
NFL TEAM: Browns
NHL TEAM: Jackets
NBA TEAM: Cavs
MLB TEAM: Tribe
SOCCER TEAM: Crew/USA
Recent Activity
Whatever the weather is, you know for damn sure the SEC will never have to play in it. I'll never forget that last losing season when we lost to Florida. The Gators. In the GATOR BOWL. In FLORIDA. Imagine the crying if an Alabama had to face a Wisconsin/Minnesota/PSU/tOSU in the Badger/Gopher/Lion?Buckeye Bowl in Green Bay/Minneapolis/Pittsburgh or Cleveland?
Sounds like they have their excuse all ready to roll. That's very Harbaugh of them
Can't wait for media to call upset alert and kiss Penn State's ass all week, then say it wasn't that good of a win when we kick their asses
PSU & scUM don't have to worry about running into any compliance issues regarding players getting loans to send girlfriends to bowl games because neither of them get to bowl games any self-respecting girlfriend would want to have tickets to
Get dumped then, everybody
Earn #1 by destroying next two inferior, unleash CY on everyone else
Meanwhile, SEC programs are writing payroll checks to players and Clemson is freebasing steroids at the training table
The brief slo mo on the hits combined with the music makes this one the best one yet for real, murph. Not a damn thing wrong with the others. 70 on everyone
Make them play us here in November or it doesn't count
Very exciting guard play. Young needs to tailor his game after Kevin Love
Need to leave no doubt. If we win by one point less than scUM did, you know Mgoidiot will light up like a Christmas tree. Our D is on a different planet this year vs last year. I expect Terps to have less than 100 total yards in the first half and for the O to put up at least 28
Tough first half schedule. Still the crap AFC North to go. Not outside reasonable thought to still think playoffs are a possibility. As bad as first half of season has looked, an NFL playoff game is something the Cleveland Browns have not seen in how long?
Pray for Clemson to make the playoff, then beat them by as many points as four quarters allows
Awfully odd line. We could win by 44, not disputing that. Not a betting man, but this would be by most accounts not a smart bet. I know that sounds contradictory, but two scores is a lot. If the line was 35, I'd take that all day
Purdue & Iowa need 70 hung on them next time they're in the 'Shoe
Saying all the right things. Now bury them!
Looking forward to hearing Gus Johnson say Paris. Johnson. Junior!
Based purely the stats, tOSU is the #1 team in the nation
Put Bucky out of her misery
Always just barely good enough to piss you off
PSU can blow out scUM and then they can die