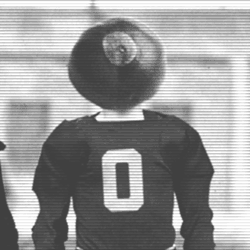 SilverBullet76
---
MEMBER SINCE November 15, 2015
Recent Activity
Oh really 4 games huh??? I'll take that bet...
"The rivaries back on the field" aye??? If I didn't know any better I'm guessing you're picking scUM to come into Columbus and beat tOSU Birm??
One thing I have seen time and time again when recruits talk with Urban/staff is that they're very honest..
Mark my words.. If Thad comes out and has another piss poor season which is certainly NOT out of the realm of possibility the truth will come out..
The day I start excepting mediocrity from a university such as the one I love the Ohio State is the day I'll die... That's surely what alot of Thad(apologist) want to do and you know what that's fine no hate from me.. But imo Thad's best days are behind him in every way coaching wise.. From recruiting to development to motivating he's been terrible for 3 years straight..
Don't forget Lyle basically said the same thing..
Because at that time out of state recruiting actually was working in favor of tOSU.. It's not working now and hasn't been for a good while..
Might I also add that another comparison between Cooper and Thad is Cooper started losing top Ohians to other schools.. Mainly ttun the same thing is happening now where Trey Burke who went blue and now the best player in Ohio Xavier Sampson who Thad didn't even offer is going ttun.. Thad recruting efforts have been piss poor to say the least..
Thad more and more is starting to remind me of one John Cooper.. Cooper to took Ohio State to new levels, recruited talent but could never quite get over the hump of the big game.. As a matter of fact Cooper started the rise of what is now the best program in the country.. With that being said towards the end that didn't matter and with Thad what's he's done 4 or 5 years ago to me doesn't matter... What Matta is doing is setting up deniability when this team comes out next year and plays like hot garbage because there is no continuity/talent... It's a shrewd move and may yet save his job but hopefully it doesn't and the university sees past his shenanigans.. This program has been mediocre to bad for a full 4 year graduating class and there is no hope just like with Cooper towards the end.. The question is who blinks first Thad or Gene???
Thad needs to come out and give an explanation why players are jumping ship... I maintain that this is the beginning of the end for Thad and he's going to resign within the next year... 80% of your team leaving is a huge problem internally starting with the head coach.. Thad right now is running this program in the ground and it is no light and the end of the tunnel...
With Harris leaving this is really a shit sandwich of a program... Thad needs to go and he needs to go right now..
I said don't be so shocked if this team doesn't come back fully intact... This is the beginning of the end for Thad Matta.. Now whether folks want to see it or believe is up to them...
Being as a Uber driver went nuts and shot up a whole town not to far from Ann Arbor I'd be very nice to Uber driver's..
Yea I'm with you in that Harbaugh doesn't respect tOSU even after we kicked his ass at home.. Urban let off the gas when we could've run the score up to 60 of we wanted to.. This year at home Urban needs to show no mercy none whatsoever....
I don't get it??? Why is the only people in the world willing to acknowledge The Ohio State beat the dog crap out of scUM is osu fans???? I mean did I moss something wtf does that Jackass mean "we're even"??? "Even" how when you got beat down at home by the team that's your main rival?? You made a statement on twitter again about an incedent that happened 5 years ago and made your rival better????
And Indiana promptly lost with Jimmy the Jackass watching...
Classic movie right there..
LMAO!!!
Give me some factual proof anything I said is wrong.. Urban let off at the tale end of the ass kicking in Whore Arbor last year.. Jimmy won't get such mercy come November scUMmer..
Urban's is gonna beat scUM's brains in come November Jimmy and barring a miracle there's absolutely nothing you or scUM's fanbase can do about it.. After the massacre in Columbus of the vanquished Jackass Harbaugh.. There will be no twittering, there will be no slick comebacks about tattoos just Jimmy sitting there pondering where it all went wrong..
Gene shouldn't have apologized nor acknowledged the Jackass known as Jim Harbaugh..
Which is why I gave him no props for acknowledging the passing of Herbies father.. He not a sincere person his asinine tweet at Gene proves as much..
Well if Mrs. Meyer knows I'm sure Urban knows and is now planning an embarrassing ass kicking when scUM come to Columbus this November...
Look I don't mind if Harbaugh wants to respond because he somehow feels slighted by Gene.. The thing is ya might want to pick a better comeback than something that happened 5 years ago and made your rival better.. I mean we were kicking your teeth in with Tressell but once Meyer arrived on the scene it really was a wrap for scUM.. Ttun has a shit schedule this coming year and they will be overrated per usual coming to the shoe.. Barring a miracle Meyer will once again kick Jimmy's teeth in.. I wonder if those twitter fingers will be so brave then??
Anything short of a deep NCAA tournament run next year and Thad needs to go.. I'm willing to support Thad one more year.. Even though by his own players admissions that they're lazy.. That's directly a reflection of Thad as well as the coaching staff.. Imo he's squarely on the proverbial hot seat...