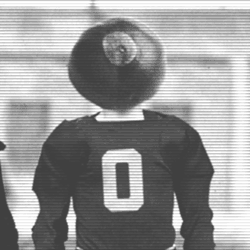 Silver Bullet 10
---
MEMBER SINCE January 24, 2014
Favorites
SPORTS MOMENT: 31-24 2OT
COLLEGE FOOTBALL PLAYER: Ezekiel Elliott
COLLEGE BASKETBALL PLAYER: Amir Williams
NFL TEAM: Browns
NHL TEAM: Blue Jackets
NBA TEAM: Cavs
MLB TEAM: Indians
SOCCER TEAM: Crew
Recent Activity
I won't ask why but I'll take that advice.
Kenneth G_________
or Ken___ G________
or Kenneth George
Hugh J'Richard
Maurice Lester
Jack Goff
Might want to put a little bit more space between the r and a....
How long ago was it created? Can someone in particular tell me?
Trash program. Embarrassing
She deserves years in prison if no evidence is found that they had sex.
Wrong. 44-31. Kid went beast mode on the final play.
I had full ride offers too. Not everyone is as fortunate. That's why I find his attitude annoying. He should be more grateful for the opportunity he has earned through his hard work.
Let's all feel bad for this kid. He has a full ride offer to play football at Ohio State. He doesn't realize how many Ohio valedictorians with 36 ACTs, AP classes, straights A students struggle to earn even a few thousand from Ohio State.
He needs to quit acting like a spoiled brat.
DLO hit a game winning three after his grandma passed away yesterday, and then he ran to the stands to celebrate with family.
will always root for that kid. And best of wishes to his family
I'm really not in the mood lol, but what an amazing season.
Gareon Conley to the Saints.
Urban needs to go back to being an asshole. We need that Urban Meyer right now.
I went to Chick fil a for the first time in a year not too long ago... Ordered the tenders... Nothing special.
Leonard is a top 5 defender in the game. Excellent offensive player. Top 5-10 player easily overall.
Cavs top ten players (excluding LeBron) average RPM: -3.76
Sixers top ten players (including Noel and Ily) average RPM: -3.61
Love-Kyrie-JR-Thompson-Shump-Korver average RPM: 0.31
Sixers top 6 average RPM: 5.63
Cavs top 6 average RPM: 5.71
That's with the Cavs having LeBron and the Sixers not having Simmons.
You're overrating the Cavs players. Love is underrated. Kyrie is a bit overrated, but he's special because has another gear that he goes into in big games and clutch situations.
Derrick is a bust. Quit the nonsense.
Shump is trash too. So overrated. No defense, no offense, all he athleticism in the world.
JR is hit or miss.
Korver is a liability if his shot isn't falling. Also, defense.
Felder is so bad it's laughable.
Cavs are garbage without LeBron. Post some facts to disprove it. I'll wait.
"Lavar Lonzo's Balls"
I don't get it. Lavar Ball, Lonzo Ball... I'm guessing Lavar is a verb here? Must not be English.