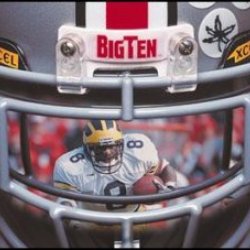 Silver_Bullet
---
MEMBER SINCE September 18, 2018
Recent Activity
TOSU-45
NEB-17
Mark it down.
Well, considering Oklahoma's dismal record in high profile games, I can understand his excitement. Especially after the downright ass whooping our Buckeyes put on him and the Sooners the year prior.
I wonder then, will FSU provide free education to the athletes, or will the association pick up the bill?
As I've wrote before, gotta keep them hungry. They have the remainder of spring and summer to get with the WRs and work the playbook. Granted, they can't be coached, but this extra work will help determine who wins the battle during the fall camp. Not sure if Day requires the minimum 8 hour monitored workouts per week, but it seems to me they would have the time to meet that minimum requirement, if not more. Hopefully they spend their time wisely until fall camp starts.
I'm not too concerned about Haskins' draft status. Bottom line is he will be drafted, in the 1st round for sure. Some of the best all-time QBs were drafted in later rounds, and some went on as undrafted free agents. QBs like Tom Brady (6th rd), Bart Starr (17th rd), Drew Brees (2nd rd), Joe Namath (undrafted), Fran Tarkenton (3rd rd), Steve Young (undrafted), Johnny Unitas (9th rd); Brett Favre (2nd rd), Joe Montana (3rd rd). So, even if Haskins drops to the 2nd round, I wouldn't be too concerned. His development, and getting drafted by the right team is all that matters.
+I think it's up to the coaches to identify which players are gassed and pull them out.+
I agree. Urban had that philosophy. Players who tapped their helmet got substituted alright.
I think a lot of it had to do with the talent differential, a bit of Urban Meyer motivation, and perhaps a little bit of over-confidence on the #ichigan side. Having former #ichigan coaches on our side can only be a benefit at this point, and they are good at what they do. Can't wait to see how the D plays this Saturday against what should be the best O in the B1G.
Well, he could have a very good idea who will start, but won't announce to allow the competition to continue into fall camp. Gotta keep them all hungry so they continue to make improvement.
Why do I get the feeling there will be more to follow? Ahrens or Washington perhaps?
Couldn't have said it better myself. A. Wesson needs to be included. There were times he was downright silly with the ball.
I'm excited for this team next season. Without knowing the OOC schedule, I still anticipate at least 25 wins, top 4 seed and minimum B1G semi-final matchup, top 6 seed and Sweet 16 birth. Reasonable expectations I believe.
I hope he finds a way to balance all of this, and still manage the games effectively. I also hope he doesn't end up burnt out by the end of the season. I just wonder what the coordinators think of this, and if he has an ultimate plan here, like building continuity with the coaching staff over the next couple of years. If he's doing all the work, the assistants might not get attention from other schools. Or it could backfire and cause a max exodus. Coaches want to do the job they're hired to do after all. Will be interesting to see how this all pans out.
"You cheating motherfucker! You're a fucking disgrace!"
I wonder how many games a player would be suspended for for those phrases directed at an official.
Awesome news!! These transfers could make a huge difference this season. Can't wait to see it all come together this fall.
In ESPN, thou shalt not trust. In every pre-season ranking, thou shalt not trust even further.
This could very well be a sign of Day's closing power. I can't wait to see how these kinds of needs are filled in the future. I'm also excited to see if Vimahi brings that cool Haka dance to TOSU's pre-game prep, like was done at Arizona.
I read an article somewhere (might have been here) saying that his 2 year religious shindig might be reconsidered for a different time after the family evaluates how things get started for him at TOSU. Anyone else know about this?
Kyler Murray, hummm, he's such a little guy. I don't know.
I hope Day gets all of these guys. I'm tired of seeing any of Ohio's best leaving the state.
You still use a mouse? Man, you must be old!!!
Thanks for the update. Can't wait for this to be over so this QB competition can get started! Both should improve between spring and Aug 31st.
And, somewhere in Vegas...
I guess my sources are incorrect:
https://www.si.com/college-basketball/2018/03/01/highest-paid-college-basketball-coaches-salaries-mike-krzyewski-john-calipari
https://thebestschools.org/magazine/highest-paid-college-coaches/
https://ftw.usatoday.com/2018/03/5-highest-paid-coaches-in-college-basketball-coach-k-calipari
https://www.thestreet.com/lifestyle/sports/highest-paid-college-basketball-coaches-14774331
Well, first of all, since when in the hell does the BB coach earn more than the FB coach at TOSU? I'm still coming to terms with Holtmann's salary (third most in NCAA at over $7M per year). I don't think he was that accomplished as a coach to start out that high. Second, A. Wesson is becoming more of a liability than an asset. Third, I'm getting the feeling this is going to be a team that struggles mightily on the road in the B1G. Fourth and final, I still think Holtmann is making way too much money at this point in his TOSU tenure. How in the hell did they lose to Rutgers????
Kingsbury hires Bill Davis. Good for both of them. Good luck guys!