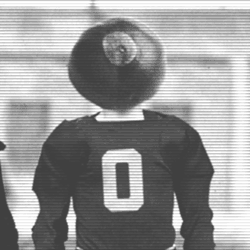 Sideshow
---
MEMBER SINCE August 16, 2013
Favorites
SPORTS MOMENT: Ohio State beating Miami for the national title.
COLLEGE FOOTBALL PLAYER: Big Daddy Wilkinson
COLLEGE BASKETBALL PLAYER: Jimmy Jackson
Recent Activity
This. A million times this.
There's gotta be a great nickname/joke there with the letter 'W'.
Thank you, DJ! This is GREAT to see!
Am i the only one who's noticed that football players don't understand the difference between "a part" and "apart (from)"? I know it's just Twitter, but It seems like they always get this wrong these days.
Sorry. Double posted by accident.
My thoughts and prayers are with his family and friends in this unbelievably difficult time. May they somehow find comfort and peace through their loved ones and community. So sad.
I believe we were at 92.55 before the change, so an increase of .11. And I expect that average of this group to increase further.
Excellent response, StarkCounty. Thanks!
Not reading it, but would love to hear some thoughts, observations, and takeaways.
Way past time for this rule. Great to see it finally happen.
Agreed. Still don't get why our fans rage TTUN lightly. Last year was clearly a rebuilding year, and this year, they look almost loaded (RB and OT are the only questions). This is year 4 for JH. Just look at the parallels in year 3 at Stanford and TTUN under JH. NOw look at year 4 at Stanford. Should be a GREAT team this year.
I agree with Blu. I wasn't expecting much from Michigan last year because they lost a ridiculous amount of starters, and were incredibly young behind them. However, this year, I think they're ready to roll big time. Rough schedule, but I think they're a top 8 team.
And Christian Wilkins. All 5-stars.
Sorry for the gobbly gook. I guess a strong lack of proofreading slayed my first clause. I meant to say, "I'm rooting for Barrow bigtime, and I know he was..." Sorry about that.
I just happened to watch it before I saw your post. Absolutely touching. Well done, James Corden! VERY well done!
7.8 gazillion, actually. You forgot to carry the 1.
"was easy 5 Star before the injury and a case to be #1 DT in the nation"
Im rooting for Barrow big thanks me, and I know he was excelling before the injury in high school, but it's rarely easy to become a five-star, and the #1 DT in the country, especially in what was an amazing DT class. And don't forget that he wasn't even close to being rated that highly by some of the ratings orgs. I mean, I think some had him as a 3-Star.
Yes, may we all hold his family in our thoughts and prayers. Thank you. So sad.
Well, at this point in time in the past two classes, we were in on a lot more highly ranked players and we are now. At this point in time in the past two classes, we were the favorite for many more of the top 50 ranked players than we are now. We're still in a very strong place, but just not compared to the last two cycles, which were insane.
And again, that doesn't mean too much at this point. The coaches are the only true arbiters of talent.
Any idea where he's projected to play? Is he Sam Hubbard, part deux? That would be a very good development, if so.
He was a 4-Star on scout.com.
I grant you that his behavior is off-putting and seemingly irrational too often. That's a pretty fair critique.

But do you also balance out the other aspects that I mentioned -- the championing of children with cancer, legal aid for the poor, and (not previously mentioned) taking his players on international trips to educate them in worldly affairs? I think those are three great and noble acts.
Finally, I've wondered at times if he has Asperger's Syndrome. If so, would that color your impression? It does mine.
I get that Harbaugh has his awkward behavior, and I'm a HUGE Buckeye, but I wanted to respond to your post. A few points, if you don't mind:
1. Hatred is not a healthy emotion to cultivate. I believe the latest research shows that it's healthy to work through it and let it go.
2. Honest question: would you say that about Urban if you were a Michigan fan? Because it's easy to be tribal and see the opposing team's coach as a terrible human being when in reality, they probably aren't. Harbaugh actually fights for children with cancer and especially for legal aid for the poor. Clearly, both of those are honorable and noble moves. I don't see any other coaches putting their reputations on the line to fight for people in the realm of politics. I would love to see all of these coaches speak up for the poor and impoverished.
Anyway, those are my thoughts. Hope they are useful to you.