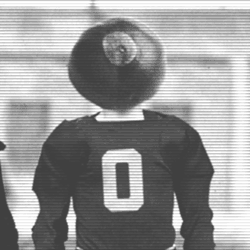 Sideshow
---
MEMBER SINCE August 16, 2013
Favorites
SPORTS MOMENT: Ohio State beating Miami for the national title.
COLLEGE FOOTBALL PLAYER: Big Daddy Wilkinson
COLLEGE BASKETBALL PLAYER: Jimmy Jackson
Recent Activity
So sad. God bless them and their families.
He's a great OC. Excellent hire by JF.
I wasn't aware he was only 3rd team on those votes. PFF does a stats-based analysts and our him 1st team. Very impressive. https://www.pff.com/news/college-football-2019-pff-all-acc-team
Totally agree with Rosycheeks' cheeky response. One guy is all-ACC and hasn't allowed a sack all year. The other guy barely gets any PT. These are probably the top two teams in the country, play the same position, and come from the same recruiting class. How could we possibly compare them? Right now, Carman is killing it and NPF is still developing. Take off the scarlet-colored glasses, folks; this isn't hard.
I believe Carman didn't allow one sack all year, and was first team All-ACC. I doubt he's going to be abused by anyone.
Exactly. I'm a huge RU/Schiano fan, but it's going to take a very long time to make them even respectable. With the transfer portal, it becomes far easier, but he does t have much talent to build upon, and none of these current re riots will likely amount to much. His first full class, however, should be something special relative to Rutgers standards. I'm thinking something along the lines of his final class in 2012, when RU signed like 4 blue chips and had a top 25 class.
Also, Ash is not nearly a good enough recruiter for OSU's standards.
Forgive me for perhaps beating a dead horse, but your response actually evades the point. You said that you weren't sure that JF deserves to go to NYC over TL, but the other poster made the clear case that JF had a better year statistically, and against far better competition.
No one is saying that JF is better than TL (which is what your response of "I guess we'll see on the 28th" actually implies"). just that he had a better year as proven out by the stats, and therefore deserves to go to NYC instead.
Thank you. If I could upvote this more, I would.
Excellent summary. Thanks!
Thanks. What do you think of their two lines, and how ours compare to theirs?
Has anyone watched a lot of Clemson games this year? if so, can you fill the rest of us in on their weaknesses?
Ash isn't a good enough recruiter. Look at his recruits at OSU and Rutgers.
Excellent point. I think you've nailed it on the subject of ceiling, so let's talk RU's reasonable GOALS under Schiano.
- Recruiting: bring in top 30 classes annually. Eventually sign 5 of the top 10 NY/NJ kids per year.
- W-L record: 1) something like GS' initial go at RU = show steady improvement (though not necessarily in W-L column) and annually reach bowl games by year five. 2) be competitive with tier 2 B1G teams in years 6-8 (especially PSU).
- facilities: help the university raise enough money to build the new practice facility
- walk away after year 8, having built a strong B1G program with great facilities and a winning tradition, so that the next guy can take it even higher.
thats how I see it.
I used to work next to a bunch of Black Israelites. I'm Jewish and was pretty religious at the time. The Black Israelites that I came across were consistently pushing an angry and racist screed that is not at all part of judaism. Seemed like a hate group to me, so when I saw LJ Jr's message, I also thought that he might be a part of that group. Sad for him if it's true.
I disagree. Urban used to talk a lot about the importance of night games. Those extra 4 -7 hours make the difference between a lot of great players being able to attend or not.

Plus, the atmosphere for night games is greater. I wish that Fox would change this policy.
I think if those two teams played now, IU MIGHT win. That game with Sparty was close until the very last play, and the two teams have moved in different directions since.
To answer your question: yes, Indiana can. 60% of the team's two-deep is comprised of sophomores and freshmen, and accordingly, Tom Allen has been quoted as stating that the team should improve in each of the next two years, with a peak in 2021. They're also recruiting better than they have in the modern era with an MSU-esque four blue-chip signees last year (and a higher average recruit ranking than I can remember). Their recruiting this year doesn't look to be as good yet, but they've been great at finding under the radar players and they still have time to bring in a strong class, though it will be low on numbers.

So, unless something drastic happens, they should grow into that highly competitive MSU-level team in the next year or two. But as to winning the B1G East as MSU did a few times under Dino, I don't see that right now. Rather, I see an Iowa level program in the future that will play the big three well and aspire to knock them off. I don't know if I see them getting to that point and actually winning the division. I don't see it yet.
Didn't everyone expect this?
I love the addition of RU and UMD, but it really is NOT because of the OP's request regarding the football quality thus far. It's because I look forward to a day when we have the B1G Ten at its peak. We're getting there, but we won't arrive until RU and UMD have excellent facilities, coaches, and recruiting classes. Here's why I love the expansion:

1) the amazing financial impact it's had on the B1G, which has allowed it to hire and retain the best coaches and facilities possible, thereby enriching the recruiting influx at the same time, and

2) because I look forward to the days when RU and UMD are on par with the rest of the conference in terms of facilities and coaching talent, to create a "peak B1G" conference. We're quite far from that, but they've at least made a lot of progress on facilities. Locksley looks terrible right now, but maybe Schiano part deux will be a boon somehow to RU again.
Agreed. He's fantastic at running 40 yards downfield to catch someone from behind, and that's helpful, but I haven't seen a strong pass rush yet. Granted, he's a frosh, and I was impressed by that one sack against Indiana, but I haven't seen anything else yet. Have others noticed some great pass rushes by him yet?
(Holding up finger) Not checking!