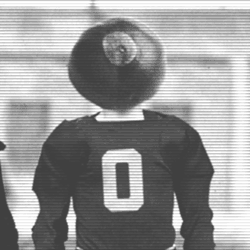 ShodanBuckeye
---
MEMBER SINCE October 31, 2014
Recent Activity
This begs the question, what is the status of MT3 and Crowley?
I agree MB.. they have been getting talent, but the depth of their talent is what will be the difference in this game. It will be ugly if we continue our 2nd QTR explosions like we did last year. If that doesn't happen, in the 2nd half, our depth will have worn them out just like it did to every team we played last year (including Clemson) and our offense will put up 21 to 28 points if they play the whole game.
The Ducks will never score that much against our Def.
The reason for the delay in the PI/Holding call on Gamble was the official took the time to correctly determine which call to make, and he did that by looking at the other officials to see if they also had any indications. He is supposed to take his time, examine what he saw and decide if holding happened before the PI. I was told this by a close friend who is a long time HS and DII official.
Idiots like Fouts, and every Miami fan that ever existed, assume that because the official delayed in making the call, he just did it to help OSU. I wonder if Fouts has ever walked back his "terrible call" call.
A few months after the game, someone posted a series of pictures (on AOL maybe?) showing the Miami DBs with handfuls of our receiver's jerseys. Lots of pictures; an embarrassing for Miami number of pictures; the real truth of how they got away with it all game number of pictures.
F*ck anybody that says Miami got cheated; if the officials had done their job the whole game, we win in regulation.
I don't totally buy into his great success at Stanford or San Fran. At that time, the only team out there that even tried to play defense in the PAC 10/12 was Pete Caroll's USC teams, and Harbaugh created a solid def, and along came a once in a career QB and success happened; as Caroll was being booted out for paying everybody. That Stanford Offense was simple, the same thing he runs here, but it won't be proliferate against a good or very good defense. Or at San Fran, that was a team put together by Mike Singletary (and the front office) that Hairbaw inherited.. he didn't build that team from scratch, but he at least knew how to get a defense to play well and play hard, which is more the reason why they got deep into the playoffs than their offense. If they had a competent offense, they beat the Ravens; 1st and goal, at the end of the game, enough time for 4 plays, and they get stuffed.
All of my ramblings are somewhat validated by looking at the past 5 years; he inherited a pretty good defense, and it played well in 2016 mostly, but other years is serviceable. But his offenses are simple.
PS: keep this to yourselves.. don't want the MeekChicken AD to find out...
Hey GB... how many necks do you think Night Trane broke (or came close) by legally tackling by the facemask.. before it became a penalty? Nice reference though.
We would have beaten the Bladgers, and probably Oregon. But Bama would have been very difficult. Because of Cardale's arm, Bama had their safeties 15 yards of the line of scrimmage, and that allowed the run game to prosper. With JT in there, those safeties are 10 yards off the line of scrimmage, and running downhill towards the RPO. The same thing that Sparty and PSU did to us all the while JT was our QB, and why those games were close.
The 2005 team had a great defense, but the offense was medium to poor. Def did way more than enough to win the game, but as (mostly) usual, JT's offense was shitty and predictable. And, just the opposite in 2006, we had a very good offense, but average defense, which Urban exploited badly. I was at this game, and the number of Texas fans that were at the game site, but not in the stadium was huge... the most I have seen since I started going to the home games in 2002. This was when Hiny Gate was in full swing and the Texas fans were there in huge crowds and at the tailgate areas.
The replay official was absolutely biased, and therefore corrupt. All season long, the SEC officiating had been notorious for letting the teams play, so the best talent would shine(NFL playoffs officiating ring a bell?). Then, down comes the yankee team into the bowl game to play a Southeast U.S. team, and where is the "letting them play" officiating... yep, out the door. Twice. So, F**k anyone who has the gall to suggest everything was fair and balanced. Bull F**king Shit.
Of course they had make things even out, so here comes the targeting calls against Blabo Dabo in the championship game, so they can claim that they weren't biased... more F**king Bull Shit... the benefactor was another, revered Southeast U.S. team (SEC). And, LSU was going to clobber Blabo Dabo anyways, without the targeting calls.
MS, I believe he is referencing OSU wearing down TTUN...
I have refinanced a couple of times in the past 5 years.. all with Union Savings Bank. Very low cost and really good interest rates.
I work for JMP CHase... and I recommend Union Savings Bank...
At least call them... ask for Buddy Grey at their Dublin Granville road ( Dublin or Columbus ohio) location...
and, my current rate ( 15 yr loan) is 2.875%... from 2015..
Yep, me too B-74. Chuck was really easy to listen to, and was very good at describing the action on the field. I don't recall listening to him do Bball games, but he probably did.
Funny you mentioned that, BeatMeechigan.. I was there when 1) OSU took on 2) Wisconsin in 2007. Actually, I believe that Wisky was #1 and we were #2. We had season tickets in section 231, club level which is nice for beer and food, but behind the basket some. Anyways, that had to be the best home crowd ever. I specifically tried to count the empty seats and could only find about 30. Some company had put white advertising towels on every seat and the crowd went crazy waving them and it was incredibly loud.
In case others don't remember, the Bladgers missed Free Throws in the last few seconds that would have sealed the game, and we won by 1 point. The rest of the 2007 season, is history. This was also at the end of our regular season, or very near it.
Obviously there have been very good scoring centers in the NCAA in the last 15 years, but there has not been a more athletic and defensive dominating center than Oden was, as a true freshman. And OSU certainly has not had any player since that has matched his physical presence.
Really.. so did we.. and I played in the mid 70s. In the old North Central Conference... teams from Marion, Bucyrus, etc. I played for Sycamore Mohawk..where did you play?
The 2 main calls that were ruled on, and overturned the call and no-call on the field are what have my full attention. The no call on the sack/targeting on Wade by the on field officials was booth reviewed, and the booth bastard threw him out, and changed the momentum eventual outcome of the game. The evidence was so weak for the booth to overturn on that play, it should never have been called. Maybe the acting job by the big pussy QB got to the booth idiot, but something did. Never was evidence of "targeting" with intent. I will never believe that. Had to be some bias raging in that fuck in the review booth.
Then, the more egregious fumble/TD overturn was enough proof for me that the replay booth guy had an agenda, and was living it. Absoultely no way he has any right in overruling that call. I also will never believe anyone who says the call was "justifiable". The replay booth bastard is the main reason OSU is not in the final game.
Fuck this shit about "OSU should have scored TDs and not settled for FGs". Our offense moved the ball, and earned those points. Then they earned the big QB sack and drive killer and that fuck in the booth took it from them and handed them the momentum. Without Wade in the game, they immediately targeted his replacement then, and the rest of the game. We then earned a fumble recovery and TD, and the same replay booth fuck took that away too.
There doesn't have to be a conspiracy for these calls to have just happened to benefit 1 team only, or some fuck official to have an agenda, but it sure does make the circumstances that played out in our game more definable. Just because he got the call right on the Wilson sideline catch doesn't prove shit, either, because Clemson got to stand around and catch their breath and update their Def personnel,etc.
I watch a lot of CFB, it is common to see the on-field officials call targeting, have it reviewed, and the call is changed because there was no clear intent to target. Happens a lot. In this game, with so much at stake? And then to have the broadcast idiot "expert" saying anything he could to "support his guy".. Bull Fucking Shit.
Here is the main reason why this bias matters: The four-team format pits the No. 1-ranked team against No. 4 and No. 2 against No. 3. The seeding determines the semifinal bowl game assigned to each matchup; the No. 1 seed chooses its bowl game to prevent it from playing in a "road" environment. The move of LSU to #1 absolutely favors them, significantly. OSU had every right to expect that it would remain #1, and got hosed, again. I would give $100 to sit with Gene Smith, in private, to hear what he "really thinks" about the CFP committee.
If this kid is trying to do his best imitation of ... dare I say it.. the GOAT Orlando Pace, he is doing a damn fine job. His quickness at pulling is incredible, and his ability to engage back seven players and stay with them is equally as good.
I can't wait to watch his senior year film... Jackson Carman who???
I thought I read that the other Taylor, the WR/Slot was out of the game this weekend? This guy had been running those jet sweeps a lot for them. And their Nose Guard? Anyone have any other injury reports for this game concerning Wiscy?
Let's remember, UGA has a bad loss on their record. I honestly don't think they deserve to be at #4, but hey. LSU beating them will not be that much better than us beating Wisky (this weekend) who has been beaten by us(good loss), and has a bad (actually Illinois is bowl eligable) loss too. But, they do have a couple good wins over Meekchicken and Minn.(& Iowa).
If we both win, I see no reason for them to jump us, especially with the player losses that UGA will be dealing with on Saturday; LSU should be expected to win.
There you go, this: If the question is who have you beaten, then LSU probably gets it. If the question is how have you beaten teams, then we do. And, there is no ambiguity to be involved in looking at "how you have beaten teams". The stats lines and the final score tell the whole tale. There is lots of ambiguity involved in labeling teams for a ranking; it all starts with pre-season rankings that shift around as we move forward, and may very well be very wrong in the beginning.. looking at you, SEC fodder teams.
How we have beaten teams is by far the biggest issue the committee has used to date... we have relatively comparable schedules, but the Bucks have looked far better in their wins than LSU, or Clemson. That is why we were moved back to #1 after we beat the nit wits. And, assuming we beat Wisky again, we will remain at #1, regardless of what LSU or Clemson do.
LOL.. sometimes I am just too lazy to Google things...
Hey, we may need a new word here, Dubbers... "Gloozy" - Adj - having apathy for or being to lazy to Google some topic.
Has anyone else noticed that The Predator doesn't ever tackle the QBs, he just kind of grabs them and folds them into a little crumple (new word - aka crumble pile) on the ground? This is a great way to avoid a targeting hit on the QBs and has to be demoralizing and embarrassing to them too!
I saw the play, it was on a kick return and he was kind of airborne and came down head 1st, and didn't have much of a chance to break his fall with an arm. I thought that he may be really hurt, but he did get up pretty quickly. Didn't play after that. I think he and his family are probably wanting to be very cautious with his head/neck injury. But, no doubt about it, this was a scary injury that could have been a lot worse.
Someone needs to post a gif here, to show us "how he gon eat!"
Uh - oh. The Nit Wits' Oline was already just average, but now their center is out of the game. I guarantee that their game plan is quick hit passes, and QB runs, and cut-back or counter handoffs. Their center position is going to be weak, and they will have to give him help in blocking schemes. This is a big problem for them. Add to that that Hamler may not be 100% or may not play, and this is a serious problem for their offense. 5 yard curls and out patters to their Tight end(s), and quick slants is all they are going to be able to use; A lot like the Wiscy game. They will not run the ball effectively against us.
I see a 42 - 10 win for the good guys.
No, Bladgers def is not better. Unless the opposition is intent on running the ball between the tackles, or has an inferior off line. Which, by the way, was the case in their1st 5 games. But, Illinois has some big studs in their def front 7 (did anyone else notice this?) and the Bladgers couldn't just line up and run the ball at will. If we make them have to throw the ball, and we will, they can't move the chains with any regularity. And, their off line will not wear down our def front, we will be fresh through the 4th quarter compared to them. Depth is on our side in every game we play this year.
Their defense has not played any offense that is even remotely as capable as our offense is. Bucky probably wins that game if they don't have those 2 turnovers, but they would win by a TD or so, against a worse than average Illinois team that has very limited offensive capability.