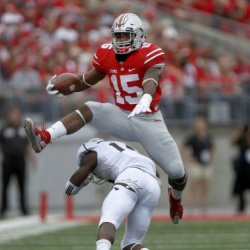 shizawn9415
---
MEMBER SINCE September 21, 2013
Recent Activity
I love watching him but he's the next shiny hood ornament that Urban liked to collect
JT is one of the best OSU QB's of all time. Losses happen people! Get over it and stop whining like lil b*tches
Why is Lyle even playing? If his ankle is that badly sprained then get him healthy and sit him.
He was sleepwalking out there and had no life to his game what so ever. Lazy passes that resulted in turn overs, walking the ball up the court, terrible defense.... makes no sense
470! Victor hauls in his first TD!
Those shoes don't appeal to a 33 year old bald white guy, but hey, if they bring in more 5 star recruits then I'm all for them!
Weber's ability to push the pile has been an unexpected bright spot from the young fella. Without that, the Bucks could be looking at the Poinsettia Bowl
I loved the modern alternates - the Chrome Helmet with Scarlet or All whites.
Not sure we'll see them again.
Loving, Lyle, Tate, Williams, Diop. We're fine. If anything, adios!!!! We're talking a combined 4.97 points per game.
This team is hard to watch sometimes but I don't want the season to end! Keep winning Bucks!
DEFENSE. Kam needs to try it
I miss those Lebron Jerseys! Bring them back!
I hate this term and how its used lately but.....
HOMERUN HIRE!
I would love to play Baylor, TCU, Stanford, ND, Florida or Ole Miss.
1. Big 12 - so they can face a real defense for once
2. Stanford/ND - media has a lot of respect for these teams = quality win
3. Florida or Ole Miss - Crushing a SEC team
Best part of this artlce? Posted at 5 AM. We can't sleep were so excited! Get dumped them Spartans
Lee won the game against Northern Illinois. My whole family was at that game and boy if he doesn't get that pick six..... who knows. I've been to 20-25 games at the shoe and I've never witnessed silence like that (prior to Lee's interception)
He rejuvenated the crowd, the offense (kinda), and our belief in the defense again. Guy is a stud!
Lets not forget the accuracy that JT had last year. The guy was money on most if not all his deep balls.
I can clearly remember thinking to myself that every time JT was heaving up a long ball it had a really good chance of being PERFECT. Not close, not Dale - just heave it up there close, but we're talking in-stride PERFECT. His accuracy was what impressed me the most, not his read option running. (which is nice btw)