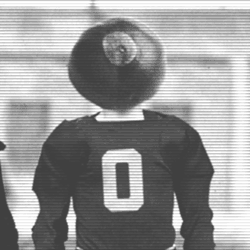 Sheridanclan11
---
MEMBER SINCE March 25, 2015
Recent Activity
This is just the first step. The inevitable other shoe will drop in August.
At this point, I believe there is a higher probability that there will be no football in the fall than even an abbreviated season.
There is no way we win that year with JT at QB. Defenses would have loaded the box and dared us to throw, which was never a strong suit of Barrett's. We won that year because Cardale's arm and the lack of tape on him enabled us to surprise Wisconsin's and Alabama's defense.
Hands down, Shawshank Redemption is the best ending I have ever seen.
I did a taste test and like both of them. IMO, the taste is very similar. I gave the Popeyes sandwich the slightest of edges because I love the deep fried outside of their chicken. Either way, neither of them are that good that people should be scrambling for them like they were bleach or toilet paper at a Costco.
As with any accusation, find out the full story before passing judgement.
Wade is already listed as a top 25 player on CBSSports. He is not coming back and he shouldn't if he will be a first round pick.
Young is not coming back and neither is Wade. They are incredible players and have earned the opportunity to get paid for their hard work and talent.
Skip Bayless posted congratulations to LSU for advancing to the title game against Clemson.
The results are not a shock. The media drives this committee and, from the start, the narrative of the SEC as the best conference has driven the selections. If we had been up against an SEC in 2014, we never would have made it.
My only problem with it is for years the BIG10 got knocked for being a weak conference and that is why our conference rarely made it into the Championship game. Now the analysts are saying it doesn't matter if your conference stinks.
The media is pushing hard for LSU. Check out ESPN, SI.com, cbssports.com. If the committee can battle the bias, we have a shot.
I completely agree but the Committee (and the media and most of the country) is conditioned to believe that the SEC is, by far, the best conference and so it doesn't matter when they play patsies from the FCS.
We might be matching up with LSU in Georgia on December 28th.
Nick Saban will forever be tarnished by his time coaching in Miami. Hopefully, Urban stays where he is at. I have been watching football for 45 year and I have learned more from a year of "Urban's Analysis" that I have from the previous 44 years combines. He is brilliant and very insightful. All he will get in Cowboyland is stress.
Honestly, I have a bad feeling about tomorrow. If the game were being played indoors or in good weather, I would feel much more confident.
The entire "SEC is better" fraud stems from years the same bias along with from Auburn's victory over Oregon and LSU beating Texas. Those two victories. Both of those victories have proven to be over-rated but the narrative was set.
The play-calling lacked any creativity. It felt like the J.T. Barrett era. The issue I had with it is that Fields' strength is not JT-style running, he had not played the JT role before and his thumb was hurting. In fact, Fields seemed off from the start. I believe next week will be a more difficult game so I hope that JF can heal and we can be more creative in our play-calling.
If we play like this next week, we lose. Michigan is much better than Penn State right now. Our passing game is getting flustered in way that will make it difficult for us to beat really good teams. Fortunately, our defense has been very solid.
Browning being out scares me. Tuf has done a better job this year but still gets eaten up by blocks and has a tough time defending quick players. Without Browning's athleticism, we could get gashed for some big plays, IMO.