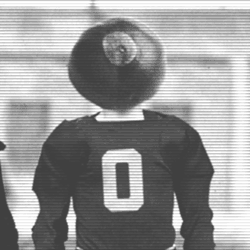 Shayla39
---
MEMBER SINCE December 21, 2012
Favorites
SPORTS MOMENT: 2003 NC game
COLLEGE FOOTBALL PLAYER: Keith Byars, Chris Speilman,Eddie George, Archie Griffin, Donte Whitner,Teddy Ginn, John Simon, Zack
COLLEGE BASKETBALL PLAYER: Jim Jackson,Clark Kellogg,Evan Turner,Jared Sullinger,Jekel Foster,Aaron Craft
NFL TEAM: Cleveland Browns
NHL TEAM: Bluejackets
NBA TEAM: Cavs,76's
MLB TEAM: Indians
Recent Activity
Or maybe sing his school's fight song with Nick Lachey in the shoe!
Total disgrace.
This poor kid has had some painful injuries.
Anything around your eye is not good and precautions need to be taken for full recovery and not taking chances of more damage.
Think he will be in a mask when he returns.
I find it interesting that TSUN played at Maryland last week and this week Don Brown said the Buckeyes "better watch out."
Something about that does not feel right or maybe it's just me.
Especially working with Griese! Can't listen to them.
His weekly news conference confirm this. Just brutal (but not elite)
Being a mother of sons and also a person who has received that call back from a doctor after a biopsy, God bless you for relaying your situation to help others.
I will be praying for you and your family. Keep fighting.
I remember hearing what his wife said to the shooter, "we have children", and it made no difference.
As a mother, I cried for her and prayed for her and her children. It still breaks my heart.
I wish we had more regard for life and not petty stuff things that lead to these horrible actions.
God bless his wife, children and entire family.
Don't trip over any puppies, Brian! You have some off the field behavior issue yourself, you arrogant guy.
Exciting finish.
Need to clean-up the errors! Made this game very tough for themselves and maybe know when to throw to the cut-off.
Love these kind of stories. Happy for the young man.
This is such a great experience for the athletes and to share their time with these special people.
Having a sibling that had special needs, this makes me appreciate the time given to make these folks feel really worthy and appreciated.
They know they are different than others and are much more aware of what is going on around them than what some "normal" folks think.
God bless those athletes who took the time to make special memories for these really "special people".
Amen! They are intolerable with their arrogance.
I am so happy for him! He has a lot of talent.
That should be 2016 not 2017. was a typo & just noticed.
For Mike Weber, he will not only be with other Buckeyes in Dallas but also his buddy, Jourdan Lewis and they can relive the 2017 game and tweet.
Class act and wish him success.
Very sad.
He loved Fred Taylor and honored and praised him through his career.
Have to admire his toughness and saw where he said how much he loved Ohio State.
He played hard and gave it his all and showed how competitive he is. Great kid!
If I never hear "Rocky Top" again it will be too soon!