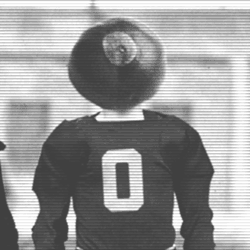 Shayla39
---
MEMBER SINCE December 21, 2012
Favorites
SPORTS MOMENT: 2003 NC game
COLLEGE FOOTBALL PLAYER: Keith Byars, Chris Speilman,Eddie George, Archie Griffin, Donte Whitner,Teddy Ginn, John Simon, Zack
COLLEGE BASKETBALL PLAYER: Jim Jackson,Clark Kellogg,Evan Turner,Jared Sullinger,Jekel Foster,Aaron Craft
NFL TEAM: Cleveland Browns
NHL TEAM: Bluejackets
NBA TEAM: Cavs,76's
MLB TEAM: Indians
Recent Activity
Exciting finish.
Need to clean-up the errors! Made this game very tough for themselves and maybe know when to throw to the cut-off.
Love these kind of stories. Happy for the young man.
This is such a great experience for the athletes and to share their time with these special people.
Having a sibling that had special needs, this makes me appreciate the time given to make these folks feel really worthy and appreciated.
They know they are different than others and are much more aware of what is going on around them than what some "normal" folks think.
God bless those athletes who took the time to make special memories for these really "special people".
Amen! They are intolerable with their arrogance.
I am so happy for him! He has a lot of talent.
That should be 2016 not 2017. was a typo & just noticed.
For Mike Weber, he will not only be with other Buckeyes in Dallas but also his buddy, Jourdan Lewis and they can relive the 2017 game and tweet.
Class act and wish him success.
Very sad.
He loved Fred Taylor and honored and praised him through his career.
Have to admire his toughness and saw where he said how much he loved Ohio State.
He played hard and gave it his all and showed how competitive he is. Great kid!
If I never hear "Rocky Top" again it will be too soon!
I thought it was just me.
So what is Robert Smith's role? Is he out?
So nice to see this kind of an article for someone so deserving.
Seems we only hear negative stories and this was positive and uplifting to see this young man succeed.
As always, thanks for the article, Aubrey.
Those are just a few of the names that come to mind.
I want a t-shirt or sweatshirt with a list of names to go with that "worst state ever" they wear up north with all the names of Buckeyes who went up there to coach or play.
Of course you would have to have many editions as there are so many who have done this.
As I watched the TSUN play Wisky on Saturday, many times during the game, 40% of the players on the floor were from Ohio, 20% for each team.
Have been watching the Buckeyes-Hoosiers on Classic this AM from February, 1991, double overtime win by the Bucks,
What a difference with the game being played in St. John's area.
I know the game will be played in Bloomington, but this was a nice memory and maybe will be a lucky omen.
It was a good day for Buckeye teams.
Thanks so much for noting this important moment in time. It is important for this history and the people involved to be recognized.
I often wonder if young athletes are fully aware of how much later in time the SEC schools had integrated teams. (I'm looking at you Bama).
Know things were not great for athletes on integrated teams back in the day but at the very least they had the opportunity to play and change football forever.
ALL scUM teams can go to well, you know.
Great advice for young people. Means a lot for him to do this.