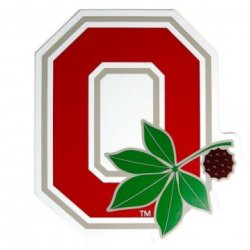 shawnshumaker
---
Newark, OH (via Newark, OH)
MEMBER SINCE December 04, 2014
Recent Activity
"I drink because I'm lonesome and I'm lonesome 'cause I drink"
Chris Stapleton "Whiskey And You"
I'm not crying, you're crying...........O Hell, yes I am crying........love this team! Go Bucks!
Tuesday Aftermath by Bud and Max: 2 guys, in a Kitchen, just being real. Good friends of mine.
Why the flying F is this even a concern? Do you get upset if I stand up in front of you while cheering too? BTW.....I can rock the jersey, especially with a hoodie. Carry on!
For the record........Fuel his return to Coaching in General. Not necessarily at OSU.
If those photos are the evidence of his 2009 incident of being arrested and not charged........then it's clear as to why he was never charged. Makes one wonder that CS's mom just may know what she's talking about. I guess maybe some more light will be shed after the Sept court date between ZS and CS. Maybe 11W released these for the betterment of OSU and Urban, or simply for us to gather our own opinion...who knows. It's the timing and "no 11W intent" is what's baffling.
Gotta agree with Tbdbitlbuck........ Dankhouse in Newark/Heath is the place for Hazy's. I am there every week.....You won't be disappointed.
I said on Aug 2nd:
"Maybe, just maybe.....she said that to make it look like Zach's....when really it's her motive, and to shed the light away from her."
Looks like it's leaning that way.
"Zach once told me," said Courtney, "if he ever got fired and this all comes out: 'I'll take everyone at Ohio State down with me."
Maybe, just maybe.........she said that to make it look like this is Zach's deal......when really it's her motive, and to shed the light away from her?
Question.......why would someone screen shot text messages unless you had a "reason" to.......or "motive"?
"Hold my Beer.........I've got this "trophy move" thing."
Was thinking the exact same thing Trips!
I would think an analytical guy would want to know the analytics.
This is better than "Days of Our Lives"........that is if you're into that kind of thing.
I love JT........but with all due respect....if he is coming back for his Senior year.........where would he have went had he not?
I had mine stolen too..........in 1993!
Never forget........last Spring Break we took a trip to Nashville.....one night after walking out of the Grand Ole Opry with about 4,000 other people......I yelled "O.H."...........and within a nano second......the echos of "I.O" rang across SEC country!! Fan...freakin'...tastic.
Was just in Nashville two weeks ago. While there we attended the Grand Ole Opry on a Tuesday night. We saw the likes of Eric Pasley, Easton Corbin, Pam Tillis, and the Legend.....Charlie Daniels. During a brief break, they mentioned a shout out to a group of students from London High School from Ohio. I, being from Newark, thought that was cool. So anyway, after the show was over, my family and I were walking back to the Opry Hotel to our room and I noticed few of those kids from London way off to the side of us.......about 50-75 yards away. (They all had on red tshirts, so it was quite obvious). Anyway.......I told my clang........." watch this", and I yelled as loud as I could....."O.H." Within two seconds, heads turned, fingers raised, and about 30 High school voices boomed........"I.O". I waved in returned......and proceeded on my Nashville journey with a huge scarlet and grey smile on my face.........right in the middle of SEC land. Go Bucks!
Why can't he just wear a "short" jersey, that doesn't need tucked?