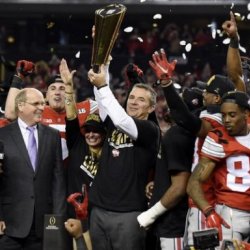 SHAWNEE_FOREST_BUCKEYE
---
from West Portsmouth, OH
Member since 20 July 2014 | Blog
Favorites
SPORTS MOMENT: 85 yards through the heart of the south
COLLEGE FOOTBALL PLAYER: Eddie George
COLLEGE BASKETBALL PLAYER: Aaron Craft
NFL TEAM: Cleveland Browns
NHL TEAM: Columbus Blue Jackets
NBA TEAM: Cleveland Cavaliers
MLB TEAM: Cleveland Indians
SOCCER TEAM: Crew, USMNT
Recent Activity
Junior in high school `06 vs Bowling Green. Bought a Troy Smith jersey at the gift shop and watched him toss a few TD's en route to a Heisman campaign. Still remember my first Script Ohio like it was yesterday and man do I miss that natural grass field.
If LBJ, Love, Kyrie, and Smith played today and we lost by 39 I would be worried. They didn't play and im not worried. Hope we do play the leprechauns in the first round and sweep those a-holes. Still bitter from the losses in the LBJ era.
Was at College Traditions before the game Saturday and they had jerseys with a Block O on the front of the jersey. Reminded me of what UM wore against ND a few years ago.
Love the faux Bo Pelini and fake Jon Gruden accounts.
I'll be there with 3 other Buckeyes in Section 151 Row 13. Went last year and it was a blast except for the outcome. Great stadium to watch a football game.
Beautiful start. Would love to see this team remain near the top in the East when Dubinsky, Jenner, and Horton returns. If so, watch out.
I've only been to a few big time stadiums outside of Ohio Stadium. Notre Dame, Michigan, and Spartan Stadium. The best experience I ever had in a stadium was in AA last year. Entire game was a rollercoaster and sat with great Buckeye fans (Simon Fraser and Dustin Fox was right behind us) and high fiving former Buckeyes after the W was pretty damn cool.
Beat me to it! Good call.
12/1/14
Hoke gets canned Monday morning following loss at Ohio State to finish the regular season 6-6.
"Firing Carr would change everything!"-2007
"Firing Rodriguez would change everything!"-2010
"Firing Hoke would change everything!"-2014
Hey ESPN,
More stories like this. Less stories of Ray Rice and Adrian Peterson.
We had over 700 yards of offense. Whoever was out there lets leave them out there.
Curiosity got the best of me with Greg Oden. I will not give in to curiosity this time. I haven't felt like a true man since that google search.
We have seen tremendous growth from JT the past few games. Lets keep in mind it was against Kent and Cincy. If JT throws 4 TDs and 300 yards and beats Sparty on the road? Then I'm ready for a QB controversy. Until then Braxton is my guy.
I like how one of the FAQ is "Can I pick my own size?" And the answer is Yes! Absolutely. Why the hell would anyone order a $125 shirt if they cant even pick their own size?
Notre Dame and Va Tech.
Kansas and Kentucky would be nice for hoops but football ehhh...
One of my favorites as well and my God does that natural grass look beautiful.
Trying to convince a 17 year old to come play in the Big Ten at Michigan over playing in the SEC at Florida sounds like a tough task.
Classless and stupid are the two words that come to mind.
Love watching Ginn highlights. Him racing down the sideline against UM in '04 still gives me chills when I see it.
Next 6 games
Baltimore,@Tennessee, Pittsburgh, @Jacksonville, Oakland, Tampa Bay. Browns could be 6-2, dare I say 7-1 heading into the Thursday Night Game in Cincinnati. Man a game like that is what the Battle of Ohio needs! Go Browns!!