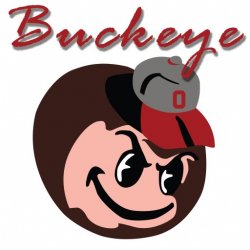 ShawneeBuck74
Shawnee, Kansas (Kansas City) (via Columbus, OHIO)
Member since 02 February 2012 | Blog
Favorites
SPORTS MOMENT: Too many great Buckeye moments to pick just one.
COLLEGE FOOTBALL PLAYER: Troy Smith
COLLEGE BASKETBALL PLAYER: Jimmy Jackson
NFL TEAM: KC Chiefs
NHL TEAM: Columbus BlueJackets
NBA TEAM: Oklahoma City Thunder
MLB TEAM: KC Royals
SOCCER TEAM: Sporting KC/New York Red Bulls
Recent Activity
JTB's interview from pro-day:
Tom Herman would have made Braxton look like the best H-back in the nation.
As it were, he had Beck and Warinner... and they wasted his talent with too much predictability/un-originality. Beck is on thin-ice in Texas already. Ed already got "moved on" from Minnesota... took a non-coach job at UM, until it turned into a position coach job.
2015 JTB entering in red-zone situations did work. And I think if Herman would have used Cardale and JT the right way. Some guys just have "it" when it comes to the "art" side of playcalling. Herman does. And I believe Wilson/Day do as well.
I've never bought into the Kirk Cousins hype.
Kyle Shanahan made him look better than he is. Look at what Shanahan did last year in S.F. when he got Jimmy G.(and how he even coached JG up, too). And look at what Cousins did without K.S.... and only having Jay Gruden.
Cousins is decent, but I knew that move for TP was bad.
I, do, however, see your point about being the best receiver on a bad team... they have to throw it to someone. He'll get a lot more targets.
Damon Webb looks to have improved his draft stock getting that 40 time under 4.6.
Also by getting some direct attention from Patricia and Bellicheck.
Erick Smith's numbers... OUCH. I remember watching him play corner in the Army AA game and thinking...man, he might be the best of the Glenville 3 (which included Lattimore).
I agree, Hove. Why go a team that has no proven QB (really)? Playing with Russell Wilson would have made him look really good.
The cash in this deal must be the best deal for him... either that or TP thinks the Jets will need to use him at QB some point during the season! lol
I've never been impressed with Tisdale's passing in the games or tape I've seen. He is a great athlete. Conversely, I remember watching JTB's Tape and being impressed with him as a player, though not just as a passer. He just seemed like a gamer.
Ultimately, we will need to see how this offense evolves to know what's QBs for it best. Baldwin's tape looked pretty similar to Joe Burrow's tape. Gunnel looks like a Haskins type QB to me.
We can officially declare this season a resounding success.
I mean it already was but losing in the 1st round would have really dampened a great unexpected season (especially since we were weak down the stretch and in the Big tourney).
Get Chubb, then trade down and get Ward.
Im serious about this... trade for Cardale Jones.
He's got just as much a rocket arm as Allen, but has more time in the league. And he's more accurate. And he won a National Championship at Ohio State... a much better school/program than Wyoming.
Let him spend a year under Tyrod in transition and then take over, like the Chiefs did with Smith/Mahomes.
Get Chubb, then trade down and get Ward.
Im serious about this... trade for Cardale Jones.
He's got just as much a rocket arm as Allen, but has more time in the league. And he's more accurate. And he won a National Championship at Ohio State... a much better school/program than Wyoming.
Let him spend a year under Tyrod in transition and then take over, like the Chiefs did with Smith/Mahomes.
The history channel does air the show, Ancient Aliens...
If I were him, I'd sign with the 49ers (assuming equal-ish contract numbers here). He'd be outstanding with JimmyG throwing to him. Goff is decent but not near as accurate. Tyrod Taylor doesn't really have a deep ball game.
I knew JTB played more games than Brees, but wow... Brees threw the ball so much more. This paragraph is a critical piece of data about the significance of JTB's breaking records:
Though Brees still holds the Big Ten career record for passing yards with 11,792, a total of over 2,300 more than Barrett, Brees also attempted 467 more passes over the course of his four years at Purdue. But despite throwing it less often, Barrett still managed to finish his collegiate career as the Big Ten's all-time leader in touchdown passes with 104 to Brees' 90 and actually ended with a career passing efficiency rating of 152.33, 20 points higher than the Boilermaker legend.
Curious... where did you hear this? I've been looking for news like this from observers.
Why do people think AJ McCarron is good? He can't even win the Bengals job.
Some other better stop-gap QBs will be available, like Keenum.
I ah e full confidence in Wilson/Day year two partnership. I think they're less dependent on the QB run game than Urban is.
Yep, both knees. Effectively ending any shot he had at the NFL. Great college player though.
Wilson coached a pocket-passer type in Sam Bradford and a functionally mobile type in Jason White (though he wasn't White's OC, he was the run game/OL coordinator until 2006).
It's general knowledge that you need strong guard play in the NCAA tournament.
The guards on the 1999 team: Penn & Redd, Brian Brown & Boban Savovic
2006/2007: Michael Conley, Jamar Butler, D. Cook
This year's team: CJ. Jackson, Andrew Dakich, Kam Williams, Musa Jallow
I LOVE what the team has done this year, but I don't see this set of guards taking us deep into the NCAA. I hope I'm wrong. But I think teams have figured out how to defend us (namely, stop KBD & attack our guards).
The writing is on the wall, I believe. We already know so much about CTE/football. Think of what we'll know in 10-20 years.
The equipment makes the collisions more violent and less safe due to poor technique. Sports all have a level of violence & risk to them but football's equipment makes young men (whose frontal lobes don't close until 25-26 years old) feel invincible. Ryan Shazier could be dead...and may be permanently unable to walk as he once did. Bad technique and an ethos of invincibility.
I think we could keep tackle football if there were more "soft" pads. Kind of like what you see in 7 on 7. It will look a little more like Rugby... or the kind of football played all over America on Sunday afternoons in the fall. Violent, yes. Aggressive, yes. But not as "brain" altering.
46 Arnette, Damon CB 6-0 195 RS JR Fort Lauderdale, Fla. (St. Thomas Aquinas)
I see you honoring Marlon Kerner, Damon!
I'm a big fan of JTB. As I've said all along, I think we know his limitations as well as his strengths.
Throwing weakness: throwing outside the numbers with accuracy (as seen with his throws being behind the receivers on 10-yard outs). His deep ball tends to sail a little to the right if he "floats" it. If he rifles it, he usually overthrows the WR (or he completes it on the money, maybe 1/4 of the time and half of those are dropped by the WRs).
To me, this is a technique issue exacerbated by his average arm strength. He doesn't have a weenie arm but he doesn't have a canon, either (like Cardale or Haskins)
Throwing strengths: RPO passes as well as throws where the receiver is cutting inside (slants, ins, hooks, etc.) when the receiver cuts to a spot toward the middle of the field & settles into a zone. JTB made those throws better than a lot of the guys (like Lamar Jackson) at the combine. A lot of his absolute lasers against teams (like PSU) were on these types of routes. These throws maximize his decision making ability/intelligence -- which is really strong.
We will see if this translates to being drafted. I do think he will be drafted. However, if not, he'll make someone's camp. And if he makes a camp - his leadership, intelligence, and his QB skills (which can be improved with more coaching) will land him on a roster as a QB3.
Good time. He'll be faster on OSU's pro-day at the Woody (if he elects to run). Our guys always run faster at the OSU pro-day.
I can't believe people say he's not an every-down back. Did they watch any games? Do they see his measurables?
SB won't be there at #4. Browns need to get him at #1. Value has returned to the RB position in the last four drafts -- especially fast/big backs like Gurley, Zeke, Fournette, and now Barkley.
But it's the Browns... they'll probably screw it up somehow.
JT Barrett runs a 4.76 & 4.71 at the combine.
He'll run in the 4.65 range at the Ohio State pro-day, I believe. Seems like guys always run faster in the Woody.