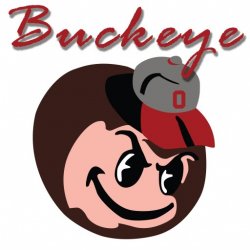 ShawneeBuck74
Shawnee, Kansas (Kansas City) (via Columbus, OHIO)
MEMBER SINCE February 02, 2012
Favorites
SPORTS MOMENT: Too many great Buckeye moments to pick just one.
COLLEGE FOOTBALL PLAYER: Troy Smith
COLLEGE BASKETBALL PLAYER: Jimmy Jackson
NFL TEAM: KC Chiefs
NHL TEAM: Columbus BlueJackets
NBA TEAM: Oklahoma City Thunder
MLB TEAM: KC Royals
SOCCER TEAM: Sporting KC
Recent Activity
Keeping it real... Donovan's Peoples-Jones is the truth.
Other than that, I like who we got.
Magic Johnson... "Gimme Lonzo Ball & his whack daddy all day er'y day!"
Tough draw. Iowa State waxed KU pretty easily. They're pretty solid. Hard to believe they are a 6 seed.
I think it's going to happen for all of them. And I think teams will draft them according to fit/needs.
Johnny Dixon has the best hands out of all the WRs.
TMaC runs the best routes.
Parris is the best pure athlete.
These guys will make a good living and represent OSU well.
Flat earth & conspiracy theories, you say? From the link:
Some research shows that conspiracy theorists want to be unique, and have lower levels of education and analytical thinking skills, he said.
.
Watching Joe Burrow play at LSU last year made me think that there were some short yardage, bootleg, and deep play action that was really missing from our offense with a QB like Haskins. Their Oline was terrible and their playcalling suspect, but they were good at that.
Day tried to work some of that in, and it was effective. I just don't think it's a set of plays that made Urban comfortable overall.
It may have been predictable that 3 &4,3,2,1 was gonna be a JTB run, but it almost always worked...which is pretty impressive since everyone knew it was coming. So, I don't get the hate for it. JTB was amazing at getting that 1st down, which is the primary objective.
I mean, he was 10/10 with some nice throws in his only significant action. He threw for thousands of yards at one of the best High Schools in the nation against some top national teams. He's not Haskins but he can throw. I don't understand this narrative as there isn't anything that we've seen from HS or college that supports it.
It happened after he talked smack and didn't do what he said he was gonna do. Part of that was the stuff that was found out after he left, like he kinda always seemed to have one foot out of the door (true or not that was the impression).
I was pulling for him and wanted to see him stay and play. He's talented and a winner.
I don't hate him but I kinda understand why some people are over him & that's what I think is reflected in the snarky comments.
But even before that, I think he bore the brunt of being a true dual threat QB and people didn't want to go back to Urban's 20+ QB runs a game.
They were the gray blanks last year...
A lot of teams are moving toward a dime package like that, where one or two of the DBs are hybrids ... big enough to be an OLB, fast enough to cover. D.Lee types or even a little smaller like B.White.
Shaun Wade is gonna stay at nickel or corner.
I think Reip or Proctor will be opposite of Fuller.
If Pryor stays, I think he backs up Fuller at the boundary. He's not a field safety.
I think that's fair... and I wish the NCAA would level the playing field itself by setting the number of conference games or changing the post-season rules.
But we will always be at a disadvantage in the current system. And Delaney has not/is not working to make sure it's fair. The only way to get to level, then, in CFB is to play be the SEC's rules until it forces change in the whole (as people get tired of it, the same way the Big 12 got tired of being left out and changed their rules).
Fine. It's just an example but others have made that point before. And I'm not saying that its okay to lose those games we should have won.
I'm saying that our conference rules and scheduling adversely affect the B1G in the football playoff scenario whereas, its much easier for the SEC to get one team in even if they have 1 or 2 losses. That's a SYSTEM problem.
Outside of making money, the Commish needs to be the conference advocate. Delaney...at least in these last few years, is not. He talks about the Rose Bowl and winning a conference, yada yada... things that really mattered in the 70s, 80s, and the early 90s.
But modern college football is about the NC (and playoffs). And Delany's laisse faire approach to this hurts the B1G's chances (not just OSU's).
It's likely that we don't play those away trap games if we have an 8-team conference schedule. Instead of Purdue and Iowa away games...we'd be playing the Citadel, for example.
There's a statistical reason why the SEC ends up having more shots at the NC or the playoffs for over a decade...even with equal or more losses... we better adapt or we'll get left behind.
Bill Belichick will turn Trace into and All-Pro slot WR.
I changed it to reflect his good job of getting us money.
But his most recent comments played down the playoffs and NC as essentially unimportant.
He's not willing to fight for his conference and work the system to get his teams in year in and year out like the SEC does and now the ACC. I get he's a lover of tradition but times have changed.
Until the differences in conference rules are addressed...or the playoffs are expanded...those taking advantage of that will always have the upper hand in getting their teams in the playoffs. We need a commish that gets that and acts accordingly.
Congrats. Thanks for the $$$.
Now let's get someone in there who cares about the B1G being in a position to win playoff championships and will start doing things to make the playing field level with the SEC.
So talented. Not great work ethic.
I can't believe I left out SHZR!
Said ORLANDO Pace above.... but after that, hmmmm. Some of the guys didn't pan out due to injury, etc. but if i were a GM, I would have had no problem spending a 1st round pick on:
Cris Carter
Spiels
Joey Galloway
Terry Glenn
Shawn Springs
Antoine Winfield
Nate Clement
Big Daddy
Korey Stringer
Eddie
Big Kat
Chris Gamble
Ted Ginn
James Laurinitis
Mike Doss
AJ Hawk
Robey
Hooker
Conley
Lattimore
Ward
D.Lee
Price
Zeke
Bosa
Bosa2
Mike Thomas
(I'm sure I'm missing some guys but these are the ones who I would have spent a 1st rounder on with no concern whatsoever).
In my time of intentional fandom? I'd say Orlando Pace.