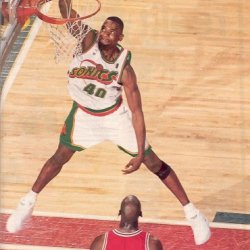 shawn kemps kids
---
Cincinnati (via Cincinnati)
MEMBER SINCE May 06, 2015
I am all 19 of Shawn Kemp's kids. We all post.
Favorites
SPORTS MOMENT: LeBron's Block or Kyrie's Shot
NFL TEAM: Bengals
NHL TEAM: Blackhawks
NBA TEAM: Timberwolves
MLB TEAM: Reds
SOCCER TEAM: Bayern Munich
Recent Activity
He was off on Edwards because Henderson committed first lol
It still has JC Latham listed as a DE and I believe he played strictly OT this past year
I will buy gift cards from local restaurants.
invest the rest in bonds until the stock market comes back.
What?
Is there some crazy alternate universe where the Bengals trade the #1 pick for Miami's 3 first rounders this year plus 2and rounder and next years first. Then commence to sign Cam Newton, draft Simmons or Okudah at 5. And go full on "win now" best player available.
no. Miami isn't going to offer that and the Bengals won't accept anything less, IMO.
Great list and a fun activity. My only criticism is listing Harrison. By all accounts he committed because Day was taking over.
A phenomenal, informative troll article. I love it.
I won't pretend like I fully understand the bullet/SAM position but from what I do know about it and Davis it seems like a perfect spot for him, no?
Had some incredible yellow fin tuna steaks seasoned with Trader Joe's Everything but the bagel seasoning grilled rare and portobello mushrooms and washed it down with a 2017 Kosta Browne Pinot noir. Tomorrow is filet mignon, a tbd side and 2016 Caymus Cab Sauv.
Casual beer drinking: Listermans Triple the Message IPA.
We are like flipping quarters with them and we have never won a flip.
Pretty sure Clemson went after Fleming and Carrico pretty damn hard.
Yes, thank you for backing up my post that Diakite, 6'9", was not one of the top 5 minutes played for Virginia in the national championship game. I was mistaken on him not playing half the game though so thank you for the correction.
Good for Jack Salt but I'm not sure the word "helped" is the most fitting given he had 5 points and 14 rebounds in the 6 games of the NCAA tourney.He had a role in one game. He also had 3 minutes against Texas Tech, 8 against Auburn in the Final Four, 3 against Oregon in the sweet 16, 2 against Oklahoma in the round of 32 and 5 against Webber in the first round. But that does highlight my point. Salt played a role in one game. The game is moving away from your lumbering big men. In Virginia's games against teams in the Big 12, SEC, PAC12, Big 12 and mid-major Big Sky Virginia had no need for the traditional big man. Even in ACC play he only averaged 15.9 minutes per game. OSU should get ahead of the curve on the rest of the Big 10 - which looking at the roster next year they might be forced to.
Not sure who said OSU will be successful with playing Liddell at the 5, but since you're replying to me I assume you think I said it? I did not. He's a small ball 4. And not sure I agree playing 6'6"/6'7" in the post will be unsuccessful. FWIW, MSU shared the title with their post player being an inch taller with Tillman at 6'8". Luckily they have Dallio and Young who are both taller than 6'7".
I always wondered what Terrelle Pryor could have done on the hardwood.
On a similar note: I always wondered how Randy Moss would have done on the court. He won WV POY (2 times) in basketball over Jason "White Chocolate" Williams.
Who cares about starting line ups? What matters who plays the most minutes and who ends the games.
Height of the 5 players from each team who played the most minutes in 2019 NCAA tournament's national championship game:
6'5", 6'3", 6'3", 6'5", 6'4"
6'2", 6'7", 6'5", 5'9", 6'8"
That game went into OT, which means they played 45 minutes. Not a single player over 6'8" played more than half the game - 22.5 minutes, which rounds to 23 minutes played on the record books.
Add in the rest of the final four teams: Auburn's top 5 minute-getters height: 6'3", 5'11", 6'8", 6,4", 6'7". Michigan State top 5 minute getters height: 6'1", 6'5", 6'7", 6'5", 6'9".
OSU suspended in person classes until the end of the month
You gotta tweet this at him. GOAT response.
Not sure if you have a 247 subscription but Brian Snow has been on the OSU boards the last week or so saying OSU should ditch the old school "1985 style of basketball played in the Big 10" and go with the modern game. He was referring more to the 21-22 season and said OSU should roll with Key and Diallo at the 5 and run them with 3 guards and a wing at the 4.
I think I read a few months ago that a couple of the OSU graphics guys are now down at LSU.
I'm down in the Cincinnati area and I know Kentucky recently received a grant to up their police presence along 71/75 south that stretches about 8 miles starting the second you cross the Brent Spence Bridge into KY. The grant was to curb speeding, reckless driving, etc. as that 8 mile stretch results in a lot of accidents. Maybe it is something similar?
Didn't downvote you myself but the downvotes are probably for the same reason you always get downvoted. 1) people are tired of reading about it from you 2) it doesn't affect you in anyway yet you don't stop bitching about starhanderouters.
In the few times I've had to call in, it's been between 5-10 minutes.
I've had Ally for about 5 years now and it's incredible. Sucks you can't deposit cash but other than that it's wonderful. Really like the buckets they just released. No withdrawal fees if you use an Allpoint ATM (usually found in gas stations) and they refund you up to $10/mo for withdrawal fees if you use a non-Allpoint ATM.
As far as transfers, Ally is now set up with Zelle so as long as the other bank you are transferring between has Zelle it's instant.
That lead me to think I have never seen columbus taken over on gameday not even close. Has anyone ever seen a fanbase with a strong showing in columbus.
Not taking over Columbus but when Georgia and ND played in South Bend a few years ago I was utterly shocked at how Georgia fans were the majority in that stadium.
FWIW I don't think Luke has an agent, I believe he is his own representation.