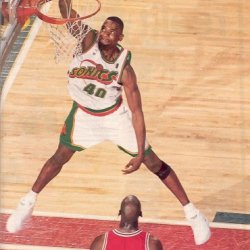 shawn kemps kids
---
Cincinnati (via Cincinnati)
MEMBER SINCE May 06, 2015
I am all 19 of Shawn Kemp's kids. We all post.
Favorites
SPORTS MOMENT: LeBron's Block or Kyrie's Shot
NFL TEAM: Bengals
NHL TEAM: Blackhawks
NBA TEAM: Timberwolves
MLB TEAM: Reds
SOCCER TEAM: Bayern Munich
Recent Activity
He's been on campus for like a month and a half...
Plus landing Joey opened the door for Nick. Not have never considered OSU if Joey didn't come first.
I say keep it all in one spot, Dubs. But of course the decision is yours.
You're under the assumption people visit the profile of every single tweet they read.
I remember watching the spin move that game and saying to my friend "oh shit, it's finally the next Percy"
"Once he gets into the weight room, he might be able to get back to bullying people, but that's not going to work against me," Johnson said. "In practice against me, the only reps where he's done good was when he needed to go back to finessing, knocking down the hands, moving his hips, because when he tries to run into me, I just sink down and the rep is over or I drive him all the way back outside. There was one time he got me because he had to fake his hands and all that, so he has to go back to that. It's great that he learns that before he gets to Ohio State.
This was really cool to read from a HS senior. Sounds like a seasoned coach.
Wine, bourbon and hotel keycards.
Reds are averaging about 2,600 more fans per game than last year, about a 13% increase.
Votto, in a very down year for him, still has a WAR that is 37.5% higher than Puig.
2 inches and 20 lbs, yes. I would still say Field's body type is closer to Cam than it is Braxton.
Edit: after looking into it I guess he is smack dab in the middle. Still, better equipped to take the blows than Braxton was. Cam is currently at 6'5", 242. Braxton at the combine (albeit training at WR for about 8 months) came in at 6'1" 201. Fields is currently 6'3" 223.
Link for Cam weight: https://www.al.com/sports/2018/09/242_pounds_4_percent_body_fat.html
He's more of Cam Newton than he is Braxton, body type wise. He's better equipped to deal with the blows than Braxton was.
New composite rankings:
Fleming stays at #5 overall, #1 WR
PJJ stays at #7 overall, #1 OT
Bijan jumps Milton up to #20 overall and #3 RB. Milton #22 overall, #4 RB.
JSN up to #59 overall, #10 WR.
Scott #62 overall, #11 WR
Ransom #67, #4 S
Wypler #69, #1 C
Mookie #70, #13 WR
Knighton #92, #3 APB

Think that's everyone in the top 100 comp.
Are there even 75k students living in Columbus?
When I went back to school in 2018 to finish a degree, college was A LOT easier than it was in 1999 when I graduated high school and started back college.
I'm guessing it has more to do with you maturing and growing up vs. NKU making it easier to get a degree.
Dude got wrecked on Twitter and kept doubling down. Really made ESPN look even worse, and I wasn't sure that was possible.
Tuf Borland is "being pushed" by Teradja Mitchell at middle linebacker.
Interesting omission on Browning's name. Still think he would be suited best on the outside vs. MLB.
46 days away until the season, just bought my tickets for OSU-Wisconsin. Can't wait!
Also said that Day is not going to be spending as much time recruiting Florida and is going to be recruiting California really hard
That makes sense. He has more of a connection in Cali than Florida. Hope he doesn't abandon the state completely though.
I'd inject (good) hype videos into my veins if I could. Can't get enough of them. Still hoping for a good OSU one set to O Fortuna.
Yes. As Grateful said though make sure to notify your CC company. I use Amex and Discover, I forget which but one says I don't need to notify them and the other does. I do with both each time just to be safe. Don't need them blocking my card.
Hitting Marseille, Nice, Cannes, Aix, etc. for my honeymoon in 2 months. If I remember I'll try to dig this thread up and give you a rundown on how our experience went if you'd like.
He averaged 10 points, on nearly 73% shooting, 5 rebounds per game along with 2.2 blocked shots per game. Considering how much Kaleb struggled with fouls, Jaxson would have been huge for the Buckeyes especially since he was more of a defensive specialist and a project on offense he would have complimented Kaleb incredibly well even if it was just for one year.
On top of this for a different art experience I suggest two things:
- Montmartre: towards the top of the Montmartre hill there is a square that has dozens and dozens of artists painting, drawing, etc that you can purchase from. There are some good little shops as well as an actual art gallery, galerie Montmartre, which I highly recommend as they have some works done by Salvador Dali, Andy Warhol, Picasso and some other famous, albeit lesser known to the general public artists. It is also the home of the Basillica du Sacre Coeur which was beautiful.
- Atelier des Lumieres. Probably one of the most unique things I have ever done, it was incredibly cool.
- Few other notes/suggestions: I suggest trying escargots, if you go to the Eiffel Tower buy tickets ahead of time and ask where to go if you already have tickets. You'll save A LOT of time. Street side cafe restaurants are cool and pretty inexpensive, if the weather is nice it's always a good lunch idea to sit outside and people watch. I forget the couple of blocks area but there's luxury shopping such as Hermes, Louis Vuitton, Prada, YSL, etc. Even if you don't have an interest in buying anything it's fun to look at (and even better to people watch).
Andrew, Spooner, anyone else who may have an answer I got a question for you:
Ari tweeted that Lejond is perhaps Ohio State's most efficient recruiting tool. I've seen multiple insider guys say something to the same effect since Lejond recommitted. What makes him such a notable recruiter vs. your average Ohio State commit? I'd have to imagine most guys recruit others to join them, what separates Lejond so much that it's constantly noted?
I believe Taylor is dropping a The Opening article/notebook tonight.