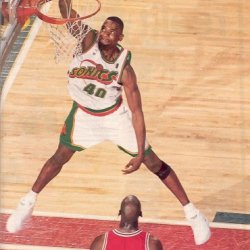 shawn kemps kids
---
Cincinnati (via Cincinnati)
MEMBER SINCE May 06, 2015
I am all 19 of Shawn Kemp's kids. We all post.
Favorites
SPORTS MOMENT: LeBron's Block or Kyrie's Shot
NFL TEAM: Bengals
NHL TEAM: Blackhawks
NBA TEAM: Timberwolves
MLB TEAM: Reds
SOCCER TEAM: Bayern Munich
Recent Activity
A hot take that was debunked within minutes.
If Washington ends up with the second pick I could very much see them taking Fields. Riverboat Ron utilized Cam's running ability very well in Carolina and Haskins isn't his QB choice. Edit: should have finished reading your entire post before posting myself. I see you have a scenario with Lawrence-Fields going 1-2.
I like to think Zion would have shocked the world and gone to Wofford if not Duke.
Went to Elder, a year younger than Rudolph. This post reminded me of when Tressel came down to visit Rudolph and stayed for a pep rally before a basketball game and talking to the crowd. Was a pretty cool experience.
I too would be interested
Not really. It's less about Coleman and more about the fact that Thomas was so vastly under utilized he didn't have a single season where he broke 800 total yards let alone 800 receiving yards, 15 yards per catch or hit double digit TD numbers.
It's not that crazy. Thomas was good but not great at OSU. Coleman ended his career with 3,009 receiving yards (1,363 in 2015), averaged 17.4 yards per catch (18.4), and 33 touchdowns (20). Thomas on the other hand finished with 1,602 (781 which was less than 2014), 14.2 (13.9, also less than 2014), and 18 touchdowns (9). When it comes to college, there's no question who is more deserving of the college HOF.
I'm sure he would be their highest rated recruit by far.
As it stands right now he actually wouldn't. 2 classes ago they signed 5* OT Logan Brown who is ranked #368 all time by the composite. Way back in 2007 they signed another 5* Josh Oglesby who is #261 All time. Rucci is currently #413 all time.
I believe 6 is the default, 10 is the highest.
I don't know if I'd classify pointing out the fact the Browns have 0 divisional titles as celebrating divisional titles. But if you want to, more power to you. Here's to hoping the Browns can celebrate having 3rd winning season since returning in 1999!
1) wasn't stolen 2) Reality is the Browns don't have two super bowl victories. But if day dreaming of what ifs helps you sleep at night, go for it! Keep hanging onto that 1994-95 Wild Card victory!
Hanging your hat on that 1994 season Wild Card win? lol
I like Wilson and he will be a stud but he wasn't even the best Buckeye to don #5 in the 2010's.
I too like trends, as in the trend of the Browns not winning the AFCN division once since it was formed in 2002 and definitely won't win the division again this year.
They are. Just listed as "cool" vs. "Warm" for OSU, LSU and a few others.
Fields and Olave still do not meet the requirement to enter the NFL so no on them. Theoretically Wade, Davis, Myers, Browning could enter.
Richard Sherman (IIRC, might have been someone else at Stanford) said Harbaugh didn't exactly help his draft stock and might have hurt it. So not out of the realm of possibilities but it might just be that Shea isn't a very good pro prospect. While part of the reason he transferred to Michigan in the first place was sanctions, the other reason is Jordan Ta'amu outplayed him when Shea went down with an injury.
Just asking how long did LR work with Blake Sims? I never thought Sims was that special ?
Lincoln Riley never coached at Alabama or with Blake Sims.
I'm sure there are ways around it but the schools and conferences play no role in student-athletes NIL activities. So Buckeye alum car dealership owner could set up autograph signings/meet and greets but the school itself can't.
It's been a few months since I've read this but Leigh and Latham don't want to attend the same school.
Cincy's receivers coach was at Baylor when he recruited Mims, so they already have a connection.
Cincy also has an assistant who was at Houston for Jones' first three years.
I don't think I've seen Lewis graded or mocked in any first round.
Can someone please explain how Tua is injury prone?
He had 5 surgeries in 3 years.