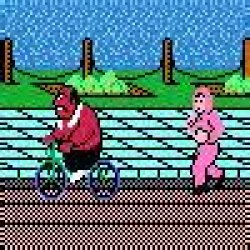 sharks
---
Cleveland 'burbs (via Cleveland)
MEMBER SINCE February 12, 2013
Cleveland born and bred, alum of St. Edward, then Indianensis Universitatis, then Cleveland State.
Favorites
SPORTS MOMENT: Cardale Jones, Cardale Jones, the whole state of Ohio is counting on Cardale Jones
COLLEGE FOOTBALL PLAYER: Katzenmoyer
NFL TEAM: Browns
MLB TEAM: Indians
SOCCER TEAM: Lol
Recent Activity
Great post. -Malcom Johnson Sr.
Went to Hamilton, not tested, not cut (yet)
When reached for comment, Taco Charlton referred all questions to his agent, that chihuahua from the commercials
Someone needs to bring up the Jackets cannon from Columbus and fire Dolan out into the lake. This team grosses $280,000,000 give or take a dollar or two every year, and he never stopped claiming poverty. Sell the team to someone that actually has money (Dan Gilbert) and eff off.
I'll second lacrosse. Football stadia aren't the best venues because you're generally too far away from the action. Lacrosse needs to be viewed close-up, like hockey, because it's such a fast sport.
"Jump jump The Mac Dad will make you jump jump Daddy Mac will make you jump jump..." -Teradja Mitchell
Wonder where he laid that one as Ohio is continuing to drag its feet about sports betting.
He can probably still swing a bat...
The people who ought to be jailed over this are are the owners of the spas who facilitated the prostitution (and, let's face it, slavery), but it's looking like political connections might deep six that. How things work®
Good for him. Hope he kills it down there. The fact that unpaid (usually) kids have to sit while the millionaire coaches jump at will is galling to me.
The Browns FO skipped Baker's pro day.
Every time IMG makes news, I recycle my 'Prime Prep East' joke, but it should be pretty clear that too much money is to be made in taking the 'student' out of student athlete, even at the high school level. I'm quietly hoping Spire in Lake County goes belly up (looks like it may do just that) and am loudly wishing a high school owned by the world's largest SPORTS MARKETING AGENCY goes under too. While it is a little funny that tennis and golf parents are subsidizing poor yet talented football players by paying high five figure tuition bills, it galls me that we're pretending anyone cares about educating these kids.
Goodness, I figured it was another brother. The whole son angle is ruining my night
Hope he doesn't run right out of his shoes like Zion
Seeing all these FA safeties hit the lottery make me kind of glad the Browns have Randall and ... Jabrill Peppers. He's not too bad! I'd love to see Dorsey throw a pile of money at Clowney
Been an odd year for my Hoosiers too; beat Sparty twice, then lost to a whole bunch of teams they shouldn't have. All that said, I have to think IU would put up more of a fight in the tournament than the Buckeyes.
The ADA's been found to afford some protections to alcoholics. I wonder in the Horns dotted all the i's and crossed all the t's... Might see Young sue if not.
"Thayer Munford...spent the entire time walking around the field with his helmet on..." *Sees photo right under paragraph, is confused
Boy, remember when Ruckert was supposed to be the second coming? No shade meant at the kid, but Farrell has two more years of eligibility, right?
So you're saying that the crime problems in SF, Cleveland (born and raised), and Detroit can largely be attributed to illegal immigrants. Do I have that right?
Yeah, like in those sanctuary cities like Cleveland and Detroit SF has a drug problem, not an immigrant problem.
Meyer took a commitment from Norwood, a much lower rated kid, after Dean got DQ'd, IIRC.
I think Michael Thomas was a 4.6 guy and he's doing ok...
No clicks for barstool-related stuff. Can anyone summarize?