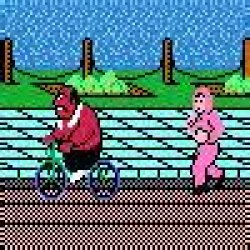 sharks
---
Cleveland 'burbs (via Cleveland)
MEMBER SINCE February 12, 2013
Cleveland born and bred, alum of St. Edward, then Indianensis Universitatis, then Cleveland State.
Favorites
SPORTS MOMENT: Cardale Jones, Cardale Jones, the whole state of Ohio is counting on Cardale Jones
COLLEGE FOOTBALL PLAYER: Katzenmoyer
NFL TEAM: Browns
MLB TEAM: Indians
SOCCER TEAM: Lol
Recent Activity
Good for all ten, but especially for Johnny Dixon. I can't imagine all the work he's done to get to this point.
*Yrs of age. Dammit.
Vols fans: "We're #1!"
Get the grad transfer from Rutgers and everything else is gravy, imo. Honest (and respectful) opinion regarding the IN kid leaning towards PSU: he's a mid 3* and in shouting distance of 400lbs. In fact, I believe he weighs as much as the heaviest current NFL lineman. Unless he's just a total freak, he's going to need to lose 50lbs while building strength. Have fun with that.
Swenson, in turn, got the (*checks notes) Dytarious Johnson treatment
Fuck, the game, this halftime show, this all sucks
He's already on campus, so he's got 0 stars (or will on the first day of spring ball).
Twelve years of Catholic schooling means I can tie a tie in my sleep
He pantsed Boyd so hard on that comeback route that Boyd ended up being in good position by being 5 yds back.
That was Pierre Paul
"...You try to throw as much against the wall as you can. ..." Fuckin Lionel Hutz over here
Look, before all this happened, who was calling the plays on offense? How about defense? They could give Meyer one of those crane contraptions the MNF guy rides around in and no playcalling changes will occur, unless he starts sniffing around the special teams whiteboard. Let him shake hands and kiss babies on the sidelines.
Signed in for the first time in a looong time to upvote this. Good show, man!
I still wouldn't watch, but Miles has the personality for it...
But but a coach hit his wife and Urbin Lyer didn't know about it but should have maybe known about it. -MgoBlog commenters
Attempted? Hah. -Maryland Coaches
They keep that up they'll be approaching Maryland status.
Exactly right. The guy is hands-down the best recruiter and best head coach in the game now, probably ever. He's not afraid of getting in a coach's face either, which I guarantee makes players respect him more- everyone's accountable.
Wasserman was no loss
Tyler Friday and NPF behind him, coached by the best in the business. Definitely not worried about the d-line.
OSU: hey man, my name's Paul and that shits 'tween y'all
With The Predator and Cooper, I'm not overly concerned about DE. This kid's local, but recruiting on the defensive line is one thing I'm not worrying about.
Schiano's a known commodity. That the secondary isn't great this year isn't going to hurt him.