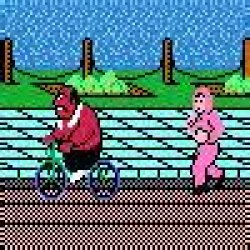 sharks
---
Cleveland 'burbs (via Cleveland)
MEMBER SINCE February 12, 2013
Cleveland born and bred, alum of St. Edward, then Indianensis Universitatis, then Cleveland State.
Favorites
SPORTS MOMENT: Cardale Jones, Cardale Jones, the whole state of Ohio is counting on Cardale Jones
COLLEGE FOOTBALL PLAYER: Katzenmoyer
NFL TEAM: Browns
MLB TEAM: Indians
SOCCER TEAM: Lol
Recent Activity
That guy in the picture has frickin great hair, lucky bastard
You live in Ft Wayne? No offense, but... Oof
Darren Rovell went to Northwestern and he suuuuuucks
I admit the first time he was mentioned this season, I didn't know who he was. I do know, and it sounds like opposing receivers better ask somebody. Also: "...Brown had a quick response: "Heck no, because I know what we do to those kind of guys now. ..." That's definitely what you want to hear from a DB.
Tommy: You know, a lot of people go to college for seven years. Richard: I know, they're called doctors. I kid, I kid. I remember Mitchell and hope he continues to work hard.
What a bad post- the kid's talented and it's a great turnaround story, but "undisclosed", "unsubstantiated", and "kick rocks" are all demonstrably incorrect. There are no shortage of players that OSU got wrong or missed on, but Bowden definitely isn't one of them.
Graduated in two years from frickin UCLA? Holy cow
You know what? I agree with you- Franklin did a great job addressing it. My understanding is that the call to confiscate came from above him, but you're right.
Exactly. The saddest thing is that the school made the players take the shirts off, for fear of an NCAA dress code violation. A golden chance to stand behind their player and stand up to stupid people (of which Happy Valley has more than its share) and they botched it.
What a great opportunity for 12 Gauge! I'll bet they have a great coach in place to help him fully develop- I heard Bob Stoops is coaching somewhere, hope it's DC! *Googles XFL DC coach Pep Hamilton? It's a trap! Cardale, run!!
Kid's probably buried on the depth chart, a la Isaiah Pryor. This stuff happens.
I remember the staff passing on Bowden after taking a chance on Glover-Williams. Not to further malign the kid, but who knows what kind of stuff he got away with at UK... best choice would still have been a hard pass on both, but you live and learn. If a kid wants to play coy about whether or not he's a gangbanger, miss us with that nonsense.
Hate to see it Lot of Dawg fans going to be lighting their trailers on fire
Mr. Carpenter, you're doing exceedingly well thus far; I'm not a big recruiting guy, but I always make a point to read good writing. See if they'll let you take over the Buckshots. Those things almost never get updated any longer
Could have been Urban as well. At any rate, this dude starting to put it all together has been one of the best surprises this season.
Dude should have hit up YouTube; there must be tutorials for removing those things
Beaux Ceauxllins
What the hell is a North Texas
Ryan Day absolutely cannot stop smiling. No poker face on my man
Say nothing else, those bros can shred
Nate Stanley is a slooow motion train wreck
I feel like it's a shot at Brian Cook at Mgoblog because a lot of his posts are titled in a similar manner. His writing style fits the touting SAT scores level as well.
This team is going to absolutely beat the damn brakes off Penn State and I can't wait to see it
That was the toughest D we'll see until the playoffs, and I think Wisky will have the toughest O til then. Bring 'em on, we're the juggernaut, bitch
We always lament the highly regarded guys who never figured it out, but I'm happy to say that it's looking like Browning is figuring it out.