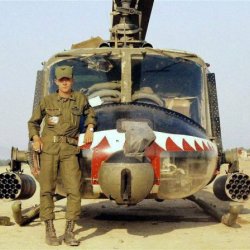 Shark 4
---
MEMBER SINCE June 13, 2019
Recent Activity
JJ Wolf (ATP rank #283) lost his 2nd rd Cincinnati qualifier match to the ATP #50-ranked Spaniard Carreno-Busa 6-2 in the third set.
I think I've mentioned this here before so I'll go with the short version.
Oct 1968 #1 Purdue at #4 Ohio State. There was no possibility of seeing it. I was flying Hueys in Vietnam. But, AFVN (Armed Forces Vietnam Network) radio was broadcasting the game.
I could pick it up on my Huey's ADF (Automatic Direction Finder) radio on the commercial band. So, as Aircraft Commander, I dialed it in, let my co-pilot fly while I listened to the game in my flight helmet.
We were inserting troops into an LZ and everything was fine until we were about 200 ft. on final to the LZ when all hell broke loose. Tracers flying by the cockpit. Rounds thudding into the bottom of the aircraft. M-60 machine guns blasting back at the bad guys.
And the Bucks were winning. I never missed a play.
Without question my favorite is Antwaan Randle El from Indiana.
He sat out a year as a "partial qualifier" with a low SAT score. And yet, he graduated from Indiana with two degrees, played basketball for Bobby Knight and also played one year of baseball.
I got to interview him a couple of times and, even as a college player, was very thoughtful and well-spoken, just a bright, enjoyable kid.
On the field he was spectacular. One of those guys where you just hold your breath waiting to see what he was going to do with the ball in his hands. He won the Silver Football as B1G MVP and went on to win a Super Bowl with the Steelers.
Davis Cup Tennis
Romania at the United States
Cleveland, OH Sep 1969
Arthur Ashe and Stan Smith for the U.S. vs Illie Nastase and Ion Tiriac for Romania.
The US won 5-0 but the Stan Smith v Illie Nastase match is the best match I ever saw. Smith won 11-9 in the fifth set after losing the first two sets 6-4, 6-4.
Even better that I'd been home from Vietnam about six weeks. Great homecoming.
On Nov 23, 1969 I dreamed that #1, undefeated, defending nat'l champs, 22-game win streak Buckeyes went to scUM and lost 24-12.
Tet 68 was Jan/Feb and I didn't get into country until Aug. We covered the southern I Corps area. The A Shau was northern I Corps although I did fly many missions west and southwest of Danang.
Trust me, the Charlie model Huey never got into the air w/o a struggle. We had a choice: Full fuel or full ammo, never both. We nearly always went with ammo. We rarely flew above 100 ft AGL so as not to waste fuel. Nonetheless, the Charlie model gunship almost never got off the ground until after the third bounce.
That's why Shark pilots were never newbys. It took some moxie to handle Charlie guns.
Yes. Shark 4 was my callsign. Each gun pilot had his personal callsign. Usually it was inherited from the guy we replaced. Strangely enough, I took Shark 4 from Bill Walzer...from Cleveland, OH.
I always said that made "Shark 4" the official Buckeye/Shark callsign.
Southern I Corps, Duc Pho, on the coast.
Our AO (Area of Operations) was from the I Corps/II Corps border north to Chu Lai and west to basically Laos. We still pulled a lot of missons farther north up to Danang. The Marines would often run out of gunships and we'd fly up there to cover Marine gun missions when they couldn't.
We would also fly slick missions up there supporting other units of the Americal Div. I actually got shot down up there on my third day in country flying a slick mission (combat assault).
UH-1 Hueys.
First half of my tour I flew slicks, UH-1D and H. Second half of the tour I flew gunships, UH-1Cs.
I am commercial and instrument rated, single-engine land airplane and helicopter. (I haven't flown in years).
There's some good and bad advice here. I'll try to hit the mid-range.
1) Go flying. See what you think of it.
2) Find a good flight school/instructor for your first lessons.
3) Stick with it long enough to get to your first solo flight. Flying with an instructor doesn't really inform you as to your passion (or lack thereof) for flight. You won't know until you are up there by yourself.
Good luck. I hope you enjoy the experience.
PS: Alternatively, join the military and go to flight school The best training you can ever get. :-)
I wish I still had it. Alas...
When I got out of the Army and came back to finish my degree, I was working two jobs, on the GI Bill for school, and still couldn't afford insurance and gas ($.35/gal) for the Corvette.
Yes, I bought it new (which is another good story) and it was right at $5,000 as I recall. Great car. As a little kid I always told myself that someday I'd buy a Corvette. Checked that one off the Bucket List early.
And thanx for the kind words.
For both the Apollo 11 launch and the Moon landing I was in Vietnam.
I have no memory of the launch. I was still flying missions.
I remember very well the Moon landing. I was listening to it on the radio (no TV available). I remember thinking that I was taking part in two historic moments: 1) Listening to the first Moon landing; 2) Serving in Vietnam.
When they landed on the Moon I was less than two weeks from going home, at the end of my year's tour. I had flown my last mission and spent most of those remaining days in a celebratory alcoholic stupor. I made it home to Newark, OH on 4 Aug 69.
That trip home was quite a story in and of itself. I may tell it here some day.
It truly was...and is.
I should also point out that Stan was going easy on his serves to me. At a changeover, I said, "Come on Stan, don't hold back on your serves."
Big mistake. I don't think I ever saw one after that. I heard them. Didn't see them.