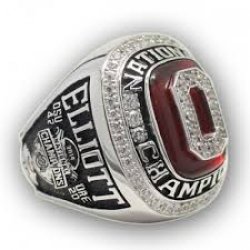 ShadyBucks
---
from Columbus, Ohio
MEMBER SINCE September 20, 2015
Born in OSU Campus Hospital, raised in the heart of Buckeye Nation in Columbus,Ohio , OSU Alum class of '08. I Bleed Scarlet and Gray.
Favorites
SPORTS MOMENT: 85 Yards Through The Heart Of The South
COLLEGE FOOTBALL PLAYER: Ezekiel Elliot
COLLEGE BASKETBALL PLAYER: Greg Oden
NFL TEAM: Cleveland Browns/Miami Dolphins
NHL TEAM: Columbus Blue Jackets
NBA TEAM: Cleveland Cavaliers
MLB TEAM: Cleveland Indians
SOCCER TEAM: Columbus Crew
Recent Activity
Really liked the monologue...just wish he would have mentioned beating the team up North.
Not having any Ohio roots makes me wonder if he really gets what the #1 priority is as an OSU football coach.
He's a Monster. End of Discussion.
511
500
137
Damn shame! prayers to his loved ones from all of Buckeye Nation.
Big Day for Binjamin Victor is waiting
Proud of all the NFL buckeye ballers... Hope Bosa gets well soon for LAC and continues his dominance from last year
Really proud of coach Day and how he represented. Great job!
294 ... Buckeyes win 38-10
He wanted all the smoke today
A for effort, but it's really too early to start drawing comparisons to last year.... at least on the defensive end.

No matter how we digest it, allowing 31 points to Oregon State is a huge red flag. ...

But again, take this with a grain of salt, but it's really hard to divulge meaningful stats when going against bottom dwellers... Go Bucks
Drake is finished in my book. Gene not so much, but for sure he is the one that should be receiving the brunt of the punshiment...
BRx2 - I agree with you, i too will always support the collective , but in this specific case, I wish there was a way to send a message that Buckeye Nation does not agree with the outcome and it is unjust.
I'm not sure how this is going to be perceived by my fellow 11w brothers, but I feel as if I have to share my thoughts, even as they may not be in line with the general theme surrounding the suspension. ( in no particular order of relevance)

1. If I'm Urban Meyer I Resign.
The suspension is a guilt admission and far more concerning a precedent that simply cannot be sustained given the depth and breadth of running a D1 football program. The is certainly the "black eye" of the Meyer legacy, but I would not cave in to admitting guilt when I know I did what was required of me to do.... It simply seems like 2 hard a pill to swallow for a man with such integrity. He can sit this year and get picked up by Notre Dame in a year or two if he can still have the passion to coach.

2. Sometimes the program is not bigger than the people running it.
In this case, as a fan, I would protest the first 3 games.... not buying a ticket and not watching... I know what I'm saying is not possible for many, and not worth sacrificing buckeye support for one man, but this ruling is ludicrous and warrants such a reaction.... leaving the stadium empty for the first 2 home games would send a strong message that the BoT and President overstepped their boundaries.

3. Retaliation for false report and disinformation campaign by Brett M.
I would in all available aspects, by coach meyer and the university go after BM with all legal force and university resources that were made available for disinformation, defamation, provocation and intent to mislead and/or whatever charges were in the same realm.

4. ESPN Needs to be put in check
ESPN has continuously promoted this witch hunt without adhering to the full responsibilities and obligations they have to journalism and reporting. THey continue to bash OSU and Meyer after the report has been published, and they continue to promote and give BM airtime even though it's been clearly stated that he is not operating with any jounalistic integrity. If ESPN is airing this information, that they now know to be false and if they continue publishing they're crap pieces from sports personalities such as Heather Dinich " Meyer shows he still doesnt get it" and etc. etc. this again is a disinformation and smearing campaign and has literally cost the school millions of dollars and they should be held accountable.

5. Gene Smith
While I believe Urban Meyer should not be suspended, I believe Gene Smith should be held accountable. The decision to not move forward with reporting to title 9 compliance dept. is 100% Gene Smith's fault. As an A.D. you dropped the ball, he should be forced to resign or be let go for his lack of attention to the problem.

6. Courtney Smith
I know people are going to jump down my throat, but i can't help but get the impression that 100% this woman is a liar...more so, she is a pyscopathic and vindictive one at that. When you own mother cant support you, there is something wrong. Her friends say she's crazy, the other coaches say they questioned her credibility, and her family thinks she's crazy and has openly testified against her saying she had this planned and was purely for retribution...i'm sorry, but she is a bigger piece of shit than zach smith. Either way both these individuals ultimately ended up being the most toxic couple to ever be associated with the scarlet and gray.