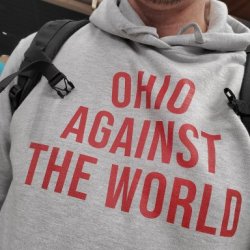 seyekcuB
---
MEMBER SINCE March 21, 2018
Recent Activity
is life even worth living? yes.
most people are sheep. they want to make everything political. keep politics out of sports.
she works at a testing facility. not a hospital. take it for what its worth. #flugazzi
Im dating an RN that works for a test facility in Florida. She told me a story that has me concerned we are all being bamboozled. A family of 3 shows up to the testing facility and fills out the forms they leave after having to wait over an hour. None of them were tested....yet they all received positive test results a week later.
Zero hospitalizations. 0. This is like wearing a parachute on an airplane you have no intention of jumping out of.
John Cooper doesn't coach anymore we are good.
I always question why people wear a mask outside alone.
10-0 is all that matters. The question is how many games to qualify for a playoff?
Flugazi can't even stop this train.
do not buy tickets. you aren't guaranteed a seat or a refund.
Michigan sucks
Miami. Nice.
NFL teams tend to look harder at Clemson, Bama, Ohio state because they are the last teams playing every year since the playoffs got rolling. As they say in the SEALs "it pays to be a winner."
Where's the title game this year?
pretty much every position is killing you when you give up 60
Ashley Schafer would say "I like your muscle shirt"
haha. Michigan better hope the season doesn't happen. Maine strength this isnt your tinder profile put a shirt on brother.
i hope we get them week one
Those teams didn't have a chance to play for a championship.
Might as well make the XFL the official minor league and pay them fair market value. Schools like Ohio state and Bama can license the brand but have no official connection to the NCAA.
false start?
the money isn't real, you only think it is...
Comment removed for violating the site's commenting policy.
The regular season was too long anyway so yes it counts.
6'3 cb? he must have no hands or he would be on offense.