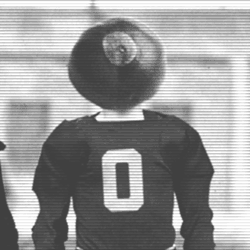 setman
---
Member since 30 June 2012 | Blog
Favorites
SPORTS MOMENT: The end of the second overtime January 2003.
COLLEGE FOOTBALL PLAYER: Antoine Winfield
COLLEGE BASKETBALL PLAYER: Jimmy Jackson (Aaron Craft is catching up)
NFL TEAM: Browns (but my therapist says I am making progress
NHL TEAM: Blue Jackets (same therapist says I am screwed)
NBA TEAM: San Antonio Spurs (too long to explain)
MLB TEAM: Boston Red Sox
SOCCER TEAM: The Crew
Recent Activity
Obviously he was lured by the free European vacation.
I agree. I actually had more respect for him after this game. Plain and simple, that PSU OL is just putrid. They can't pass block, which is why they need a "sober Johnny Manziel" (Trademark DJ Byrnes) at QB. Unfortunately their run blocking seems no better as Barkley was constantly getting hit in the backfield. It also explains why the coaching staff is putting so much effort into using him both on special teams and the passing game, if the OL can't open holes for him, get him the ball after he is already past the LOS.
I really wonder how accurate this story is. Considering the fact that it is probably the same medical staff for Michigan that allowed a visibly concussed qb to remain on the field just a few years ago. Maybe they are trying to cover up a misdiagnosis on their part again. I find it hard to believe that this substandard level of care has been going on for years at Purdue and this is the first we are hearing of it? Add n the fact that Deadspin picked up this story from a Detroit newspaper. Am I saying that it is false, no. But I guarantee there was a good amount of spin on the story.
Strange you bring up RICO. I'm currently reading a history of the Five Families and just finished the RICO trial of the mid 80's. The similarities between college head coaches and mob bosses with the cutouts and insulation from the criminal activity is highly similar. I really think you are on to something with how the FBI will pursue this.
No matter how they slice it, it will not really change a thing. If they start paying players, a standard paycheck like a regular professional team, within 5 years, there will be a story about some player getting "illegal money" whether from an agent or a booster.
For anyone watching these things, it is rarely about the player trying to help support his family. It is about establishing himself as the alpha dog with the best car, the best rims, the best clothes, the best jewelry etc. If everyone is driving a cadillac, he has to have a porsche, if everyone has a porsche, he has to have a ferrari.
As long as there are shady agents and boosters willing to supplement them with extra cash, there will be players willing to take illegitimate money.
Charlie Weis agrees with this sentiment.
If I recall the original story correctly, the escort in question was a transplant to the state of Florida who had just kept her old number.
And not a single General Studies major in the bunch.
Or the dreaded Devin Gardner Undeclared degree.
Also, Espn with their recent cost cutting moves is probably looking to get out of their contract with Texas for the LHN. They certainly will not renew with the current payouts. I think Texas is just trying to hold on until Espn decides to buyout the contract, not wanting to walk away from that money if they don't have to.
I do find it interesting that this talk is going on while Oklahoma is in the middle of this home and home with OSU. After the OSU fan turnout in Norman last year, and now the opportunity for the Oklahoma big wigs to visit Columbus this year (Where I am sure Drake and Smith will roll out the red carpet and show exactly what this new TV contract is going to buy), Oklahoma is being slapped in the face with how second rate the Big 12 currently is, and how the future there looks positively grim. Just as coincidentally, Texas has a home and home with OSU in the last couple of years of the current Big 12 Grant of rights contract. By then most of OSU's current sports related construction plans should be completed or near completion. Again expect OSU and the B1G to roll out the red carpet for that visit. Meanwhile the flagship programs in the SEC that could be acting like an OSU in this type of recruiting campaign, are not, insisting upon neutral site games rather than hosting these other programs on their own campuses to sell them on SEC membership. It seems like they are shooting themselves in the foot.
Now that is a "white-out" See how it's done Penn State!
That isn't the whole story. I was in a class with Smith the summer after he left the team. An intro physics class. The first day of class he sat down near the front of the lecture with some girl. From that point on, she was there the rest of the quarter, but he wasn't, right up until final exams when he showed up again. The smaller class recitations and labs, it was the same. He would show up for scheduled test A month or so into the quarter, a story appeared in the Lantern that he was missing other classes that summer to work a construction job in Dayton. That was why I still laugh to this day when the narrative has been painted that he left the team to focus on his studies. I think that the charisma of Smith and the unpopularity of Cooper led to Smith's narrative being taken for the truth without more careful examination.
My bad, Bell didn't win the rushing title. Still totaled 1200 yards one season, and 1300 the next.
Except that after Dickerson left the Rams. they still had the NFL rushing leader the next two years with two different guys, Charles White and Greg Bell. It is laughable that Dickerson was criticizing Emmitt and Zeke for the quality of their offensive lines.
Burke explained that he was accustomed to his mother's cooking and did not like the food provided at U-M.
Why didn't Bielein just hire Burke's mom? It's worked for Harbaugh.
Houston.
I think no chance for LSU, simply because SEC. During his three years in Columbus, I think there were a few discussions about why Urban left Florida, the stress, the unrealistic fan expectations, etc. As laid back as Herman is, I do not see him entering that cesspool while he has so many options.
Texas would seem like the obvious frontrunner, but I would not rule out staying in Houston. Only he knows how his recruiting there is trending. And he has a pretty good idea of how it is going in Austin, since they are pretty much going head to head much of the time. If Houston gets in the Big 12, and has a manageable path to the playoffs, I could definitely see him staying.
Considering Saban's height, wouldn't that be more like a shot glass?
Paramus footed the bill, which totaled $10,345,
And Michigan paid Paramus $10,345 for the use of their facilities as a satellite camp.
Hopefully they will get a prosecutor that will count their time working out in the summer sun without air conditioning as time served.
The clap must be slowing him down.
Maybe they'll get the new Death Penalty: a one-year bowl ban and a strong lecture.
Is that a North Carolina lecture, where the players don't have to attend, and just have to submit a one page paper about it that may or may not be written in crayon?
To be fair to James Harden, that is the best he has looked on defense in.... ever.