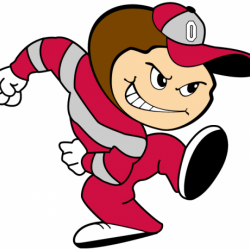 Seth4Bucks
---
Member since 12 September 2010 | Blog
Former Army and pure Buckeye through and through.
Recent Activity
I was surprised only one Georgian is on the team.
edit, someone already caught it
I think there's at least three Ls to MSU that took us out of the running for a NC/NCG
Anyone know where I can watch a replay of the game or at least some of the highlights?
Thanks for the link, it was a great read. I'm not a fan of Ash leaving. Although I've come to terms with losing great assistants. Hopefully Schiano will take some of the sting out of losing Ash.
Does anyone know if he'll be at the bowl game? And if so, what duties he might have?
I think it's supposed to be San Jose State. I too did a double take and thought to myself, "How have I not heard about this college!"
Tyler Ervin actually put together a pretty decent season, 1800 total yards & 15 TDs.
I'm 29 and honestly don't remember the Irish ever being elite—my lasting image is Brady Hoke getting split in half by A.J. Hawk—and yet people talk about them like they're a 21st century blueblood.
I didn't even realize Hoke played for the Domers.
Everything is bigger in Texas.
UM just out Sparty'd the Spartans.
At this point in the season it really doesn't matter what the polls do. If the Bucks take care of business, there's absolutely no way they get left out. Once we're in, it's just a matter of settling it all on the field. Besides, we do play MSU. The better they're ranked, the better off the Bucks will be after the game.
Three QBs down and it'd STILL be an even game? That's not a position you want your team to be in with your opponent down their top 3 QBs and still having a good shot at a W.
I read it more like life support for the Vtech game due to the suspensions, injuries, and lack of proved/experienced depth. At least this year we have cohesion at the Oline with a great backfield to lean on. But it does hurt OSU's chances.
I've only gotten 10 minutes into this video and had to pause it and come over and give you my heartfelt thanks for posting this. This is simply just awesome!
Benwin, I cannot in good conscience upvote that hideous thing. I'll find some other post of yours and upvote that instead though.
I'm confused, is Sheridan predicting how many new excuses Saban would find when his team loses? If so, I'll take the over as 3.5 seems low.
This sounds more so like it could be a case of convenience in that MSU has some cover to let Cupp go in order to free up a scholarship for someone else. This is one of the better MSU classes, possibly ever, and maybe they're realizing that the success over the last couple years has opened doors that would've been otherwise shut.
First Coloradoan checking in
Are we talking mentally, on the playing field, or both?
A&A rocked, but it would become just a 1 strategy game if you were playing with experienced player(s). In case you're interested, there's free opensource software called Triplea were you can play A&A and its many variants online or against the AI.
What was that thread about someone changing icons that evolved into an epicly long and awesome Friday GIF tradition? I'd wager some of those comments and GIFs have to be in the running . . . well if they were still around.
I'm really getting tired of seeing Meggs' name in these kinds of reports. Is he due for re-election anytime soon?
So let me get this straight, the bear gets the benefit of the doubt and the local citizens don't? How much pain would rubber bullets really do against a bear? The guy in the article says the bear is smart and if it thinks all it has to worry about with humans are some rubber bullets and maybe some dogs, how long until it is hungry enough to try feeding on a human? It is already displaying no fear of humans by climbing fences and approaching people. I mean 15 feet from that little girl is way too close to comfort and that was with an adult and a dog also nearby.
I'm all about respecting wildlife, but it is time for officials to step in when an animal becomes a danger to humans. It would do little to no harm to relocate that bear far from people's residences. Are they supposed to wait until a person is hospitalized or worse until they step in? Thank God those dogs were there that time. I have a 9mm at home, but if I had a bear climbing my fence and threatening my hypothetical daughter and dog(s) I would go buy a rifle. And then next time the bear showed up I might put some rounds down range.
Is Texas the dream job for Strong? ie, he wouldn't leave for his dream job or wouldn't leave if another program or NFL team gave him a big paycheck and maybe more control of the program? Serious question here as I really don't know much about Charlie Strong.
I don't think we can all agree that JT is the most accurate just yet. I love what he did for us last year and I'm excited to see what he'll do in the future. But we haven't seen Braxton throw in some time. If he makes a full recovery, there's no telling how much his accuracy has improved. Is JT farther along throwing the ball then Braxton was at this point in their careers? Absolutely! Will Braxton be more accurate then JT? Who knows!