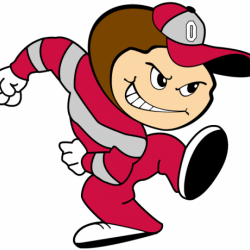 Seth4Bucks
---
MEMBER SINCE September 12, 2010
Former Army and pure Buckeye through and through.
Recent Activity
I signed in just to upvote you!
I would not be surprised to learn that Tressel's dad or grandad was involved in this game.
I legit thought you were joking. Two teams in is debatable depending on what losses the top teams have, three is ridiculous, and four is just showing your bias without any appearance of objectivity.
It's two games into the season. None of the players you mentioned were world beaters in the first two games. I just looked it up, Zeke had 76 yards rushing at 3.8 ypc and two TDs in the first two games of 2014. It's WAY too early to say we don't have that type of player.
Just look at the step forward the entire WR corps made last season with just part of the off season under Hartline. I believe that we'll see the veterans take another step forward. Wilson might have the highest ceiling of them all, but I don't think he'll be able to surpass the others on a consistent ability just yet. I do believe he'll show a lot of promise and make some great plays and he'll be ready to be WR1 next season.
Under for all three. Unless starters in front of them are injured, I don't think any of them really produce. Their futures are bright and Wilson should get 300-400. But OSU has experienced and talented players in front of them.
I have to compliment your fine choice in avatar. Only an especially discerning person would select it.
I'm not a huge Lax guy, but +1 for the effort and explanation that helped a non lax guy have a better understanding.
I'm not sure what's up with Wisconsin though.
Could part of the revenue difference be due to OSU and some of the other schools that went to the better bowls already getting their slice from their respective bowls? Whilst schools that didn't go bowling or went to lesser bowls having a smaller initial cut so they'd end up getting more when it comes time for the revenue sharing to take place? Ie, OSU already got it's cut from their bigger bowl payout so they get funneled less money from the Big10.
I can't really fault him for the decision, but I do fault him for making it this close to game time. It's not the decision I'd have made, but I've also never stared at millions riding on my decision.
JTB was playing on a leg that had recently been under the knife. He carried this team to a win against PSU and everyone lauded him. He's played through pain multiple times and he's my QB for 1-2 more games. Don't forget there were a couple of drops in the game and Wiscy was statistically the best defense in the country. He was a step slower out there and I can't imagine the pain he played through but he still picked up key 3rd downs with his legs.
Isn't it 15-3? Still great regardless of when the century starts. UV to you good sir.
But . . . but . . . they couldn't see his number
I'm not sure how continuing to showcase his adaptability and versatility is a bad thing as far as his future is concerned. He's proven he can play center at a high level so hypothetically going back to guard just shows his selflessness at putting his team's success first.
I was surprised only one Georgian is on the team.
edit, someone already caught it
I think there's at least three Ls to MSU that took us out of the running for a NC/NCG
Anyone know where I can watch a replay of the game or at least some of the highlights?
Thanks for the link, it was a great read. I'm not a fan of Ash leaving. Although I've come to terms with losing great assistants. Hopefully Schiano will take some of the sting out of losing Ash.
Does anyone know if he'll be at the bowl game? And if so, what duties he might have?
I think it's supposed to be San Jose State. I too did a double take and thought to myself, "How have I not heard about this college!"
Tyler Ervin actually put together a pretty decent season, 1800 total yards & 15 TDs.
I'm 29 and honestly don't remember the Irish ever being elite—my lasting image is Brady Hoke getting split in half by A.J. Hawk—and yet people talk about them like they're a 21st century blueblood.
I didn't even realize Hoke played for the Domers.
Everything is bigger in Texas.
UM just out Sparty'd the Spartans.