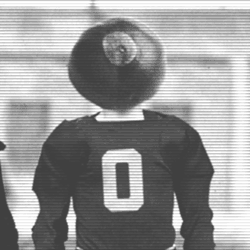 semperfibuck
---
Bozeman, MT (via Too many to remember)
MEMBER SINCE August 04, 2011
1965 grad of tOSU; History. Retired in 1997. Football season ticket holder since then.
Favorites
SPORTS MOMENT: 1. Cie Grant dragging down the Criami QB. 1A. Zeke's 80 yards through the heart of Dixie.

COLLEGE FOOTBALL PLAYER: JT Barrett
COLLEGE BASKETBALL PLAYER: Aaron Craft
NFL TEAM: Giarts
NHL TEAM: CBJ
NBA TEAM: None
MLB TEAM: Giants
SOCCER TEAM: None
Recent Activity
It's called "planning." And I am happy "they" are so thoughtful...
If you lived in the Stadium dorm in the 60's, you could get into the bell tower... :>)
Is there a worse B1G offense than Sparty? Even including Illinois and Rutgers... I have long admired loyalty by HC's but at some point Dantonio should be more loyal to MSU and its fans than he is to the collection of offensive coaches he has.
Robert is GREATLY undervalued for his time as a Buckeye. I know one of his history professors who says Robert was so much smarter than the doofus who was his OC - and caused him to sit out a year. And he remains one of the best analysts on TV (much prefer him to Herbie, btw.)
Dwayne better watch out what he wishes for. Both the Giants and the Deadskins are dumpster fires, and even Tom Brady would have trouble moving the chains.
How do you spell Diaz? P-O-S...
Taggart, whatever color he is, simply is not a good coach. One cannot watch an FSU game and have a conscious thought that "they are well coached."
Yes...there was no more important Buckeye. RIP Chic...
An objective Cincy reporter... who knew? :>)
I am very happy that Schiano left Ohio State and certainly don't want him back! In any capacity...
Who foresaw Michael Thomas signing a bigger contract than Zeke? Not me!
as for Zeke's "behavioral issues", anyone who thinks active, rich young men are not targeted by women is not reading enough. Yes, perhaps Zeke allows himself to be in situations that work against him, but until he breaks some law and is convicted, not tried in the press by a bunch of reporters, i give him the benefit of the doubt... which is what is supposed to happen in our legal system. A bunch of panting, lurid, glory-seeking reporters and women who are trying to separate Zeke from his cash ant not sufficient for me to throw him under the bus.
Can Terence play one-on-one games with the players outside of regular practice? When there is "open gym" and players are scrimmaging against alumni and others, can DIals provide "pointers" to the players? Or are these gray areas that teams do not uniformly enforce?
Reading across several message boards, heads ARE exploding as their opinions have turned out to be mush. Can you believe Pete Werner actually logged the most reps at LB! :>)
Amazing how close we are getting to beating freakin' C. Probably won't happen in my lifetime, but I am hopeful that my grandkids might see the day when all but the rarest forms are dispatched from the Earth.
Perhaps someone can correct my naivety, but isn't OL blocking measurably easier when the DL cannot just pin their ears and rush? After it was 28-0, FAU (even Lane Kiffin) knew there was no threat of Fields keeping the ball, nor was there a threat of early down passing. The play-calling, combined with turnovers led to ineptitude, IMHO. Unlike whom Maryland or Ped State were facing, FAU is a real D-1 school with D-1 athletes and a coach who is supposed to be an O genius. Cincy and IU will provide real barometers for where the OL is...
Was looking to the "Bullet D" but (since there was no announcement) I never saw it. Looked like basic D all game. And loved that Pete Werner absolutely silenced his critics in one game! Hearing only crickets...
Great collage of pics. Question: does Drake know whom Brutus irepresents?
"Bobcat fans have this notion they're Ivy League..."
that's the funniest thing I have read this week! Ivy League? Ohio is lucky to be in the MAC...
If you "don't know" if Urban has a gripe with Drake, then you don't understand what happened. Drake should not be retained, and the Urban situation is just one among many more important reasons. Drake is literally a dope.
We root for Luke Fickell... except next Saturday
Regrettably, "us readers" are far too superficial about important things that, because they don't affect us directly, we care little about. Copyright and patent infringement are two most important, and egregious, violations of the law. We ought to hammer the perps who commit the acts, and instead we have major social media looking the other way because their calculus shows they benefit from breaking the law. Agree Fido_Run that we care less... to our great detriment. Pretty soon there will be no original content, just people copying whatever they choose.
IH8 - based on your predictions last week, hope you are not betting much this year. Maybe your comment reflects why you were off on FL-UM and AU-Hawaii. :>)
No, 90% of college football analysts are not as smart as average first-graders... if they were ESPiN would not hire them.
Not if he wants to win....