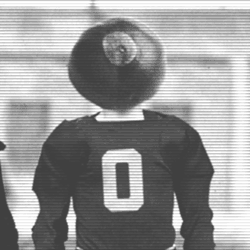 semperfibuck
---
Bozeman, MT (via Too many to remember)
MEMBER SINCE August 04, 2011
1965 grad of tOSU; History. Retired in 1997. Football season ticket holder since then.
Favorites
SPORTS MOMENT: 1. Cie Grant dragging down the Criami QB. 1A. Zeke's 80 yards through the heart of Dixie.

COLLEGE FOOTBALL PLAYER: JT Barrett
COLLEGE BASKETBALL PLAYER: Aaron Craft
NFL TEAM: Giarts
NHL TEAM: CBJ
NBA TEAM: None
MLB TEAM: Giants
SOCCER TEAM: None
Recent Activity
Anyone who doesn't think Hafley is an upgrade over our previous coach from Rutgers?
Currently Joe is my fav college QB, Go Joe! Beat Bama!
Absolutely! Major kudos to Captain Oliver for making the Thunderbirds. In his next life, he can aspire to be a Blue Angel! :>) jk. The Thunderbirds are great...
Who knew SI still prints mags. Thought they had gone the way of TIME! If they think Chase Young is only the 9th best they ought to be defunct.
Keep up the great work, Cardale! Bravo!
Who knew? Good stuff. Hope someone from Eleven Warriors asks Coach Holtmann if any of these analytics actually influence his decisions about playing time. I get it that Ahrens needs to improve his D, but his O is awfully good! (As an example)
Much as I try to ignore ESPiN editorials or analysis, someone always reminds me how stupid they remain. My life is MUCH better since I gave up watching Mark May and the rest of the ESPiN lightweights "pontificate" about things. Their FPI "ratings" are perhaps the best example of their stupidity. My advice; ignore everything ESPiN except games and game reruns.
EG seems to be a prototypical student-athlete. Works hard, stays out of trouble and represents. Good luck to him!
Be happy Greg Schiano is go, went, gone! And very good riddance.
iMHo, Urban Meyer's biggest, by far, weakness was hiring friends. Schiano had not been a DC for more than a decade and should never gotten the job.
",,,,I guess some folks just can't fathom that someone could be an extremely athletic runner and also one of the best passing quarterbacks in the country"
Nail hits head. This guy Fields is probably pretty good at football. :>)
Rooting for Werner to have a huge year. I'm convinced Schiano was responsible for about 80% of the D lapses over the past 2 seasons. Thank goodness Hairball couldn't make the adjustments that Brohm and even the multi-COY Ferentz did!
Yes, but why in the world isn't Coach Day smiling? Or even laughing at his own good fortune?
Paris is clearly more mature, and thoughtful, than many of us fans...
Will be interesting to me to see how Coach HArtline handles guys who develop "the drops." Wasn't it Mack who couldn't catch it against TCU? Given the depth tOSU had last year, and apparently has again this year, handling guys who make errors seems pretty straightforward: let them sit and think about it! But of course, there are many other factors to be considered; I'm interested to see what Hartline does when adversity strikes one of his guys.
Other than Jim Harbaugh, Mark Emmert is the most overpaid - and useless - man in America.The only explanation of his continued employment: he has pictures...
Can anyone name any bureaucracy that operates efficiently and effectively and puts players/members ahead of its bureaucratic hierarchy? Personally can't think of one. US Soccer, uS Olympic Committee, NCAA, NFL... all are corrupt and should be blown up (figuratively speaking, of course.)
LOL RU isn't worthy of the Big Least. Their inclusion proves Delaney and the B1G is all about the Benjamins.
"It's been a wild, wild ride for the kid we once thought was just going to suit up and play for the Buckeyes, but it's probably going to pay off."
Surely you jest? Probably going to pay off? How do sneaker companies afford to pay some kid that most of us never heard of, and surely don't care about (as a bball player) $14M? If he collects ¼ of that it is more than most of us will earn in a lifetime... even with our college degrees. Yes, I'd say the kid is pretty smart and already successful. Good luck to him... though I couldn't care less about his story.
Thanks for the link to the Richardson (spy) story. Any historians will enjoy the info about Kennedy, Diem, Lodge and Vietnam. Always good to see someone who confirms that "Vietnam narrative about Diem" is altogether false.
But of course that will be the narrative. Would be interested to know where Jeremy Pruitt is ranked. Or my personal favorite, Will Muschamp (sarcasm font on.)
Or Hairball... both are overrated IMHO.
Thanks so much for posting these! We love seeing another side of the players, and (as a very old guy) we are highly impressed with how these young men conduct themselves.