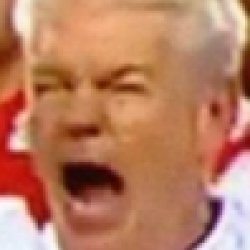 sect312
---
Member since 18 November 2012 | Blog
Recent Activity
Well yes they should fire fickell, so he can come back and coach our defense some more.
Is the offense no longer a pink elephant?
I am going to supremely miss all of these guys.
This 100%. They seem intent on calling the play while lined up instead of doing a huddle. I get so frustrated by the play clock management sometimes, and we have definitely had to burn timeouts before because of it. They try to do a no-huddle, but they aren't very good at it yet and perhaps they need a member of the coaching staff that is more familiar with the system to get the offense better acquainted with it.
I'm thinking in that same vein, but different. I'd call it "The Feast"
If Urban happened to leave this year I think they'd throw a blank check at Herman. His popularity is so high with the fanbase right now, he could sell tickets on his own.
Didn't he beat up some girl or something?
I don't think a statue of joepa is out of the question here.
I wasn't a fan of the Beck hire, but now, you couldn't ever convince me he's a good fit. This offense staff needs blown up, did Urban forget about those units when he talked about "Nine strong?"
We have one of the highest paid coaching staff, they have earned the chopping block. If heads don't roll gene has to go.
I can't see tress ever taking a challenge that early in a game, tbh.
These reporters ask the quarterbacks some of the dumbest questions.
What I can't figure out, is what were they thinking when they took that picture? "Hey I have an Idea, pretend to be running, and I'm going to throw this great big handful of salt on you!"
They're the same people who ask you to sit down, and don't yell on third down.
You say that with sarcasm, but its probably true. He or Harbaugh will get it.
I think Samuel had flashes of brilliance on saturday. I really want to see him get the ball more and see what he can do when he gets into the secondary.
I get what you're saying, my argument is that he did throw some TERRIBLE decisions that lucked into great plays at VT. I don't feel strongly toward either QB, I just want the slobs to shape up.
Its really weird to see these guys man-sized when just a few years ago they were just 18(and still giant, but TV magic, y'know)
Waah, they didn't fall for my complete lack of any argument of substance, I couldn't get away with mudslinging. MOM!
Those are AP votes, not coaches.
the audio on the interview videos is really bad, I can barely understand what they're saying.
who exactly do you go to on the internet to place these bets? is it even legal on the web?