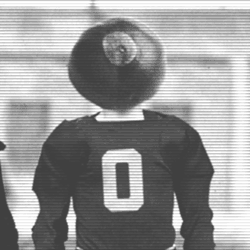 SecondGuyIn
---
MEMBER SINCE December 18, 2018
Recent Activity
Completely agree.
You fill the win column, you fill the seats.
Taggart has taken a ton of heat down there, but looks like he's made a sound decision here.
Here with congratulations to Ebner and Simon...go Buckeyes.
Eager to see what Yurcich unleashes this coming season, it should be fun to watch (especially with Fields at the helm).
Hope Ohio State can find a way tonight, but Purdue looks to be tough and playing well.

I wonder what the M...igan narrative would be if they were playing in Columbus this year. Ohio State has some big shoes to fill, but so do the Wolverines.
Guess I'll serve my opinion on Martell as well.
Sure it's easy to sit here and say this and that, but I'm not sure what I'd do if I were in his cleats.
Good luck either way, 18.
I guess the only thing I can do is congratulate you on dropping what must be the first reference of Working Girl on 11W.
I did read that in Melanie Griffith's voice.
The missed shots at national championships aside, that's still a great stat.
Wow, fine performance out there - and Wilson definitely looks the part.
Good luck to the BasketBucks today!
Go get 'em coach!
Nice pics!
Hit all the right notes with this one.
Outstanding.
Not a fan of the super fan.
I have no ill will towards him, and think this is cool of Nick Bosa to visit his former teammates.
If they don't mind, why should I?.
This is heartwarming to read. We're all on the same team when it comes to fighting cancer.
Thanks, Hovenaut! Appreciate you and the other moderators, and wishing CalPoppy well!
Hi 11W! First time caller, long time reader. Felt the need to jump aboard and partake, as well as express my gratitude for Coach Meyer.
This coming Rose Bowl should be another good one, and a fitting send-off.