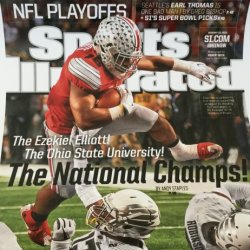 Seattleosufan
---
Central WA state (via NE Ohio)
MEMBER SINCE July 23, 2016
Favorites
NFL TEAM: Browns
NHL TEAM: Jackets
NBA TEAM: Cavs
MLB TEAM: Indians
Recent Activity
I like George R.R. Martin's comments about the Giants and how they should have taken Haskins.
Speaking from a woman's perspective, Joey has really stepped up his game since going into the nfl. And before some smart ass says it's his huge pile money, it's basically because he cut his hair and is much better groomed than before. I was shocked the first time I saw him polished up at the draft.
Cersei looks much too smug for my liking.
I am hoping to see Jeremy Ruckert get some meaningful minutes.
Brutus is a treasure! Well done!
I am not even remotely interested in seeing NE in the Super Bowl yet again but if they play the way they did last week, no one is stopping them from anything.
I seem to remember Meyer saying something to the effect that Tate was having a hard time when he first got to OSU. Maybe the other players gave him grief. Guys have a way of trying to ground a prima Donna.
Urban Meyer gave Ohio State a lot of great years and I'll always be grateful —-whatever he chooses to do from here on out. Unless it involves Michigan and then he'd be dead to me.
I really like Tate but if he is going to be a problem in the qb room then he should look elsewhere.
just read that Bubba Bolden is leaving USC for Miami. What is going on with eligibility, etc?
He went to take back the UM helmet he gave the Pope.
He probably feels like Paulie Walnuts ...dragging a bunch of f**cking ghouls around with him.
I learn something new here every day. Thank you.
The same logic some thought was fair in keeping Meyer ( OSU ) out of the playoffs this year.
Yes, and his hair and beard games are on point.
( All joking aside, I agree!)
I thought usc was denying him interviews.
Not sure why someone downvoted you , but yeah, Williams has done a great job and it does seem weird. The drama in NO must be the reason he is being avoided.
This is awesome news. Respect for Johnson's talent and integrity will help boost OSU 's profile — especially after the McButtfudge debacle.
I'm going to miss Weber's ability to take it at Wolvies on Twitter.
May " shit happens bum juice" live forever!
Keep this photo as the "before" in a before and after with Marotti . The man builds physical monsters.
Garrett knows the real story with Texas Tom.
Schiano has been at Ohio State since 2015 and I believe they have had Top 20 total defense rankings until this year. (Someone correct me if I am wrong) Recruiting sure hasn't dropped off. Coombs leaving was a HuGE hit and the Bill Davis experiment was a disaster. Very difficult to say who is at fault for the huge drop off on the back end.
Hope he works out for you, Soonerbred. I think the WSU years are one Pac12 metric and the OSU performance another. Grinch is an Ohio guy so I hope he does well....just not well if they meet up with OSU :)
I've been there once or twice and it's a ghost town.
Yeah, MGo was making a big deal about their class rating when Patterson went up North. It seemed sadly revisionist to me. But then everything they do is sad.
Height of hypocrisy for them to be crying about transfers when they were pretty much trying to poach an entire team.