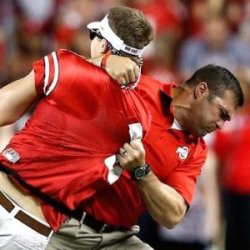 Seabass1974
---
Mercer Island, WA
MEMBER SINCE November 24, 2011
Favorites
SPORTS MOMENT: Beating Michigan. It never gets old and is the best thing that can happen.
COLLEGE FOOTBALL PLAYER: Me
NFL TEAM: The team with the most Buckeyes on it.
NHL TEAM: Red Wings
NBA TEAM: Cavs
MLB TEAM: Indians
SOCCER TEAM: Sounders
Recent Activity
Worst super bowl ever, including halftime and the commercials.
This is like watching 80's WWF, haha.
Don't forget the B1G requires 4 year schollies and the SEC does them year by year. I think this is an astronomical advantage. At least I remember reading about it somewhere. I could be wrong and/or mistaken.
Just a blip when they put him right back in it and wins. I was kind of hoping Bama would win so there was a chance he would retire. We will probably see 10 more years of him now.
Farmer's
Switched over to some left 4 dead co-op play.
Star Trek the Next Generation, from the beginning.
Boom.
Not watching, in fact I thought they already played and didn't realize its tomorrow.
Wow, and people freak out when I tell them or they find out by sitting down, that I have a heated toilet seat.
Georgia just doesn't want to be there. /s
All hail the emperor, Rocket Man.
We were put in the game we were meant to be in. We didn't deserve the playoff spot.
I just don't get it. WTF are these guys doing?
I'll take the win but I just don't get the lack of killer instinct by this team.
Feels like the team has shut it down already.
Go Buckeyes!
Just leaving the parade, everything seems perfect as of now weather wise.
1 reason not to hate UW is we have bikini baristas here. Their coffee is better than Starbucks along with a better view. ;)
569
I'm always surprised at how few Ohio State fans realize this. Whenever the PI talk comes up I go straight to this play and let people know it should have ended in regulation.
Grab and go egg and bacon wrap. On the bus to the parade right now. Look for Mercer Island marching band, I have 2 kids in it. So excited!!!
Can it be better and worse at the same time? Is that valid. This is the way I feel about it. Bama and Clemson are ruining it by scheduling trash teams and they're both pretty trash conferences. If I'm on the playoff committee as a voter I would let everyone know that if you schedule an FCS team I'm marking it down as a loss. As it is now with conferences not having equal comparisons, ie. some play 9 conference games some play 8, some play FCS schools. It needs to be leveled.
Civilization
Just tell the SEC to piss off and keep it at 4 conference champions only.