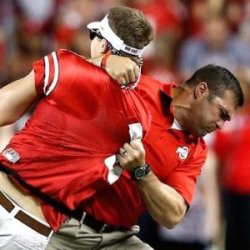 Seabass1974
---
Mercer Island, WA
MEMBER SINCE November 24, 2011
Favorites
SPORTS MOMENT: Beating Michigan. It never gets old and is the best thing that can happen.
COLLEGE FOOTBALL PLAYER: Me
NFL TEAM: The team with the most Buckeyes on it.
NHL TEAM: Red Wings
NBA TEAM: Cavs
MLB TEAM: Indians
SOCCER TEAM: Sounders
Recent Activity
Huskies taking over late in this game.
Touchdown Huskies!!!
Urban just getting in their heads lol
I think I'm just going to start wearing jerseys everyday now.
That was painful, like a paintball shot to the nuts.
We found a qb worse than Patterson.
Iowa is dogshit and Michigan isn't much better.
That's tripping.
So Patterson is the QB for both teams?
Watching this Iowa/Michigan game is like watching pee wee league. It's not good football but at least the kids are having fun.
Matt Entz
Fire Harbaugh thread is up and as I'm typing Wiscy TD. Hahah!
Wisconsin burning down Michigan's Shea shed!
They already are, haha.
I disagree, I feel the ball should never touch the ground when it's a pass. I hate the idea that it can touch and still be considered complete. However, according to current rules, it's a catch.
Gonna be a great weekend, Ohio State wins, Michigan loses. Head to MGo for the tears.
I want ND to burn Georgia to the ground.
The spread is just Vegas trying to get people to bet money in a certain way. It really isn't a predictor of who they think will win (although it usually works out that way). It's all about getting people to put money on the wrong bet so Vegas can win.
Worst super bowl ever, including halftime and the commercials.
This is like watching 80's WWF, haha.
Don't forget the B1G requires 4 year schollies and the SEC does them year by year. I think this is an astronomical advantage. At least I remember reading about it somewhere. I could be wrong and/or mistaken.
Just a blip when they put him right back in it and wins. I was kind of hoping Bama would win so there was a chance he would retire. We will probably see 10 more years of him now.
Farmer's
Switched over to some left 4 dead co-op play.
Star Trek the Next Generation, from the beginning.