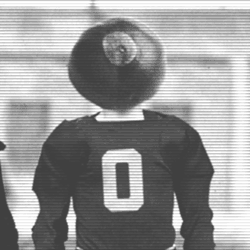 sdbuckeye11W4
---
San Diego CA (via Columbus, OH)
MEMBER SINCE July 26, 2015
Favorites
SPORTS MOMENT: OSU beating Cal in basketball 1961 for NCAA championship
COLLEGE FOOTBALL PLAYER: Ted Ginn Jr.
COLLEGE BASKETBALL PLAYER: Gary Bradds
MLB TEAM: San Diego Padres
Recent Activity
Most on this board are showing no respect to Wisconsin or to the realities of sport. This is almost a perfect scenario for Wisconsin. They have nothing to lose having already done so. We, on the other hand, are expected to not only win but cruise. Don't kid yourselves. Wisconsin has enough talent to keep this close unless we play well. Of course i see an OSU win, but that 18 point spread is not a certainty by any means.
The coach said it all in his post game comments. To paraphrase, it just said that during his coaching career, he's only had a few games like this one where everything just goes right.
I'm not sure we are going to shoot like that from the outside again this season, especially when we go on the road. The way the buckeyes came out and opened the game was incredible, but the consistent defensive pressure looked nothing like the days of Amir Willams and Mark Loving just a few years ago. With KY, NC, MSU and WVA coming up, this was a good resume builder to put in the win column. Cartin's dunk was pretty sweet, but so was Washington's shooting and Caleb's blocked shots.
EIther he develops more offense or Liddel picks up a lot of his minutes. I love the hustle, but he's got to be a threat from more places on the floor than he was last year. Diallo's development is also going to have to put on "fast forward". We simply have to get more quality depth on the front line if we are going to get into the top four in the Big 10 and make a run in the NCAA.
This is an exciting group that can and will contribute a lot next season. We need help at center, forward and guard and these guys will have to step in there. With the schedule we have, some of these guys that play extended minutes will be exposed for the young players that they are, but as we get into January and February, we will know what we have that we can count on. I don't see how Carton, Liddel and Diallo don't log considerable time this season. We could do some damage at the Big 10 tourny.
The number of "ifs" involved with this upcoming season make it both exciting and sobering. Wesson in the middle, a guard that can handle and a forward that can score (Liddel please) make me hopeful that the Bucks can get into the conference top five. Nonetheless, trying to envision how Muhammed, Carten and Walker will blend in with each other and whether we can get consistent production at the two guard is difficult. Washington, Jallow and Ahrens have potential, but I'd like to have some idea if their "normal" contribution will be 2 points or 12 points. In addition, I'd like to see our 7 foot second string center get regular minutes whether it looks like he deserves them or not. He needs to give the team at least eight minutes a game. He will be a huge part of our future and the growing process needs to begin asap. i like where the program is heading.
Count me as not worried about the o-line. I'm more worried about the running backs. Just imagine if they start giving Dobbins 20 plus carries a game, which is likely. it's quite possible that he eventually gets dinged and then Teague becomes the workhorse. I'm not sure what we have with him other than power so it just seems like we are short one multi-purpose back. I'm not reassured knowing that after Teague, the next in line are McCall and a freshman.
There are a few players that could make the difference in terms of team championship performance or in the depth needed to win a championship. I'm putting Baron Browning and Josh Proctor on that list and of course Mr. Fields. My guess is that Cooper and Smith end up with about the same number of plays from midseason onward. I would not be surprised to see Teague and Wilson have strong impacts although I doubt either of them could be described as "under the radar".
Havilchek was a great first baseman for the Buckeyes. I used to retrieve the balls that were fouled off when they played near the Olentangy south of the stadium. I would stay on the hill path overlooking the field and race down the hill towards the river when balls would land on the grass near the river bank. After the game, I'd bring the balls back to the bench and one of the managers would give me a new ball. I'm pretty sure Hondo was an all american in baseball and I do remember Woody wanting him to play football. I seem to remember that they wanted him to play as a wide receiver. I really loved that basketball team he played on. After they won the title in San Francisco in 1960, I never dreamed I wouldn't see another title, but that Oden team had a shot at it. Anyway, I was so sad to hear that Havilchek had passed. I won't forget him.
If Liddell has any college-ready offensive game, then he needs to start. Young hustles, hits the glass and gives the type of effort that helps others do the same, but he hasn't demonstrated much offense for a team that badly needs it. Young might start the season getting more minutes, but I don't think the season ends up that way. Huge expectations will be put on Cartin and Liddell. I hope they are ready for that.
In the Pretty Women words of Julia Roberts, "Big mistake Lakers. Big mistake." To go along with LeBron, they should have traded Ingram to get Ball at the point, kept Russell at a two guard with Kouzma at forward and kept the white big man they traded. (Can't remember his name, but I liked his upside better than McGee.
I've only seen the video of him in this thread but I'm sold. You can't teach height and he has plenty of that. If he can't contribute much next year, no big deal. Get him.
Just a couple thoughts as we jump into March Madness. Holtmann and the players should be so proud to have qualified this season. With the experience and makeup of this team, making the tournament was one hell of an accomplishment. So congrats to the Bucks for being included in the field. Can we beat Iowa St? i doubt it, but I doubted we could beat Cincy, Creighton, or Iowa.
Does anybody know why Potter transferred. He could really have helped and his sudden disappearance was tacky to say the least. I think many of the Big 10 teams will get beaten in the first round although i'll be rooting for all of them, even Michigan. I don't see anybody as elite in the Big 10 but it would be great if one of the teams could make a run. Lastly, can't wait for next season to come around. It appears that the new injection of talent will have a great impact by Jan. 1, 2020.
Go bucks.
It would be great to get a ticket to the NCAA tournament with this team and when combined with the great job he did a year ago would certainly validate coach Holtmann as an outstanding coach. There's no denying the many weak areas on this team: point guard, overall defense and front line were woeful at times but if they can squeak into the field, everybody should say job well done.
How do we NOT start Washington and Ahrens? This teams need offense and they have it, albeit in spurts. Does a win over Indiana get us into the dance?. It kind of comes down to whether or not the committee takes into consideration that our embarrassing losses of late have been sans Big Wesson. How he managed to get himself suspended at the most critical time of the season is a post for another time. Now it's all about qualifying for the NCAA field. I could care less about the NIT although it would be good to get more experience for this young team.
And let me make a comment that nobody has really emphasized much regarding this season. I will agree that Potter wasn't a dynamic player and probably wouldn't have been one this year as well, but his absence really hurt. We badly needed another big and I truly believe his presence would have been worth two more wins. Still don't know why he left but the fact that he did right before the season started was disappointing.
First of all, we have put our share of tight ends into the NFL. Secondly, he wants to be a strength coach. I think that bodes well for the good guys as well. I would love to see the tight end be a more integral part of the offense, but then again I've said that for twenty years.
There are a couple of points to address in this thread and both are pretty complex. First, the Lakers had their hand facilitated if not forced by that phone incident although they traded Squeaky P as well. Patience might have been the better course of action if they thought it might work. I'd say the possible acquisition of Lonzo Ball helped make the decision to trade him.
As for who is a Buckeye and who isn't, it's understandable when you see a one-and-out athlete who might not even know there's a Mirror Lake or give a rat's ass about the school's history. Still, if a guy or gal has the buckeyes in his heart upon departure, then they are a Buckeye no matter when that departure took place.
Making the NCAA field is a more realistic goal than making the top 10 for this team. Let's not get too transfixed on the polls. We need to grind out around 23 wins, make the dance and keep Kaleb out of foul trouble once we get there. And along the path, we need to come up with a somewhat consistent go-to scorer behind Wesson. I think Mohammed could be that guy be season's end. We are going to outclass a few teams and get outclassed by some others. It's those really close ones that are going to make the difference between 21 wins and not making the field and 23/24 wins and getting in there.
Given his talent level, Thomas was the most underutilized receiver we have had since Paul Warfield. Thomas should have been targeted at least a dozen times per game. Poor Warfield either should have gone to another school or been born 50 years later because Woody had no idea how to use him.
OK, I've seen eleven games and I think the majority of shots should come from Muhammed, Woods and Caleb Wesson. Matchups and hot hands will cause Washington and Jackson to have their days but the aforementioned threesome will have to drag this team into NCAA contention if it's going to get there at all. It appears the Big 10 will provide few road wins so we need to win the close ones at home. Sure like the improvement I'm seeing from Young so far, too. It's safe to say that Coach Holtman is doing a great job so far.
The Big 10 is a solid conference this year, but not an elite one. MSU and MI are very strong but the thing that best characterizes the league this season is going to be the difficulty of winning on the road. There's enough talent on every team that given the added incentive from the home crowd almost any team can beat any other on its home court. I think there are going to be a big number of games that are decided by whether a handfull of threes go in or not.
I wish OSU had just a little more front row depth. Potter could have really helped but I guess he wasn't pleased with his role.I wish somebody could shed some light on just what his gripe was. Washington is talented but has a bit of a quick trigger. Muhammed shows a lot of promise.I'm not sure anybody understands what Jallow's role is going to be.
Haskins carried this team. The defense was poor in way too many games. And as a realist, I'm not going to ignore what I saw this year. If the qb for MD hits that easy 2 pt. conversion pass, we lose and are in the Outback Bowl. Something was just off all year. The defense didn't look like champions except against the team up north. There was a lack of gang tackling and an abundance of missed assignments and missed tackles.
Be honest, we had an incredible comeback win against Penn St. and let teams like Indiana, Minn. and Neb. hang around way too long. We finished sixth, only lost once, beat ichigan and are going to the Rose Bowl. If that's not a very good season, than your standards are pretty damn high. Urban wasn't right all year. The situation reminded me of Matta in his last year. If you don't feel well, it's hard to get the best out of yourself and those around you.
Wow. Wish I could be there for this game at St. Johns. I'll never forget welcoming home Lucas, Havilchek, Nowell etc after they returned from beating Cal in the NCAA finals in the early 60's. They had a welcome-home rally at St. Johns that was packed with adoring fans. We made a lot of noise for our heroes. I was ten years old and little did I know that would be the last championship celebration of my life. I guess I can hope for another but now the Duke's, Kansas's and KY's have institutionalized the recruitment of most 5 star players, it's almost impossible to get into the final four.but Villanova did it, so I'll try to keep the faith. I will say that it's nice to see the Buckeyes scrapping and playing hard again after that three or four year stint where the effort just wasn't there.
Dear Buckeyes: Please don't let Karan Higdon turn into OJ Simpson. Keep the penalties to six or fewer. Throw long at least four times. Tell Haskins to run at least five times. Use the tight ends. That is all.
Go bucks.
I guess a scenario could unfold where we get to the final four. I'm questioning whether I want this team IN the final four. Our defense is prone to make so many mistakes that things could get ugly in a hurry even if Haskins throws for four hundred yards again,. Our record is gawdy but our play has been less than elite for way too much of the season. Urban has not convinced me that he will return.