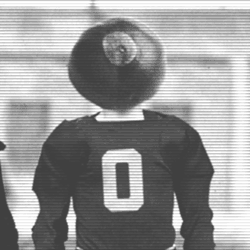 sdbuckeye11W4
---
San Diego CA (via Columbus, OH)
MEMBER SINCE July 26, 2015
Favorites
SPORTS MOMENT: OSU beating Cal in basketball 1961 for NCAA championship
COLLEGE FOOTBALL PLAYER: Ted Ginn Jr.
COLLEGE BASKETBALL PLAYER: Gary Bradds
MLB TEAM: San Diego Padres
Recent Activity
My all time favorite guards: Burson, Craft, Noell.

Oh boy. Henderson is going to be great. Watching him play against other high school kids isn't even fair.
Is it possible that his main factors are staying a little closer to home, enjoying playing football, the school, his teammates and getting an education, and not necessarily winning a national championship?
The best two teams in the country that year were Ohio State with Sully etc, and San Diego St. with Kaui Leonard etc. Both teams were so solid. A little more depth on OSU. A little more athleticism from SDSU. How UConn ended up winning is beyond me. Thad had two teams that could have won it all, unfortunately the other team with Oden ran into a Florida team that had won the previous year and then decided to play another year and disregard the early entry money. Who does that? Anyway, I saw the Lucas teams and I'm still hurting from those losses in the finals to Cincinnati. It's only been 50 years or so. :) I'm sure I'll get over it soon.
Did somebody say Sermon will be better than Dobbins? That prospect is doubtful at best even with the an O-line that will punish opponents. I say it every year about our tight ends, but with Ruckert on hand, PLEASE use him more. WRers should be excellent and deep. D-line will be unproven. LBers should be solid. DB's will not be and might represent our Achilles heel, if we have one. I'm hoping that we can get some solid backup help at running back from Teague and that one of the quarterbacks really starts to develop so there won't be a big controversy heading into 2021. Of course, with McCord coming in, I guess that's inevitable. Should be a hell of a season, virus or no virus.
Last line says "now" and should say "not".
The other question mark is the secondary. The talent is there but the experience is not. If and when we stop most teams from running, it's going to be all about the secondary's ability to defend against the air attack that is sure to come. Many teams may feel that their best chance against this talented team is to forget about trying to grind their way down the field and just go deep against what may be our most vulnerable unit.
Olave is way better than Warfield if you are comparing college stats. I doubt that juxtaposition holds true though when you are comparing their pro stats several years from now. Woody had no idea how to use Warfield other than an occasional end around. We know Wilson and Olave will do their thing, but I can't wait to see who else contributes in the passing game. I know I'm talking sacrilege, but the next most productive receiver just might be a tight end.
Good call Keith. He made so many exciting plays that he's definately one of my all-time favorites, too. I can remember so many great plays he made, but for some reason I keep thinking about the times he burned Notre Dame corners to a crisp. I guess you know a guy has some sizzle when he's constantly 10 yards behind the defenders. I also remember a long punt return he took to the house against Minnesota where he could have walked the last 10 yards. He never measured up to the ninth overall pick, but he made a lot more money than most of us did in the last decade plus. So glad he was a Buckeye.

Talent is great, but talent without experience can and will cause some anxious moments. year in and year out, college football calls for new players to get in there and get the job done. Very few teams have what we have waiting in the wings. Oregon in week two will test us, but other than that, we will have five weeks to train and break in the new players.
If there's a season, the biggest factors in our ultimate success could very well be the acquisition of Sermon, the return of Wade and the maturation of Banks.
They better start coming up with some viable modifications like moving the season back, possibly dropping pre-conference games, not allowing crowds, quick and inexpensive testing, making a bigger championship bracket and things like that.
Some football, beats no football.
I think for my three underappreciated that weren't mentioned, I'll take Mel Nowell, Dave Roberts, and David Lighty.
My concensus picks would be Jay Burson, Gary Bradds and Michel Redd. Each of them was fantastic.
If we didn't have one of the best offensive lines in the country, Johnson would be a starter for sure. If he doesn't start this season, I'll bet he gets plenty of snaps and becomes all Big Ten in 2021. Fantastic to have the depth on the O-line that we do.
I find more and more in sports and in every other field, curiosity (asking questions) is a very undervalued quality.
In order to have a season, we need a hell of a lot more quickly-assessed testing. No students in school equals no football. In my opinion, I can't see a way the students come back on time but again a lot can happen between now and Sept.
If school IS in session, we are going to have to minimize game personnel, disallow fans in the stadium. twist format timetables, and test around 500 people between teams, coaches and needed staff and facility personnel. Am I confident? No. Am I hopeful? Very.
Hoosiers, Rocky 1, Raging Bull
Those picking the db Mt. Rushmore are missing the point on Jack Tatum. At a point early in his career, did he give up some receptions or INT's to get a kill shot? Yes. But after a while, he didn't give up any receptions because for two years nobody even threw to his side of the field. Tatum is on Mt. Rushmore. Also, there can't be anybody who thinks that Winfield shouldn't be on there. After that, you all can fight but I'm not sure how you keep a three-time all-american like Mike Doss off there. For my fourth, I'll take Lattimore but that one is really tough. Somebody said to be fair, you need to separate dbs and safeties. That's probably a good idea.
Banks; My goal for this team is the same. The loss of Young is damaging but the emergence of EJ is timely. Carton could have helped but then again Walker has been playing with more confidence. I'm really only worried about the wear and tear factor that results from going through the conference tournament with limited substitutions. Muhammed needs to get all over MSU's point and we might be able to grab a win with another strong effort from Liddell. It's turning out to be a fun season.
What a great team. I was nine years old when they won the championship and my mother let me stay up and watch the game, which was played in San Francisco. They had a great welcoming party for them when they returned to a packed St. John arena. I cheered so loud I lost my voice. Little did i know that was the last championship our basketball program would won. Those guys were my heroes. I can still remember Nowell wearing number 3, Lucas 11 and hondo number 5. Thanks for the thrills guys.
There are some positives in playing a 7-8 man rotation and every coach knows it. You can see the difference in the confidence that Walker and Washington are playing with. Plus, extended minutes can only help Liddell. Muhammed is the guy who doesn't benefit from a short rotation. His biggest contributions are on defense and he tends to get worn down a little without adequate substitution. (No DJ). However, there are mitigating circumstances such as player fatigue during or near the end of the season as well as losing players to the portal who don't feel the love. (See Potter.) Allocating player minutes is a huge balancing act that coaches have to finesse.
Really could see a four-man rotation at DE with Harrison getting the most snaps. Taron Vincent should be the guy from the D-line featured, not Tommy Togiai, who is already tested. On another note, it's so refreshing to know that somebody on that O-line can get nicked and we have one or two guys that can go in there with negligible drop-off. I have no idea who will emerge between Miller and Stroud, but again it's great to have talent like that in the wings. The quarterback position is set for many years.
This could be a huge year if we can get the running game going. I think Chambers will take over. I wouldn't say the running back talent available is distressing, but I do find it unusual that there's no stud waiting on the sidelines. Not sure what happened there. We need to be ready to roll quickly as that trip to Oregon will be tough.
A great offensive line may be just what this team needs to offset what may be a slightly lackluster run game.
We will have to establish a running game that is respected by the top level teams or else our passing game will be stunted. If teams know we won't be effective in several down and distance situations, they can better defend the pass by extra rushers or linebacker schemes. That's what I'm worried about. Losing Dobbins is an huge loss, especially if none of the remaining backs can step up against the top tier competition. Yes, Teague will tear up some teams when our o-line opens big holes, but can he pick up the first down vs Clemson/Alabama/PSU/WI when it's third and three? I have a sneaking suspicion that Steele Chambers may play a big role this year and I like Rendennt's comment about coming back and winning it all this year. And no, I don't have my scarlet and gray glasses on.
That 78-6 group was indeed epic. Lucas, Hondo and Nowell were my favorites. I watched or listened on the radio to every game with my brother and am still sad and a little shaken by those two losses to Cincy. I can still remember Hogue, Thacker and Yates. Damn, those Bearcats. Doubt if I'll ever see another championship in basketball but I bet that's not the case in football.
Really painful to watch that second half last night. After a couple of passes in the weave out front, somebody would go one on one and hoist up a low-percentage shot. i thought Young played well and a few guys had their moments but that second half should not occur at home. As many have said, I've never seen a collapse like this one. Just doesn't look like the same team. I'm always satisfied in BB when the Buckeyes make the tournament and find it unacceptable when they don't. Ongoing recruiting and coaching at OSU should be such that they always finish in the top six of the conference. There's obviously more that this group of players can show because they showed it earlier. I think they will beat Northwestern, but if I'm being honest I don't much confidence that they will beat anybody else.
Once it's pretty well established that this team won't make the NCAA tournament, and that is looking more and more plausible, we should shift priorities and begin thinking about next year. That means mucho playing time for the bench-sitting bigs. Cartin and Liddell are already playing, but Diallo and Gaffney might as well take a lot of lumps now in hopes of taking fewer of them next year. nobody on the outside knows what is up with Washington and Muhammed but that needs to be resolved with confidence before next year. it's evident now that some of our early big-name opponents were somewhat overrated, but that still doesn't explain our dropoff in scoring or our sudden ball handling woes.