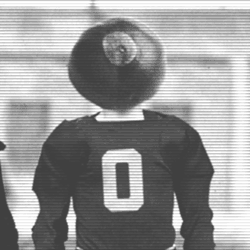 Scott62
---
MEMBER SINCE August 18, 2018
Recent Activity
Like a weatherman who misses more than a blind squirrel. Except the weatherman still gets paid and still eats, unlike the unlucky squirrel.
Rules "experts" have never told me something I didn't already know and have never clarified anything I didn't already see.
Reviews were good for awhile, but somehow "indisputable video evidence" has gone out the door and the answer from the review booth becomes a judgement call of what the booth thought might have happened. Look at the call that cost Memphis their only regular season loss as an example.
That and I'm tired of the officials huddling after every flag and having a discussion that makes me feel like I'm waiting for them to elect the next pope.
I see your point but feel very much like many of the wins were losses. I always took a lot of pride in the Buckeyes defense. Not only having some of the greatest defenses of all time, but the consistency in great defense. The points we gave up in victory were absurd. 31 to Oregon State? TCU shouldn't have scored more than a field goal or two. Even the 39 to TSUN was a wtf. Say those points were garbage time all you want, but TOSU never gave up points like that in garbage time on a historical basis.
Checked off a bucket list item and went to the Rose Bowl. It was awesome to get the W, and a win is a win. However given Washington's comeback, it was hard not to walk out of there thinking we should have beat them 56-10.
I go to Micky D's once a year on an out of town trip I always take. I go for breakfast to get an Egg McMuffin and Hash Brown. Nothing like a good greasy Egg McMuffin and Hash Brown after a night of drinking. Don't go near the place the rest of the year.
I'm viewing TSUN-Bama as a win-win since one of them has to lose. I hope TSUN goes down...Only B1G team I never, ever root for. But if it's the other way around at least it's a chink in the armor of Bama and the SEC.
Of course, if Bama should lose they will write it off to guys skipping the bowl. In the very remote event no one skips the bowl, then they will write it off to guys more focused on thinking about leaving.
Just wanted to say Congrats Kevin!
All that I get is "403 Error". Tried to follow Navy's suggestion and nothing. I'm on an IPhone.

Follow-up: Just tried my IPad and it worked right away. Thanks Navy.
Pretty sure Wilson was only there four years
I think they'll figure it out. I would love to have a guy like Hilliard back with his experience and upside when healthy.
I think you're right. That would be amazing!!!
I firmly believe we would not be this good. Could we be undefeated? Maybe, but depends on other moving parts. This team is performing at an historic level. Changing any one ingredient could only make things worse. I'm sure it would be mostly the same staff and even if they stepped up their coaching, would we have Fields?
Love Urban, but the stars aligned this year.
If you lived through the 9-3 years of Earle, yes Cooper elevated us. Under Earle, after '79, we just lost games we never should have lost. It was agonizing knowing we would lose 3 games before season even started. We were completely irrelevant nationally. Coop brought in the talent and made his runs. We were began to run deep into the season undefeated. We were being talked about on ESPN (before they went to hell). I get he puckered at the end of the season. I wanted him fired as well because it was inexcusable to lose to TSUN. But I give him credit for at least bringing in talent and making us nationally relevant. Also, Tressel went 2-0 versus TSUN and won a Natty with many of Coop's players. Coop deserves some credit for elevating the program. Just couldn't get us over the hump. One last thing, not for nothing but he was probably an MSU shanked punt that bounced off of Nate Clements away from a Natty of his own.
I did some work at his company, Cranston/Csuri, back in the late 80's. It was really cool what they were doing at the time. The graphics you saw on TV for the lead in to NFL games were done by them. They also did work for Olympics and some of the major networks. It was stuff you would have thought was coming out of L.A. or New York...but nope, Columbus.
I'm not convinced Rutgers could score even if given the benefit of three 15 yard penalties in a row as Maryland was. Probably would leave them with a 45 plus field goal try best case but then fall out of range as soon as they run a play and lose yards.
Question I have is if they can finish the game with positive yardage.
I think the linebacker play and the fact that Chase is getting to QB in 2.0-2.6 seconds is making that harder than it sounds.
This is the stuff you'd think they would learn to keep in check - Josh Metellus said. "I know what this defense is capable of. We can shut anybody out. If everybody is locked in, doing their job, we can shut out anybody in the country."
Ummmm, right. Btw, despite the stats, you didn't even shut out ND as they were sleepwalking through the game.
In all fairness we've played one more game than TTUN. So, after their game against Illinois and our off week, they should have, um, well they'll probably still be at 18 TDS...never mind.
You left off Nuge. Missed his first kick, an extra point, but was money after that. Probably had to knock some rust off.
Just to keep it simple, my vote is TTUN implodes.
His Scooby Doo reference was more in his character.
As a kid growing up in NW Ohio, we used to walk downtown to the sledding hill when it snowed. That was no more than ten feet...but still qualified as a hill.