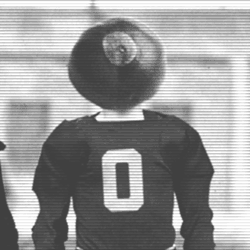 Scipio
---
Member since 31 January 2011 | Blog
Recent Activity
Cleveland is also a huge Buckeye town.
Wilson has also quietly made some changes to blocking schemes which may also have a very positive affect on production.
The key will be teaching the other four (who don't make the starting cut) how to play other positions to further solidify depth.
Nice job by those young men.
Indeed. I had to read that one twice before getting it.
Yes, very good questions this time.
In life, whether it's business, sports or walking down the street...impressions are being made. Right or wrong its reality.
There is a reason your Physician doesn't walk into the room with sweats and a cutoff t-shirt.
What I like about Urban is he always sends the kids home with a message that supports the players coaches and program.
Brookfield was loaded. They had quite a few D-I players (remember, this was a small HS). In addition to Marek...Darwin Ulmer went to ASU, Ed Pryts to Penn State, Jimmy Dixon to WVU and John Lott went to Michigan.
They were a juggernaut, especially on defense.
Matthews has very little football tradition. It was difficult being in the same county as Warren Harding, Warren Reserve, Warren JFK, Niles etc. All those Brookfield guys I mentioned above would have started on any of those schools.
A meaningless aside... Masury and Vienna are basically ten miles from each other. Brookfield HS lies in between. Had he grown up in Vienna he would have played at Matthews HS, which would have meant a far different HS career.
Marek, along with another OSU great Randy Gradishar...are legends in my native Trumbull County.
Marek won the State Title on the best small school team (Brookfield) the county has ever seen. A nose for the ball like few I have ever seen.
I didn't realize they gave up 17 sacks against the three teams that gave them the most trouble. It has inspired me to go back and watch those three games(Thank God for Drive-Thru versions) again with that in mind.
Anyone from 11W interview Studrawa yet?
Our OL coach in college used to say "it's better to die at birth than jump offsides on the goal line".
The thing that that stood out to me watching that second video was that they are still running the option.
95% of football players everywhere are nodding at JT's comments. Two-a-days suck hard.
Thanks Eric, very timely article.
Both EXTREMELY hard to get.
the Beer Advocate is a good site to visit. Sometimes you can find someone to trade with also.
I have been to most of the Columbus Breweries, but haven't tried Seventh Sun yet. A guy at CBC told me about it yesterday, so I am going there next time I have an overnight in Columbus.
CBC is my favorite in Columbus, the beer and food is good.
WolfsRidge had the best food, but I didn't care for their beer.
I liked Elevator, both food and beer.
As an aside, I also love Beer Kitchen 101. Great food and beer selections. They don't brew their own though.
You are I have the same tastes. I have three Heady's in my Fridge right now. It may be the best I have ever had. One of the few that lived up to the hype.
I've only had one Hill Farmstead, Ephraim, at a bar in Vermont. You would not be disappointed.
I just learned of this thread today and have enjoyed reading it. Thanks men.
I have been fortunate due to my work travel to try some awesome beers. I also have good friends who I trade with. They want Head Hunter and Lake Erie Monster usually.
My current favorite list:
Hill Farmstead Ephraim
Heady Topper
Pliny the Elder
Stone Enjoy By & RuinTen
FFF Dreadnaught and Zombie Dust
Sculpin and Head Hunter are my easy to get "go to's"
Fat Head JuJu (seasonal) and Head Hunter are two excellent brews. I can get Head Hunter whenever I want it so that's a plus.
I was in Columbus for business yesterday and stopped in to CBC for dinner and hopefully...Bodhi.
So how happy was I when they tapped a new barrel as I sat at the bar? So happy I bought a Growler to take home with me. Gawd that beer is good.
My latest addition to my growing list of "favorite Breweries". I love Zombie Dust and Dreadnaught. Fantastic beers.
I just can't get them very often. I have to rely on me beer guy getting some now and then and friends who can will supply me from time to time.
As an aside, Coach Warriner was a helluva football player at Mount in his day. Tough as nails and a fierce competitor. No surprise he exhibits the same qualities as a leader of men.