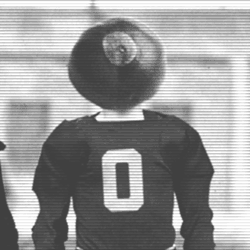 Scipio
---
MEMBER SINCE January 31, 2011
Recent Activity
Upvote just for Steely Dan.
I'm partial to Zeke's glance at the scoreboard as he leaves the Tide players in his wake.
A meaningless aside Ramzy...I believe Lashun Daniels was on that Vikings team as well.
Nicely done.
Any idea what Butch P. is doing these days?
Also, If I were the dad of a stud RB, I'd prefer they have someone to share carries with. The punishment that these kids take is incredible. The Weber/Dobbins rotation is preferable for longevity, no?
I'm not concerned about it for one main reason. The OL that is coming back next season...and the players in the OL pipeline after that. I feel the RBs in the queue are perfectly capable.
However, recruiting next year will have to address the RB depth obviously.
In that case, Prescott Burgess, Crable and Manningham were misses too. But the Bucks did fine without them.
Indeed. As you mentioned, you must allow us Warren folk to clarify for prideful purposes ;-)
That being said, Bowden was originally from Youngstown. Like Clarett, he came to Warren under open enrollment.
Indeed. Some fond memories watching and playing it. Except we got stomped my senior year. Lawerence Coleman ran all over us.
I was an East sider too. A decade or so younger then you though.
That SOB Bob Reade cost me and my teammates a National Championship. Thanks for digging up that soul crushing memory Ramzy.
I really like this Tracker. Very helpful.
upvote for not seeing this before posting...and agreeing with you.
Gus Johnson's call of that pick-6 was epic.
Matt, I hope you don't mind but I linked this article on the Ohio HS Football forum Yappi.com so that it can be viewed by thousands of fans across the state. I waited until you were finished so they could see the entire list.
Nicely done. I learned a lot and it corrected misconceptions I had about certain powerhouses not really sending their players to OSU over the decades.
I knew Tim Odom back in his OSU days. He was wonderfully insane.
Also, from what I hear, a helluva football coach.
Ramzy, if you are taking Sax Solo requests for future article, I will skirt the obvious (Jungleland) and throw Deacon Blues out at you.
Packed to the gills(14-15,000) in the 60's and 70's but started to taper off in late 80's due to the population decline. When did you graduate?
How could I have forgotten the great Coach Gregg and the Elks...shame on me.
I have to admit I am stumped on the schools left(other than Glenville and St.Ignatius). I would have thought WGH, McKinley, Massillon and UA would have been in top 5. I still think St.V-SM is too high....but I am looking forward to the remainder of the list.
Edit. I just thought of another. Moeller? Doesn't seem like they sent many.
I did miss it! Thank you Matt!