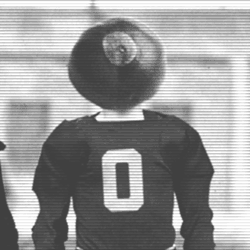 Schwaan
---
MEMBER SINCE January 01, 2016
Favorites
SPORTS MOMENT: 2014 OSU National Championship
Recent Activity
Joey Burrow the high school Legend of Southeast Ohio now becomes Legend in the Bayou!
"Burrow put up modest numbers?" 321 yds a td pass & rushing td. against one of the best defenses in the country is not modest Imo.
I too am wondering what is the injury Tyreke Smith suffered. I had not heard about that.
Good luck to the young man. Once 5* Justin Fields was brought in & Fields was going with the first team immediately the writing was on the wall. Can't blame Baldwin for not being blind. Wait two more years or transfer & have a chance to start immediately.
I have never been wild about Victor or Mack. Great receivers don't have as many drops as those two have had. We have much better receivers on this team that will prove themselves this season.
Well I believe Mack is going to be very good but with Olave & the other young receivers he will need to be as there are guys capable to take his place any time.
The problem now is how many qb's will we have next fall as 1 or 2 could transfer.
I like the present 4 team playoff. If you lose by 29 to a terrible team then you suffer the consequences.
I like the present 4 team playoff. If you lose by 29 to a terrible team then you suffer the consequences.
We thought Iowa would be a cakewalk & they put 55 on us..
Most of SEO is rooting for Joe B to take down 'Bama & then hope for the best for OSU.
Good to hear Cain might be playing for OSU. Now is there any chance we can get Darnell Wright to block for him if he comes?
I thought Ruckert would be as good as Gisecki was at PSU as a freshman. Either he was overhyped or I guess is not blocking well enough to play. According to Urban he was going to be a difference maker immediately.
Darnell Wright is a must get as well as Harrison.
It is a travesty we only see this guy for one year! Urban held the whole team back last season by playing JT & we all love JT but my gosh.
SEC garbage? 3rd string qb? Burrow was #2 when he broke his hand a tOSU & Burrow would have started for most Big Ten schools for sure. I am not a Supporter of the SEC but they have dominated college football for most of the past decade or longer. Only after Urban Meyer came to tOSU did the Big Ten step up its game.
TOSU will sorely miss Joe Burrow & I look for him to do extremely well at LSU. Overrated? I think not.
Joe's first spring game he was live & got drilled early but kept standing tall in the pocket & looking like he knew what he was doing while completing passes, many of them long. He looked much better than the qb's not getting tackled that spring. They looked indecisive.
Darnell Wright did not struggle! We need that guy & I am sure tOSU staff is after him hard.
Haskins is in line to be Ohio State's starting quarterback this season after "winning the competition"with Burrow and Martell this spring.
It is my understanding that Urban Never told either they would be the starter only that the competition would continue through the fall.
Super glad to see Jack Miller III with tOSU!
Darnell Wright's addition could make this OSU line one of the best ever for years to come.
Wandale-Robinson can scoot! Great change of direction & burst! Wow!
Most Southeast Ohio folks will be watching LSU games this season & pulling for Joey Burrow. Glad now I have the SEC network as I had never turned it on before. If LSU & OSU meet I know who I am pulling for!