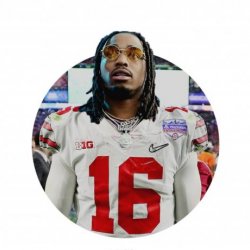 ScarlettJoeHandsome2
---
MEMBER SINCE March 22, 2017
Recent Activity
Good to hear from the ol ball coach.
I believe his ankles were banged up.
Implement and develope. Gotta get these young guys ready and build depth
Speed was an Urban prerequisite.
Make that money, don't let it make you.
Wishful thinking, but if the coaching staff offers Thomas, we could have two.
Can't wait to see Fields in action. He has to pick his spots when he runs/scramble—QB depth as of now is an obvious concern. Hopeful for the potential of four first round draftees. Sheffield reminds me of Artie Burns from the Steelers, someone may take a flyer on him in the bottom of the first.
Alabi has performed well in relief. Def have confidence in him.
Wish some of us would've enjoyed the season more. Great Win Bucks
Dobbins out the pistol, then wheel route
Parris stopped on the deep ball
Okudah and Chase with the double dose