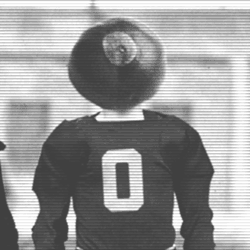 ScarletNut
---
Member since 22 July 2013 | Blog
Recent Activity
Now boycott the CFP games - that will teach the committee.
Puke ! "I wish him well" because he was once enrolled at OSU ??? So was Cris Carter and that leopard's spots never changed. Who cares how talented he was. I don't wish him ill or luck. I hope he gets exactly what he deserves in life without relying on a bunch of unearned stars next to his name as well as unearned opportunities that others would die for. I'm sure our Coaches held his hand as much as possible. Like another said - seems like a dingbat. Sure trending that way,
Great Article. It would be of further interest to see how many of the NR's stayed in college for the full 4 years to develop as opposed to the big-headed 5 stars who never made round 1 (or any round).
It would also be interesting to consolidate all the NR's drafted in any round to see what schools "coach up" and what schools just recruit. A ton of data & statistical work would be needed.
Again, nice job Andrew.
If only Ray would have taken Cris Carter's advice and had a stand in / fall guy. That's where he blew it. Nothing wrong with a little slap to the missus. God these idiots make me puke. Should be in jail but probably getting a few pesos to enlighten the youth. I just can't see Woody going this route...
Middle Linebacker is our weakness under Urban. Everyone wants to taut the 5 star commit and # of tackles (most downfield) etc.... but we still are sorely in need of a beast MLB that intimidates and stuffs the run. That used to be a staple. Watch the film. WATCH THE FREAKIN FILM of last year's MSU loss. It was the most pathetic performance by an OSU MLB in the 40+ years that I've been following our team. A great dance performance it was. How about hitting somebody and stuffing a hole ???
DCNick nailed it. Smith has the same character traits as Cris Carter - whom all true Buckeye fans should disown. " If you can't do the time, make sure one of your lesser-known friends can." Just great people those two...
Ohio kids aren't worth the effort - we want 4/5 stars only - ask Luke Kuechly
The offense was obviously putrid. That said, the defense wasn't really much better. Sparty ran it down our throats when they need to at the end - and without the threat of a pass. We allegedly have a Butkus candidate somewhere. It's not like the heat wore everyone down. There's no way we get bulldozed like that with Katzenmoyer or Laurinaitus. McMillan may yet develop into the beast MLB that he has the physical presence to be - but not quite there yet. We have some great talents - but as units and play calls on both sides - we are overrated. Plain out X & O'd... sparty only scored 24 versus Purdue, 24 versus Maryland (2 of the worst defenses in the nation) and 20 versus TTUN without the miracle play. Most of that was with Cook. We should have drubbed them and shut them out in that weather.
The big headed "brand" stuff doesn't bother me as much as the grammar in his prepared statement. If he passes the English portion of the SAT - he didn't take it.