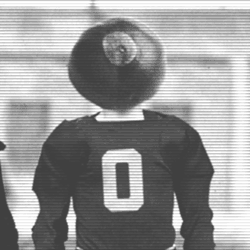 ScarletHarlot
---
Las Vegas (via Cincinnati)
MEMBER SINCE October 20, 2015
Ohio Born and Raised
Currently on the West Coast
Recent Activity
Lived there and still have family there. Can't believe how much downtown has grown.
As a born and raised who hasn't lived in the state in over 20 years, I completely relate to your statement about feeling lucky. Being a Buckeye amongst other Buckeyes for game days outside of the motherland really drives that home. The folks I've brought with me to our local game watch parties are always in awe of the intensity, tradition, and love Buckeye Nation displays even far away from home, That is something I am proud to show them and be a part of.
From the next county over! Haven't been back in ages. Is Pop's Drive In stilll around?
I am so sorry for your loss.

No defining moment. Born and raised and there was no way you were getting out of my mother's house as anything other than a Buckeye. She's in her mid-80s now and recently told me that she was glad to have lived to see the National Championship season and all the magic that involved. That really hit me in the heart. I live on the west coast and she is in Ohio, but we faithfully text each other during every game.
I love them too. The groovy ones are my favorite. I bought a ton of tbags when I was last home. Now we will occasionally do the shipped case from their site.
LOL. I wonder if we know for the same reason.
Feel the same way. Anyone who breathes gets in a bowl game. Xichigan is proof of that.
I'm not bitter about us not getting in, so this comment is not shaded with that and I've felt this way since the ridiculousness that is the "Kraft Macaroni Bowl" came into being. However, I wish they'd just do away with anything outside of the playoffs. Bowl games have become meaningless since there's 40 of them. I don't even want to see an expansion on the playoffs. We now see how the committee is going to operate, so just play the four and be done with it all.
And I thought that was just a rumor. I heard you killed them with a mace.
Damn.
Those are on my Christmas list. Ask my husband in a month or so if they are worth the money. LOL

Celebrating that winning feeling in Las Vegas. We watch at Sporting Life Bar. Buckeye owned and managed, plus it is where the alumni club hosts the watch parties. We had a great crowd, a Brutus cutout, breakfast buffet, and someone handing out edible Buckeyes.
That thread is chock full of hilarity. Good stuff.
Which peanut butter for your edible buckeyes: Jiff, Skippy, or Kroger brand?
I live here, so feel free to contact me for more recs. I am not so up on the strip stuff, but I can give you some ideas for off strip. If you are planning on trying to go to clubs, please, please let me know and I will hook you up with a promoter so you don't pay a ridiculous fee to get in.
I'd definitely recommend a little jaunt down Fremont East. It's the area east of "the canopy" with the light shows. Maybe a 2 block walk. Lots of restaurants and bars that cater to the more local crowd. The Downtown Container Park is there and has a great little bar called Oak and Ivy that has a ton of different wiskeys. I also like Glutton (next door to Container Park) for grub.

Siegel's 1941 inside of the El Cortez has a fantastic quality prime rib for a great price.

If you are out venturing around on the south side, quality bar food can be had at Boulevard Grill (on Las Vegas Blvd. across from the South Point Hotel and Casino). Mostly Italian food. Soup of the day is always amazing. Ohio owned, has gaming, 24 hours, and a cool collection of stuff from old Vegas days, Cleveland, and Ohio State football.
Another Ohio owned establishment with quality upscale bar food is Sporting Life Bar (7770 S. Jones). Short drive from strip off the 215. The chef who created the menu came there from Bouchon at the Venetian. They have some good daily specials and a good beer selection. 24 hours, gaming, clean. Say hello to Doogie and Scooter.

If you choose to go to Death Valley, I'd plan for a stop at the Pioneer Saloon in Goodsprings (right off I-15). It's been in a ton of old Western movies. They have food as well. Worth the short detour off 15 for sure.

If the weather is agreeable, I'd also recommend the drive to Mt. Charleston which is about 20 minutes north of the strip. There is a lodge a the bottom, and a restaurant in the higher elevation with a great view. Not crazy about the food, but the view is worth having a drink up there.

I don't think anyone recommended Valley of Fire yet, so I'll throw that one out there. Petroglyphs and red rocks oh my! Stunning scenery.
They are full of sh*t. Cabbies didn't want Uber or Lyft here so they do everything they can to squash the business. You can Uber and Lyft on the Strip and anywhere else here to your heart's content. Each hotel has a specified pickup/dropoff for both services.

What you can't do is hail a cab on the street on the strip. That is illegal and unsafe.
Parking is another animal. Strip properties are now charging; ridiculous fees. If I go to the strip, I either Uber/Lyft from the house or I drive to the Silverton or Target to park and Uber for a few bucks from there.
*Source - I live in Las Vegas and my husband drives for Uber part time.
I just never thought about coastal Texas as a crown jewel of seafood fare. Granted most of my Texas travel is inland where BBQ and brews rule.

LOL about the water story.
Good seafood in Texas? *wonderment*
I'll be glad to go down to my local sports book here in Las Vegas and collect Clemson fan money late Sunday evening.

Great story!!!! That's some Buckeye hospitality there!
There's a ton of Buckeyes that live there and also come in from the surrounding states (CA, NV). I live in Las Vegas and don't go a day out without seeing Ohio plates or Buckeye sticker or gear. I'm strictly speaking about areas locals go to, not the strip. There are a ton of us here. Easily 100-125 on at the Alumni viewing parties and that's just one bar of 8 I can think of off the top of my head.

I also have a Ohio born bartender friend who told me that his bartender buddies in Phoenix get super excited about the Buckeyes coming there because they know they will make great money and the fans are nice and easy to deal with. They wish the Buckeyes could come every year.
Hell, I'm still amazed they didn't suit up for the final and rush the field. I can't tell you how many times I saw Alabama fans posting pictures with a trophy proclaiming they really had won the Natty. I don't know what they drink, smoke, or snort down there, but yeah.