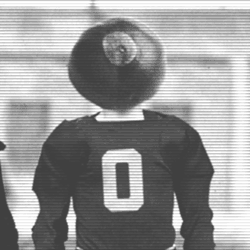 scarletgray
---
MEMBER SINCE October 08, 2017
Recent Activity
Thank you and Good Luck Robert.
Mystery solved
Most of them are in our showcase
i know its a lot of speculation and i believe he will be a fantastic tight end. We got a line backer coming in next year thats going to rival some of our other all time greats. I see him having a very early opportunity to play with the departure of Werner and Tuf. Let Cade get his feet wet at tight end this year and contribute in 2021 and beyond. I believe Cade outgrew his natural position so if all parties feel he will be a better TE than DE, Bring it on.
i would be looking over my next two years schedule and my roster very careful if i were Fickle. MSU is a place that can make a decent coach seem great or a great coach seem horrible and its in a position to do the later right now since he is replacing one of their most successful coaches. tOSU, PSU and Michigan will make it very difficult for a perfectionist to succeed there. Mark was the right hire at the right time and had to do only a little to get up the hill, He had the advantage of the Tressel situation, Michigan's coaching carousel and PSU's probation. If this next guy will be expected to duplicate that, i doubt he will for the short term like Mark did and most certainly will not for the long term. This Job belongs to someone looking to make a name for himself or someone on the rebound. Either an innovator or someone extending an already mid level career. I hope he declines the offer.
Urbs was very fair to the officials. easier to do when you are winning at a 900% clip but for a man as intense as he is, he seldom stooped to the now standard norms of dealing with perceived blown calls. You can really only deal with the consequences of good or bad officiating and Urban was more concerned with whats next than barking about what already happened.
literally hundreds of them do come north each year. I mean to the point that you could make a post that says why wold a southern kid come to the north to play football?
i do not disagree with any of this but even so, when you have 315 hitter with 110 hrs in his first 5 years, you sign him for 10 years and hope for the best, The additional 2 years is simply part of the price you pay for that to happen. Joey Voto's dont grow on trees. Show me another 29 year old 315 hitter a team let go of. We can gripe about his production and cost now but that does not make the move incorrect in 2012
what would this site have said if they let him go in 2012 or after his 2016 season?
Chris Davis says hello! Thats what a bad contract looks like and Joeys looks nothing like that.
There is always a speculative nature in a contract, and there is always the players leverage to consider as well as the value the competition places on a that player . There are variables. You dont think the reds after 150 years of being in the baseball business did not think Joey's number would likely come down at 37 years of age? If Joey is at 285 and put on the market at trade deadline time, the first 3 teams that need a left handed bat or a first basemen would gladly eat that contract if they are in the pennant hunt. That would be 95 mill for four years. These guys are looking for longevity and longevity is the price the Reds had to pay to fend off the other 35 teams who would have given him the same money . He is not dissimilar for Robinson Cano or Miguel Cabrerra and if you want the good, you gotta take the declining years too because if you dont and the good is Joey Votto good, someone else surely will. I applaud the contract and accept the decline even though i think he gets back on track in 2020
Those giving up on Votto and in the same breath cheering for Nick C acquisition are some hard to please sumbitches. He signs a contract in 2012 that like most contracts pays for the production you already received. Since then has had a total of one sub 280 season while committing an average of 7 errors a season. everyone knew he he would be 37 in 2020 so i am sure some decline was accounted for at the time he signed. If your complaint is Bang for the buck, there is no question that Joey earned every penny by comparison to any other near equal signing this century. If your complaint is that he is on the declining years of that contract, you can only ask yourself was he worth it collectively over the length i would still say yes by a long shot. Hell if any other star athlete was going into year 9 of this contract and producing as he did only 2 seasons ago, they would be wanting to re-negotiate. The reds have had too many holes to be complaining about Joey V. Are we going to have to hope for a slower decline, heck yes we are but IMHO his 2019 season is about as bad as it will ever get for a career 307 hitter and id try to concentrate on other deficiencies. I know its a what have you done for me lately world you live in but that question needs asked of 23 other Reds before id get to Joey At least this year.
the beauty of it is there where only 8 others and 6 of those came in one season
2022,
I lost a decade somewhere
get back to us in 2012
Oregon has something standing in their way the next two seasons that Clemson knows how to deal with (4-0) and they have no answers for. (0-8)
Find a different next Clemson for now.
every year with this....Yes stars most certainly matter but there is little separation between a four and a five star or a 3 so being your own judge of talent and having the resources to maximize any individual is equally if not more important. Very few teams can pencil in a win based on their haul of four and five star players alone and some teams equalize themselves by playing their veterans vs your young 4 and 5 stars or by great coaching, or program identity or the fact that your competition is just as 5 star lacking as you may be. Five stars make a program and we are indeed one of the very best programs but every season there will be teams capable of beating us with less star talent and every year we see strong teams without our recruiting advantages. There will always be more factors that decide a football game then how some guys were perceived when they were 17 year old. Dont forget that at OSU not only are our top 6 five stars guys better than Bowling Green, our 120th guy is better than theirs, our coaches are better than theirs, our commitment is stronger, or facilities better, our walk ons are better our culture is better. i dont know the percentages each adds to our success but you dont overlook anything or anyone at a place like OSU.

Just as i was finishing i saw a post about a recruit being given an additional star. Thats another advantage when it comes to recruiting. You have to find and get on these guys attention long before they receive their first star. That takes commitment and resources not to mention you cant sell a bad product to anyone, you need all the assets and advantages of our University to sit where we currently sit in the eyes of these kids.
Lets get some more Texas or even Texas and M, Seems like barely beating them or loosing to them does nothing to your national rankings
not so fast my friend. Although i think they try to grab Lamb or Juedy, they are in perfect position to get Okudah
Dwayne went from zero TDs in 2017 to 50 in 2018. Kids improve, teams adapt to what those kids do. If Dwayne was here this year he tosses 60 too. we probably finish the year no worse than we did. Joe didnt just raise his game, he lifted that team and even the guys in our locker room knew he was capable of. He did throw 150 more passes this year and the probably would have been undefeated if he threw 100 less but he was better at the end of his 5 year college career than he was at the start--thats how its supposed to work.
every year there is some great player that does something seemingly impossible or demonstratively better than the others playing the same game. Yes Joe was that man this year but to me his legend was earned with half the victories he produced. Now i dont know Joe enough to say id want my daughter to marry a guy like him but i know enough of him to see that he works harder than he plays on the field and in the classroom and usually a guy this good is not labeled as a guy who has IT but he most certainly does. YOu can be a quality athlete and not a quality individual but Joe has mastered both.
in 11 games a year the refs can allow the opposition to play with 14 guys and we still win. it is only in the most competitive of games that it it becomes intolerable. I choose to be thankful the Bucks play in those types of games and i believe that the odds of us being beaten by the refs are minimal as well as equal to the oppositions chances of the same thing happening to them. My interest in college football runs deeper than anything a ref could damage. It sucks when it happens but never felt as if it happened to us any more or any less than it happens across the board. sometimes you get the bear and sometimes the bear gets you.
i think clemmy will benefit from this going forward and where playing a weak schedule hurt them and fooled us.. Obviously you dont wish to get your Qb killed running the football when unnecessary but there is still an numbers advantage when you do. Joe had a huge advantage of skilled WW's and 5 years of solid coaching and can be that running QB that does not sacrifice his downfield targets or Running backs importance in order to do so.. Trevor will have that advantage coming into year 3 of starting QB play. Justin will be a bit behind him experience wise but as a team we been preaching that game plan for years and Justin is as duel as a duel threat can be. We were good enough on D to make them sacrifice T. A's game for Trevors running success and Clemson will go to work on how to incorporate both.
There are a lot of teams running this type of football without the other tools necessary to win championships and not many solid five year QB's or three year starters in college to master it and use it to win championships. Most just get their Qb killed.
you are consistent and many times correct BUT, how you can not at least see the validity of the lunatic fringe's argument is beyond me.
There are too many examples from Trev Alberts to Mark May to advocating against kids going to TOSU to his partner simply being a former Michigan Heisman trophy winner who always defends his school at every turn. To dropping us below Georgia or stating that we need to beat USC to claim our rightful place after defeating Miami.
The fact that many posters here are wearing tin foil hates is much less hard to believe than your not realizing that some folks feel this way.
You dont have to believe something to realize that other people may and you dont need to fight them all to prove anything. Herbie does not need to and you certainly dont. My belief is that ESPN benefits from how they treat the Buckeyes and if they dont, they wouldnt be doing their job. How that is judged by any individual shouldnt bother you so much.
Clemmy beat us on he field of play with the refs help but LSU jumping us in my humble opinion was even more egregious. You think its bad beating a team with refs on their side, how hard is it to beat a team you wont meet on the field because they will always be considered better than you simply because they play Bama and Auburn each year.
watching. I wont be upset if Joe and the SEC win but i am for Clemson here. Not because i like them but because i have been thinking they have the Second best team in College football and i want to be right
I feel like the chances of Day ending up in the NFL are greater than Luke or Mike replacing him here.
Someday soon the Pats are going to need a Head coach and a QB whisperer
For now, Go bucks, GO titans, Go Bearcats.
if he wanted to do something for his NFL career, he would enter the transfer portal and take a 3 hour drive south!