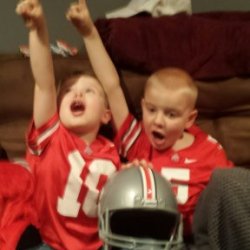 ScarletAndGrayMatter
---
Westerville (via Newark)
MEMBER SINCE July 21, 2015
Ohio boy, born and breed. Have lived in the Columbus area my entire life, and have been a fan of THE Ohio State Buckeyes for as long as I can remember! In my all my life, I have never experienced such an exciting time to be a Buckeye! Go Bucks! FTTUN!
Favorites
COLLEGE FOOTBALL PLAYER: Chris Spielman
COLLEGE BASKETBALL PLAYER: Aaron Craft
NFL TEAM: Cincinnati Bengals
NHL TEAM: Columbus Blue Jackets
NBA TEAM: Cleveland Cavs
MLB TEAM: Cincinnati Reds
SOCCER TEAM: Columbus Crew
Recent Activity
Tough loss, but at the end of the day, you've got to be comfortable with where you plan to spend the next 4 years and who you choose to spend them with. Wish him nothing but the best.
Side note. I think this decommitment makes CB a huge focus for the 2021 class.
Let the CJ Stroud anxiety commence....
This game is played soil. Those boat boys are already out of their element! Love the tradition and pageantry of this game! Go Army! Beat Navy!
He has a chance to be a great player. Would love to see him end up down in Cincy with Coach Fick and Coach Freeman. Wherever he lands, wish nothing but the best for him.
I got this one JP.
BuckeyeEddie, what have you seen from this 2019 Buckeye team that would cause you to be concerned? The only time they've really been challenged was in the B1G championship, and they answered the challenge resoundingly.
This game against Clemson was exactly the reason Ryan Day was hired to come to OSU in the first place, and he has proven over and over that he can scheme with anybody. And we have the athletes to take on anyone's best shot on both sides of the ball.
This isn't 2016, and this isn't a Tim Beck/Ed Warriner offense. This is a historically great OSU team. It'll be a great game, but we have the horses to win this race.
This Buckeye team is more focused and tuned in than any other team I've ever seen in my 37 years. Wisky beats the 7 they put up last month, but the Bucks beat the 38 too. Day keeps the foot on the gas and makes a 2014 style statement to make sure the Bucks get the #1 spot. 52-13 Buckeyes
The fightin' Chase Young's (New name for the Rushmen package) get 7 sacks including 2 strips. The game is close through 1st half. Bucks pull away in the 2nd half. Win by no fewer than 3 scores. Justin Fields throws 2nd INT for the season, but Bucks win TO margin.
Looked for it, and didn't find it. Apologize if it's a repeat. Thamel's tweet was at 1:15pm, so unless there was an earlier report, it would have had to have been posted today, I would think.
Picture of Corso putting on the FOX logo as his mascot pick.
He's not.
Garrett Wilson scores thrice. 2 receiving, 1 punt return. OSU big. 73-0.
The Huskies and Trojans collectively end the PAC-12's chances at the CFB. Both the Utes and Ducks go down, both on the road.
Chuck Norris checks under his bed for Chase Young
Didn't see the others, but am not a regular. Glad I'm not the only one wondering about it.
Yeah, at the end of the day it really doesn't mean much. I was just curious.
Not everyone spends every waking hour reading every post to the forum. What you call lazy I call having a life. But thanks for your amazing contribution on the topic.
632
Good insight on the talent disparity, but it's what you do with that talent that matters. That being said, I believe this team is different than the team that shit themselves against Iowa. Playcalling, balance, preparation, along with talent will ultimately lead to victory. TCU will be a great litmus test at a "neutral site" (read: first true road game), and should allow us to really see what this team and coaching staff can do. Go Bucks.