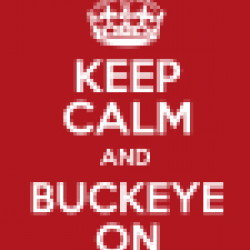 scarletandgray1
---
MEMBER SINCE January 22, 2014
Recent Activity
Same thing happened to me. You can do that to people.
Yeah I said Iowa
Make sur you talk to your kids about Iowa.
That is a little disturbing... but I couldn't help but watch it for like 5 mins. Weird.
Go home Off-Season thread... you're drunk.
Good things happen to good people... oh wait, nevermind. #karma
Sorry, missed it. UV for you.
But I did stay in a Holiday Inn Express last night...
Still say that the should just both line up next to each other and Boren just snap the ball to whoever the play is best suited for. that has to work, right?
I read this several times convinced that this was actually said by Jim Harbaugh... are we sure that he didn't actually say that.
As a long time Reds fan, this made me smile as well.
Keep doing what you do. Can't cater to every idiot with an opinion.
You guys rock.
Glad my boys finally have one of my favorite Buckeyes.
Nice!
No disrespect to Russell, he played another hell of a game and the reason for the win ... however this play was the play of the game if nothing else for awesomeness
BOOM!
After watching his Junior film, nothing else to say other than, WOW.
I keep thinking, there is no way I could love this guy more..... and he proves me wrong about once a week.
Dude is a boss, on & off the field.
The realist workout I have ever done in my life...still can't walk straight #ValentineMassacre — Jashon Cornell (@JayRock_9) February 13, 2015
Loved this! I was looking for one from one of the new guys. Welcome Boss.
ACCUSATIONS OF OVERSIGNING IN COLUMBUS. One Reddit man (redundant, I know) is convinced Ohio State is oversigning.
Again: Unless Ohio State has a fleet of doctors misdiagnosing injuries as career-ending — which I highly highly highly highly highly doubt — then I don't have a problem with Meyer's roster management. If this means I now support "oversigning," then whatever, throw a lil' hot sauce on that bullet, and I'll dine on it without protest.
It may not be a popular opinion but I agree with DJ.
I am not saying that I now support screwing over players (whether it be recruits or tOSU players that are finished with football) but I can't blame UFM for looking out for the long term success of the program. Recruits wait until the last min. to commit (which I don't blame them) but the coaches have to cover themselves too. If that means that if more players commit than originally thought then so be it. The numbers will work themselves out, they always do.
Roster management is one of the keys to establishing long term success. And since that is what we all want, I see this being a topic every year after signing day.