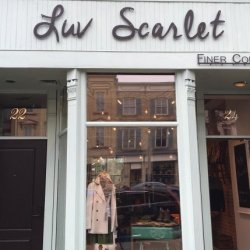 Scarlet
---
MEMBER SINCE March 30, 2012
Favorites
COLLEGE FOOTBALL PLAYER:
NHL TEAM: Chicago Blackhawks
MLB TEAM: Cleveland Indians
Recent Activity
No doubt, Grateful. She'd also have something delicious in her flask. ;)
Shoutout to LBG!
I favor the Nebraska fan model to Michigan or Penn State fandom. Extremes, I know. I cheer for my team but don't say anything rude to my counterparts. In the case you described, singing "we don't give a damn" wasn't obnoxious, but pointedly yelling "see ya" and singing at them as they exited was unnecessary, in my opinion. They had a long trip ahead of them, were disappointed that they didn't give us a closer game, and honestly, why do we hate Sparty? They ALSO despise the Wolverines, they are a lot of hard working, 3 star, often Ohio boys who didn't get a chance to play for the Buckeyes, and I respect them (ok, sometimes, I hate them) for playing the occasional spoiler.
Ohio State has so much. Better history, better tradition, better talent. I'd prefer acting like the stud football captain who is gracious towards the less fortunate. That's just me. I get that trash talk is part of the game, and part of the fun.
I'm spoiled. Went to bed oddly disappointed, even though we won by 4 scores. But this morning, a good night's sleep brings much perspective. We are battle tested now. Hope we aren't too banged up. I love this team. Thanks for an outstanding piece, Colin.
Happy to hear that. Give her my best.
Oh Scar! You too funny :)
Doing well,Grateful, although that Wolverine/Iowa game was a waste of my time. How's your wifey?
Oh, I thought you meant me. lol
Just so you don't mean 2015 ugly. Sitting in a cold, driving rainstorm watching Geiger kick that winning field goal as time ran out was soul wrenching.
Howdy, SP. (Is that how you do it in Okie?)
Killed it this morning, Kevin.
Beast, my first thought reading through all this is that we have some amazing people on 11W. You have already received some very sound, thoughtful advice. As a woman, I can confirm that we appreciate confidence and stability. Neediness and desperation don't play well, so working on yourself and finding what makes you tick is key. I believe that if you treat people well, if you surround yourself with friends and family who care about you, if you do something that brings satisfaction at the end the day, then you will be fulfilled, and yes, happy overall. Not all the time, because life has definite ups and downs, but enough. Invite a co-worker to lunch. Visit your folks. Volunteer at Habitat, or be a Reading Buddy. Run a 10k. Just do something fun with a couple of friends on the weekend. It all adds up. At some point you will feel better about yourself and your prospects. You will be comfortable in your own skin. We can smell a fake a mile away, so be yourself. Your best self, but genuine.
I don't know anything about the woman in question, except to say that she wasn't a match. You have been grieving the loss, which is understandable, but at the end of the day, do you want to be with someone who has decided you aren't the one? Change is hard. It is one of the reasons individuals who are divorced sometimes get back with their exes again and again. It is comfortable, easier, even if they aren't good together. Sounds like you are doing the right things. Work on you. Stay active. Become a better family member. The older you get, the more you will appreciate them.
Keep us posted. I'm rooting for you.
Thanks! Appreciate the clarification.
Not married to his mother, Joanna Lannister. I'm not knowledgeable, just thought I read somewhere that no one can inherit the throne unless legitimate. Which makes sense because the show made a big deal about Sam's discovery that Jon's parents were secretly married.
I would love that. But how do we get by the bastard part?
I love your story, NW! Congrats on hitting 45. According to Google, "Tie a yellow ribbon round the ole oak tree" was a top song, and gas was $.39 / gallon.
Congrats to Coach Holtmann and the Basketball Buckeyes. You did us proud!
LOL Happy Anniversary, Honey! Thanks for sharing your story, Major.
All the best, Poppy. Best family, best friends, best care, and best recovery. Prayers going up all over this great nation.
Yeah, that locker room speech and the whistle pass got to me. I'm more than a bit misty. Thanks for your very best, Coach Meyer. And Coach Day, let's go get em!
Wow, Coach Tress lookin' very dapper. He seems healthy and relaxed. So glad he landed in a good place. Thanks for sharing the video.
This is our life; there's no use in asking what-if. No one could ever give you the answers. I try, I really do, but it's hard for me to accept this way of thinking. I'm always wondering about the what-ifs, about the road not taken.
Jenny Han,To All the Boys I've Loved Before
Buckeye Pastor is absolutely correct. It's done, but we will still wonder about what could have been. More fans are upset that Nick left than upset that he didn't play. It is none of our business in reality, but this is where people come together to throw out ideas, let off steam, and discuss. Maybe Nick didn't want to deal with class. Perhaps John thought that he'd be safer under Joey's watchful eye. Possibly Joey said, "Cmon bro, it's a chance for us to hang out and we can work together." And maybe there were trainers and doctors in Cali who were trusted. I don't believe that Nick would have given up that 50 million lotto ticket by merely staying, rehabbing and training at OSU. Evidently his dad felt differently. Nick didn't owe us anything, but in my humble opinion, he short-changed his brothers. I wish him well, though, and hope he gets his big payday.
Happy to hear this Thanksgiving news, Poppy. Here's hoping you bring the Buckeyes a little extra oomph. Go Bucks!