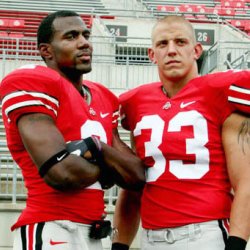 Scarlatina
---
Member since 21 April 2012 | Blog
Favorites
COLLEGE FOOTBALL PLAYER: Malcolm Jenkins
COLLEGE BASKETBALL PLAYER: Evan Turner
Recent Activity
The graphic makes it look like Terry McLaurin specifically earned a 2.86 GPA.
1) People in good seats usually made a pretty big donation so they do pay more, just not for the ticket.
IIRC, when I got my alumni packet during graduation week, it had "donor levels" for football tickets. The highest grouping, which made you eligible for season tickets in the prime viewing sections, was a minimum donation of $25,000 a year.
Truthfully, I think you are right. Urban has said a few times that he does not want to coach his "golden years" away, and he wants to retire young enough that he can still have quality time running around with his grandchildren.
However, I do think Urban wants to win at least 1 more National Championships before he hangs it up for good. There was probably a part of Urban that originally wanted to catch up and pass Nick Saban, but with Saban getting his 6th ring that seems more and more unlikely now.
So my prediction is that if Urban wins another national championship within the 3 years left on his contract, he probably isn't going to re-sign. If Urban keeps falling short of the NC the next 3 years, he will probably sign 1 more contract extension.
I have a hard time seeing Knox at Center. If a part of what was holding him back was learning the playbook, can he be relied on to be the one calling out plays/leading the OL? I am not sure who else would take the spot though. I know Price spoke pretty highly of Brady Taylor as his backup... Maybe Wyatt Davis can transition to Center?
Yeah, I love Coombs for sticking it out with the Buckeyes, but I am not sure giving him the added "Asst. Coordinator, Defense" role has helped the team overall. Special teams was much better when Coombs only had to worry about coaching the CBs, and being the special teams coordinator.
Lose as many expects with Tua and get blasted for pulling a 25-2 experienced starter for a true freshman
Hindsight 20/20. If Saban lost, he would not have heard the end of it for a while.
I don't think Ohio State has ever promoted from within the program in the modern era unless you count Luke Fickell's interim year, which I don't because that wouldn't be fair. Fickell had like 2 months notice that he was taking over as the head coach before the season started, and he also inherited a roster that had like 5-6 key incumbent starters suspended for half to a full season.
So depending on how Grinch does as DC, I think he would probably would be on the short list along with Fickell to take over as the next HC of Ohio State if Urban leaves. A lot of it will hinge on how well Fickell can turn Cincinnati around, which from a recruiting front he has been fantastic down there, best class in the AAC right now.
Houston PD is saying Courtney was found under a highway overpass, not a Chick-Fil-A. I think there might have been a tip called in that reported a sighting at Chick-Fil-A this morning.
There's going to be a press release from the Houston PD late this afternoon.
In theory, LSU's model doesn't sound half-bad on paper.
Coach O's strength are in recruiting and being a "player's coach"/motivator, but he is relatively weak at "X-and-Os." So why not instead hire Coach O to be a CEO-type head coach at a low rate, and compensate for his weaknesses by surrounding him with top-notch assistants paid at a premium?
Then Coach O can spend more energy recruiting, and build up public relations with the locals who love him, and allow his asst. coaches to handle the brunt of game-planning.
if Kerry Coombs ever gets a HC position somewhere, that is how I imagine he'd set-up his staff.
It might encourage asst. coaches to hold out longer until they get a major P5 or high paying G5 offer.
Houston poached Herman with a $1.3 million/year contract, and Cincinnati got Fickell for $1.9 million/year.
If either one of those guys were making $1+ million a year as coordinators for Ohio State, then they probably would have either gotten largest contract offers or passed on G5 head coaching positions that couldn't afford to at least double/triple what they were getting here.
Except Jaylon Smith lost 8-figures by playing in the Fiesta Bowl...
Smith was a projected top-5 pick who dropped to the 2nd round. The difference in those contracts are about $18,000,000.
Plus, from a career longevity standpoint, Jaylon Smith to this day says there's still noticeable nerve damage from that injury, and he most likely won't ever reach his previous projected ceiling as a player due to that physical limitation (i.e. future earnings/contract values probably dropped too).
Actually Jaylon Smith went from a no-brainer top-5 pick to a 2nd rounder after his ACL tear. So playing in that Fiesta Bowl potentially lost Jaylon Smith about $18 million.
Was this in an interview, or article? My Google-Fu is failing me in finding it.
Does anyone have a link, or transcript of the interview?
Paying for the resume.
It is hard to skimp out on pay for a guy who had been coaching in the NFL for 23 years, and spent time as a NFL defensive coordinator. Sure, Bill Davis's 7 years as a NFL DC were pretty sub-par, but I am sure if he wanted to, he could find a much more illustrious position than a Division 1 linebacker coach.
As for his performance with the Buckeyes so far, it is still only his first year back in the college ranks. I think Urban is very fair in his 2-year "gentlemen's agreement" with his assistant coaches because it is unrealistic to think that all coaches can come in and mesh with the current scheme/staff/culture by day 1. Bill Davis also had HUGE shoes to fill in one of the best linebacker coaches in country, Luke Fickell, and pretty much anyone replacing him was going to experience a noticeable drop-off. Plus, Davis hadn't been a LB/positional coach since 2012, so he probably needed this year to get back into that mindset.
I know this will vary from coach-to-coach, but how much value would they put into those bonus opportunities?
Say hypothetically Arkansas or Texas A&M offers Grinch $1.3 million a year, and Ohio State counters with $700,000 a year. Are those opportunities enough to walk away from potentially an extra $600,000 a year (85% more)?
I can't imagine it is too much worst than Pullman, Washington haha
I still think the coaches are well-paid on average. College football is just on the cusp of extreme inflation in assistant coaching salaries. Texas A&M started it with John Chavis, and now every season we are starting to see more programs breaking the $1 million mark (i.e. LSU, Clemson, Michigan, Oregon, Alabama)
Right now, OSU's salaries are still competitive, but unless Gene Smith loosens up the coin purse here soon, they'll get left behind the market in 2-3 seasons.
Yes, but what I am saying is that Ohio State does not seem to be one of the schools that is willing to break the $1 million mark for assistant coaches. The Buckeyes highest-paid assistant is Schiano at $700,000 a year, which puts him at 39th in the country, which isn't shabby all things considered.
I just don't think Ohio State would be willing to outbid say Texas A&M, who was comfortable paying DC John Chavis more than double what Schiano gets at $1,600,000 a year.
If the rumors are true, Arkansas is supposedly willing to break the $1 million/year mark to get Grinch, which is not something I see Ohio State willing to match based on recent history.