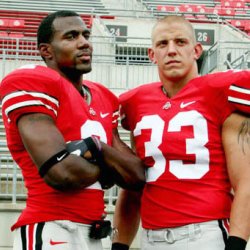 Scarlatina
---
Member since 21 April 2012 | Blog
Favorites
COLLEGE FOOTBALL PLAYER: Malcolm Jenkins
COLLEGE BASKETBALL PLAYER: Evan Turner
Recent Activity
Is the interface aesthetically terrible or almost unusable terrible?
True freshmen rarely start on the OL, Michael Jordan was a rarity, and definitely had some freshmen moments last season.
i would be surprised to see Malcolm Pridgeon really turn it up this season. Pridgeon is still working himself back from injury, but Coach Studwara really wanted him as a JUCO recruit and has high hopes in him.
This year I honestly don't see 4 "locks" to be 1st rounders, especially considering the record for 1st round picks by 1 school is 5 by Miami in the 2004 NFL Draft. I'm not saying that Ohio State can't do it this year, but most programs are lucky to have even one 1st rounder, let alone 4 of them in a year. 2016 was a special year for Ohio State with 4 1st rounders, and even as a homer it is hard to see us repeating that feat consistently.
As for the players that I see having the most potential to be 1st rounders?
Jamarco Jones - A seasoned senior OT is always a coveted position to be in for the NFL draft.
Tyquan Lewis - Reigning B1G's DLotY, but splitting numbers/snaps with the 4 "Rushmen" might hold him back
Jerome Baker - Decent frame and size for a LB with athleticism for days
Sam Hubbard - Seems to be the exact type of athletes NFL teams crave in hybrid DE/OLB/EDGE players
Honorable mentions: Dre'Mont Jones, and Parris Campbell
I am highly doubtful that Denzel Ward is a lock for the 1st round. Regardless of how Ward plays this season, his size will be a huge downfall come draft time.
At a listed 5'10" and 191lbs, I don't seem many NFL teams willing to invest a 1st round pick in him UNLESS Ward adds a return/special teams element to his game. A lot of NFL teams are moving towards the big, physical CB in an effort to emulate the Seahawks' "Legion of Boom." For example, Michigan's Jourdan Lewis (5'10") and Iowa's Desmond King (5'10") were two of the most accomplished DBs in the B1G the last 2 years, and they both dropped to the 3rd and 5th round respectively.
Not exactly, even at Brian Kelly's peak at Oregon, they were never able to recruit at a high level. They were able to land 1-2 big name offensive recruits every cycle, but rarely did they ever make waves on the defensive side of the ball.
Not a huge position of need, but it would have been sweet to land the consensus #1 RB.
Realistically though, Ohio State is going to be fine at RB for several years:
RsSo. Mike Weber
So. DeMario McCall
Fr. JK Dobbins
RsFr. Antonio Williams
Incoming: Jalean Gill, Brian Snead, and Master Teague
Even if Mike Weber runs wild this season, and declares early. McCall and Dobbins can both shoulder the load in 2018 until either Gill, Snead or Teague can mature and support the mantle. Maybe even Antonio Williams finds the missing component and hits his potential like Carlos Hyde did in 2012.
It would take Mike Weber to declaring early, AND 1-2 transfers before RB depth becomes a huge concern, which I admit can happen in a blink of an eye, but call me an optimist.
Chip Kelly's offense with USC's natural recruiting advantages would be a pretty powerful combination.
Chip Kelly's offense makes it extremely hard, but not impossible to be a good defense. The pace that Kelly's offense plays at give his defenses very little time to catch their breath on the sidelines before sending them out again. So if Kelly were to join a team where he could recruit a legitimately deep defense, he could overcome those issues and finally field a "complete team."
This is why I was worried about the rumors of Chip Kelly potentially replacing Lane Kiffin as Alabama's OC since their defensive 2-deep is filled with former 5* that could pretty much start at every other college program. It would have been the perfect situation for Kelly's offense to thrive without harming the team's defense.
Yes, but the flip side of that coin is that Don Brown has been able to coach many D1 studs too. It is a fair assumption that Michigan's last 2 recruiting classes (#6 and #5 overall) is the most the "raw talent" that Don Brown has ever had to work with and mold.
In the same vein though, OSU has now Kevin Wilson who also didn't have the best talent to work with in Indiana as Brown's direct competitor. It should be an interesting chess match on 11/25/2017.
The NBA can landscape can change in a hurry...
If the Lakers draft Lonzo Ball at #2 this year and he pans out, then they can re-sign Brook Lopez for cheap, and land Paul George in 2018. I would think that LeBron would at least consider joining to make a LeBron/PG/Ball/Lopez line-up with possibly Lou Williams (6th Man of Year) coming off the bench.
Even if that doesn't happen the Lakers are a storied franchise in the 2nd largest market in the US, they will always be an attractive option for FAs, and can sign them in a hurry.
I actually think the Nets will move Russell back to his natural SG position, and keep Lin.
The Nets' coach Kenny Atkinson is a part of the Mike D'Antoni's coaching tree. Atkinson was the asst. coach on the Knicks that Lin credits the most for the "Linsanity" run in 2012, and Atkinson lobbied pretty hard for the Nets' to sign Lin.
Well, Rashan Gary is about to have a huge increase in opportunities. I think last season Gary averaged only like a 10-12 snap count per game as a rotational player since their DL was filled with incumbent starters. So this season Gary is going to have to make the jump from "promising, new freshman backup" to the lynchpin of their D-Line.
I was also really impressed by the hiring of Don Brown. I was doubtful that TTUN could replace a DC like DJ Durkins, but Harbaugh went out and got a high-quality coach in Don Brown. I am pretty surprised that at age 61, no DI-A program has given him a HC position. Makes me wonder if he is just happy to be a DC for life (a la VaTech's Bud Foster).
This upcoming season will be pretty telling though for Brown's consistency at Michigan. Brown's ultra-aggressive defenses rely heavily on having experienced/above-average CBs that don't mind being left on an island for pretty much the whole game, which he had last year in Jourdan Lewis and Channing Stribling. Just doing a cursory glance into some of his past defenses, Brown hasn't always been able to "reload" in the secondary, which led to seasons where his blitz-heavy defenses got picked apart in the secondary.
It is not the talent-level of Army that is concerning people, it is the uniqueness of the Triple-Option/Wishbone.
Coupled with the fact that the week before is Oklahoma, which will command the majority of their practice time in weeks preceding it. The defense will only have roughly 4-5 days to prepare for the Triple-Option/Wishbone. There's just a mental difference in practicing to play against a more traditional offense where the players just have to make minor tweaks in practice, but it is a whole another task to ask them to face an offense that many of them haven't played against ever.
Probably the 2014 team, but I think it is a lot closer than most people are saying.
Sure, "TresselBall" was conservative and boring to watch, but there's no denying that it was effective. It allowed Tressel to control the flow of the game with Time of Possession, field position and field goal-ing teams into submission. No doubt that the 2014 Herman/Urban offense would able to score on big plays, but how often is TresselBall going to allow them to be on the field to do it. That combined with the 2002 defense could make the game a pretty low-scoring affair I think, and it could be a decided with whoever scores last.
Until the NCAA allows programs to either increase their athletes' stipend or straight-up pay the athletes, I think these trips are a nice compromise. Yes, the trips are frivolous and expensive, but if a donor is willing to fork out the money for them, then by all means go for it. Football can generate almost $10-20 million in profit every season, so I don't have a problem with them using ~$800,000 for a vacation.
However, I do expect the NCAA to crack down on this soon since it does seem like an "extra benefit" that normally wouldn't be allowed. Also probably a "competitive advantage" against smaller programs or schools that can't or won't fork for the cash to do something similar.
As other posters have mentioned, it is still relatively early in the recruiting cycle, and Alabama/Saban tend to be strong finishers that land a ton of commits the weeks leading up to NSD.
That said though, their current spot is still much lower than expected, and I feel like it might have to do with their "scholarship crunch." They took a huge 29 member class last year, and are currently sitting at 87 scholarship players. They have to find a way to trim off 2 more scholarships before the season starts AND they only have 13 outgoing seniors on the roster. So the number of scholarships available for the 2018 class is relatively unknown, and Saban might be slow-playing it even more than usually until they get a better idea.
I am also pretty interested in attending this game since I'll be moving out to Indianapolis in July.
Does anyone know is IU students have an "on-line marketplace" on Facebook or some other platform? That is how I got a lot of my "cheap tickets" during my time at Ohio State, current students selling their tickets at "student face-value."
I will likely have a large group of very recent OSU alumni with me and they are all hoping for around ~$50/ticket, but I have no idea if that is reasonable or not.
Holtmann's top asst. coach seems to be Mike Schrage, but I would not be surprised if Butler decides to give him a shot at the HC position.
Well the first 3 are true freshmen who just came in with the recruiting Class of 2017, which is easily the best recruiting class McDermott has brought in at Crieghton.
Justin Patton though was a redshirt freshman this past season, and is a projected 1st round pick in this upcoming NBA draft.
Not that I can tell, the most noteworthy Midwestern recruit I can see is Jacob Epperson (6'11", 210lbs; Class of 2017, 4*, #73 overall, #7 C), an Australian recruit that transferred to a prep school in Indiana.
It's not the most stunning hire, but I'll be cautiously optimistic.
Creighton started the season hot last year with a 18-1 (2-1 vs. ranked opponents) run and a #7 ranking before they lost their starting PG in Maurice Watson Jr. to a torn ACL. Plus, this last recruiting class was McDermott's best at Creighton with the 73rd, 90th and 109th rated recruits in the nation.
Not a slam dunk by any means, but it isn't all doom n' gloom either.
I agree that the hire is a little lackluster, but the whole "best recruit was his son" is a bit of a low-hanging fruit.
Sure, McDermott is no Calipari/Kentucky when it comes to recruiting, but he did all right at Creighton, where it is much harder program to convince 17-18 year olds to come than most places:
C Jacob Epperson (2017, 4*, #73 overall)
Mitchell Ballock (2017, 4*, #90 overall)
Tyshon Alexander (2017, 4*, #109 overall)
PF Justin Patton (2015, 4*, #87 overall)
SF Ronnie Harrell (2014, 4*, #82 overall)
This most recent class was definitely his best at Creighton and for comparison, Doug McDermott was a 3*, #159 overall.
Ok, say that Ohio State does shell out more money than they are currently paying Urban Meyer...
The Thunder are a solid team that has a rabidly devoted fanbase that consistently sell out their arena. Rain or shine, OKC fans will consistently show up and support them because they are the main and only pro team in the city/state. Compared to Ohio State a football school, which averaged a 65% attendance/capacity rate at their basketball games this season.