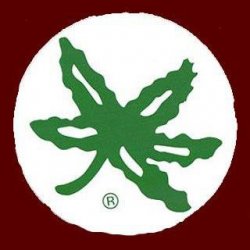 SC Buckeye
---
North Charleston, SC (via Frazeysburg, Ohio)
Member since 05 November 2011 | Blog
Favorites
SPORTS MOMENT: Sitting in the Shoe watching the '14 Bucks defeat TTUN
COLLEGE FOOTBALL PLAYER: Braxton Miller
COLLEGE BASKETBALL PLAYER: Deshaun Thomas
MLB TEAM: Cincinnati Reds
Recent Activity
I logged in just for the specific reason to upvote this.
Still hungover, DJ? Unless the Buckeyes played the Hokies in May, I believe that was a Labor Day game.
Yes, every team that has a coach on it that helped OSU get a National Title deserves a Championship themselves. That's exactly what I meant.
I received more "out of the blue" trash talk comments from Oklahoma fans after the MSU loss than from any one else. No way I root for Alabama (unless they're playing TTUN). I lived in SC for 9 years (heading back soon) and have had my fill of Clemson trash talk. I gotta root for Zanesville native, Dantonio, on this one. He did help bring our team a Natty, I guess it's time he got his own.
"The university must also dissociate you from its athletic program for a period of five years."
"Please note that this dissociation does NOT prohibit you from enrolling in classes at the university to complete your degree," Smith wrote. "As you know, I would encourage you to complete your degree."
This is from his disassociation notification. He is allowed, and IMO needs to return to finish his degree.
http://espn.go.com/college-football/story/_/id/6805747/ohio-state-bans-terrelle-pryor-five-years-says-play-11-season
Copy that. Like I said, I wasn't sure how that would go about. Thanks for the response.
Jason - maybe in Tatum v1.3 you would have to hover over the GIF (or click in mobile) for it to trigger. I'm not a web developer, so I don't know how easy that would be to program.
As always, AMAZING job with the site.
Here's a quote that Coach Meyer can use after the next game against TTUN:
Because they wouldn't let me go for three! - Woody Hayes
This is exactly what happens with me every time.
Tom Herman: "Urban gave me a month long supply of no-doze and Red Bull"
I have a feeling some of those Red Bulls were swiped from Coach Coombs' stash
I don't know if it will happen, but who better for Herman to hire as a QB coach to teach his system to his new team, that already has ties to Houston than "Smooth Jazz" Kenny Guiton
My only regret is that I have but one up-vote to give for your comment...
HEEEEEEEE'S BAAAAAAAAAAAAAAAAAAAAAAAAAAAAAACCCCCCCCCKKKKKKKKKKK!!!!

He's changed his name and description now
Someone tell @11W_Michael
I got bored one night around 04-05 and thought, "I wonder what it would sound like if Cie and TBDBITL performed together?" A few hours later, I ended end with an okay mashup. Apparently other people liked it, because WNCI used to play it every Friday before Gameday.

I figured that I would share
https://www.dropbox.com/s/toa1lgtli4z9vmp/Ohio%20State%20Marching%20Band%20vs%20Cie%20Grant%20-%20Carmen%20Ohio.mp3
ENJOY
Just because it's your right to say what you think, doesn't mean you're right to say what you think.
IMO, you don't air your dirty laundry on social media. You wouldn't stand on your porch and scream to everyone your family's business; don't do it to your teammates.
Looked to me like Shazier let up at the end of the pursuit
I don't know guys, I kinda liked the four extra minutes added to the National Anthem earlier this week