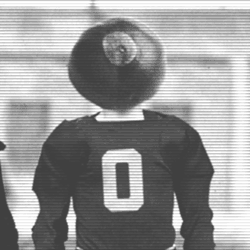 sawesome
---
Member since 27 October 2010 | Blog
Recent Activity
WILLIE TAGGART DOES OL' PAL JIM HARBAUGH A SOLID
Okay, I laughed.
2018: The year a Michigan blogger declared his livelihood as a "meaningless distraction on the way to the grave" and ridiculed his readers for caring. The year is off an amazing start.
Tbh, it's kind of sad, and sad for the OSU fanbase, too, when it happens.
It's a game. It's an important game, especially for the players. But it's probably not worthy of such an exalted position.
Free market, if you can't make a profit in a billion dollar industry then you are probably doing something wrong.
So that's why I haven't been able to compete with Comcast!
TBH, I just upvoted you for explaining your own name.
Obligatory:
You might say Ryan Day isn't too good for his home.
97.9 Happy Jamarcos
My new favorite radio station.
You're statement is unfortunately true, and pretty much what's wrong with most of the world
It is said that the New York Times once solicited famous authors to explain what was wrong with the world. G. K. Chesterton's classic response:
Dear Sir,

I am.

Yours, G. K. Chesterton
As A hole team I would say C+.
Judging by the comments, there appear to be many from the ahole team here.
Having a hard time distinguishing the causes here.
I am experiencing deja vu.
Man, you can say that again.
I'll see myself out.
UW reminds me of 2002 Buckeyes.
"Paul Chryst produces elite sound bites." -UFM
It only works when it works.
I understand it works 100% of the time, 60% of the time.
Do you have any idea how hard it is not to make a butthead joke right now?
Huh huh huh
I miss that man so, so much.
The grass isn't always greener. Still the guy after him left to go to Oregon State. .....makes you wonder
IIRC, Bielema did throw some shade at the B1G when he left, but he also grew up on farm raising hogs in Illinois. There was a pretty natural fit for him at the time, and I think the athletic dept there was understandably interested in someone that understood the culture better—and that might have been less likely to fall off a motorcycle carrying his mistress. And he also had some successes at UW that probably made him somewhat more attractive at the time.
Andersen complained a bit about the academic standards that made recruiting Wisconsin hard—from some of the reporting it sounded like he felt like he had made good-faith recruiting offers to kids he had to let go. Going to Oregon State was also a bit of a family move for him. In the end, I don't know how well it panned out for him consider how atrocious other OSU has been (and, of course, that he's no longer coaching there).
And here I have been laboring, lo these many years, under the apparent misapprehension that the word "pant" was an intransitive verb.
https://www.etymonline.com/word/pants -- worthwhile.
Two words: Biakabutuka
Just on length alone, I guess.
One of my worst Game memories of all time, going to Sunday school the next day and hearing, "CAN YOU SAY BIAKABUTUKA?"
Also, Tressel ball hasn't aged that well. See MSU last week or Iowa any week they don't play us.
I dunno...Oregon 2010 ran a run and gun. The wrinkle to Tresselball there was that somehow Dave started to dink-and-dunk. Our TOP in that game was absolutely ludicrous--something like 42 minutes?
TIL Illibuck is not a witch.
How did you get to be so wise in the ways of science?
DOLLY ZOOM FTW.
LOTR did one, too, but a little more subtle:
This is Lovie's second year in Champaign.
Just testing you. Carry on.