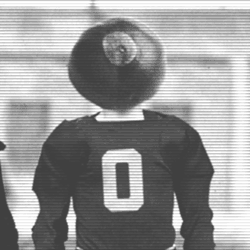 sawesome
---
Member since 27 October 2010 | Blog
Recent Activity
why do i only have one upvote to give
Have you never seen MacGyver
Relevant:
It can be done. The Penguins are just the team to do it to, too.
The other thing is that Franklin will make hay off being disrespected by the committee. I think they'll be very motivated and it will probably be a competitive game (thinking USC or Colorado might make it in? but not really sure). On the balance it's actually not too terrible for them if they show well.
It was a great game all in all. Ohio State played a heck of a game, all jokes aside.

— Jourdan Lewis (@JourdanJD) November 27, 2016
He and Weber are buds.
That's what I kept telling myself during Cooper's tenure
Cooper won a lot (~70% winning percentage at OSU). Just not the most important game. I'm no Cooper apologist—my formative years were 2-10-1—but he's nowhere near Charlie-Strong-level badness. Especially at the beginning of his tenure, he probably had a little more lee-way: different times and all.
Following 2002 The Game:
Reporter: Coach, if your dad were still alive, what do you think he would say to you?
Tressel: He'd probably tell me to score more points.
Favorite memory of the game was being on campus in 2001, also a Thanksgiving weekend game, some 450 miles from home. (Celebrated Turkey Day with a number of international students that year; it was tough getting back home with no car and the prospect of a twelve-hour trip by bus/train each way.) Campus is dead—no one there for Thanksgiving of course—at least until the final seconds count down. Throw open the window on my South Campus bedroom and the sounds of "We don't give a damn for the whole state of Michigan" come pouring through. After the horrors of the '90s, it was the balm of Gilead, meat and drink to my soul. Short of the 2002 Natty, maybe my favorite Buckeye memory.
Hanlon's Razor seems appropriate: "Never attribute to malice that which is adequately explained by stupidity."
Better yet, just assume the best of people. Life is easier that way.
It's a football rivalry, not Axis vs Allies.
Jerry Kill is a BAMF. Wish he was still patrolling sidelines somewhere.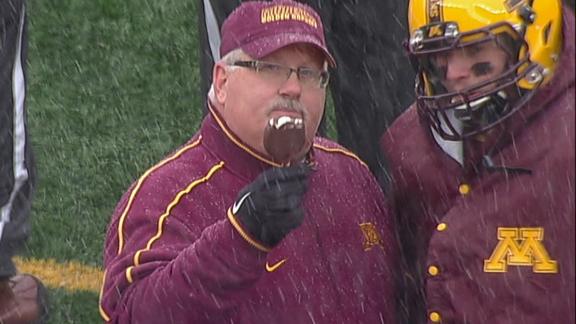 I once heard that three things can happen when you pass the ball, and that two of them are bad. I keep on forgetting who said it, though.
John,
I caught Melrose last night during the Gretzky ceremony and have one simple question; Is his mullet like an ingrown toenail? Because I saw some hair sprouting under his lower lip in the form of a soul patch. I think it grew through his neck and is an extension of his mullet.
Jeff
Wisconsin

That's the same reason for all of his back hair.
HAHA LOOKS WHO SUCKS AT PUNTING YARDS
NEBRASKA: 254
OHIO STATE: 0

— Fake Bo Pelini (@FauxPelini) November 6, 2016
Amazing he only got 100 hours community service for breaking 4 bones in a woman's face he just met. You can get 1 year for possession of pot first offense, and 2-10 years for subsequent offences. But beat up a girl, you just need to pick up trash on the side of the road for a little while. What a state.
So yeah, disproportionate, but there's probably more to it than that. OK and AR both have suffered a good bit from drug problems. I visited cousins living in the area about a year and a half ago and found to my chagrin that spring starts earlier there. Attempts to buy Sudafed were epic failures: in AR you can't buy Sudafed without a prescription, and in OK you can't get it without an OK driver's license. I guess people use it to make meth or something? (I think there was a TV show about that once.)
I got pulled over by a cop on my way over the border who clocked me (he says) at 78 in a 70 (speedometer read 75, but I know there's play there). He took one look in the car and issued a terse warning and sent me on my way; it was a 5-minute stop. I was clearly out of place and not smuggling any drugs.
All that to say that it doesn't surprise me to find that states trying to curb substance abuse might approach it that way, and not because hitting women is a trivial offense.
Clear your cache. Should solve that problem in a jiffy.
Missouri State has no place on an Ohio State blog, DJ. Get it right, please.