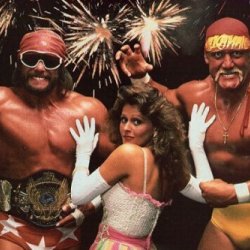 Sav45age
---
Phoenix, Arizona (via Beavercreek, Ohio)
MEMBER SINCE August 16, 2014
Favorites
SPORTS MOMENT: When we had "the best damn team in the land"!
COLLEGE FOOTBALL PLAYER: Eddie!
COLLEGE BASKETBALL PLAYER: Gray uniforms
NFL TEAM: Da Bears!
NHL TEAM: CBJ
NBA TEAM: LeBron
MLB TEAM: Reds
SOCCER TEAM: Not in my America
Recent Activity
He's wearing 8 in the photo, and is the number 8 ranked receiver. I don't want him to fall to #88.
Maybe the Harrison's are into Buddhism. 8 is as cool as 7 in China.
LSU as a destination for top flight WR is a Joe Burrow grift. He's gone after this year and LSU is about to go into their natural 15 year norm of average or worse play from their QB's.
Tiny Christian College sorta near Clifton Mills, Springfield, and Yellow Springs
I'm the hater. Your the voter.
I have total faith that the guys pictured above will not do something that makes Ohio State look bad.
Used to. This is not a rule anymore.
But would you love it if noon meant 9AM?
I've got you down for early kick offs, please put me down in the other group, I don't even care if they're into to weird shit. Joining their group would be worth it to sleep in on Saturday. Moving back to the eastern time zone is not worth it,
You are definitely too old to be tailgating if the thought of combining beer and eggs upsets your stomach.
So basically a community college
Good for Fox, sucks for me!
It at least it's November now and these inconvenient early kick offs are at 10:00 am instead of 9.
When/If OSU decides to recognize the 2015 YAYB (you and your buddies) national championship and puts the sign up in the stadium I'll happily show my support.
It won't happen though because Ohio State only claims legitimate titles bestowed on them by reputable sources. Just like the 8 other natty's.
It's Ohio State who claims it. I didn't hang the sign in the Horeshoe and wasn't even alive during that season. Does the sign in the stadium upset you, or make you feel like a phony for supporting the team?
I get you though. I think we're on the same page, just reading from different directions..
You don't want to acknowledge a national championship because Texas (who also lost their bowl game after the season) claims one for the same year.
Split national championships were very common, in fact the very last year it was possible (1997) there was a split title. Are you suggesting that only unanimous national championships are legitimate?
I don't acknowledge the vacation of our 2010 wins and split B1G title. You don't acknowledge a national championship. We're keeping our heads in the sand for opposite reasons, you to deny glory to OSU, and me to deny shame.
If you don't care, don't post. His daily exploits are more interesting to me, as a college football fan, than whatever game shows the moms of former OSU players appear on.
I would watch a price is right episode with Tater.
We don't claim something that we weren't pro-claimed for winning by the National Football Foundation.
As long as it doesn't rain in the second quarter OSU will score 4 td's. The badgers will not break 20, so we'll be good.
He would if there wasn't a plethora of exciting QB's vying for the prize.
Every single sane OSU fan would rather have a national championship to celebrate over a Heisman, but since were talking about things WE have no control over I'm rooting hard against Hurts.
There was a three way tie atop the Heisman schools and now Oklahoma is very close to being able claim themselves as the sole Heisman U.
I'm afraid Hurts needs to get hurt for a non Oklahoma QB to win this year. I'm hoping Sooner fatigue will come into play. That QB from LSU is good too, he might have a shot. (Where did he learn how to play college football again?)
Cooper would not let him out of the car until he committed!
Michigan has a 5 billion dollar endowment. OSU's is just over 1 billion. So they can actually afford to top any offer we make to a prospective player.
They can't do anything about the terrible weather up north. I've heard we make recruits walk into a freezer when they visit just to illustrate how cold it gets in the mitten state.
We just chose to pay players sacks of cash directly and they choose to pay the coach. He then redistributes the cash based on the amount of oval wolverine stickers players earn.