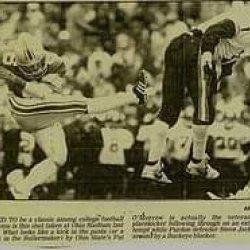 sarcastrophe71
---
Cambridge,Oh (via St.Clairsville)
MEMBER SINCE May 28, 2018
Favorites
COLLEGE FOOTBALL PLAYER: Eddie George
COLLEGE BASKETBALL PLAYER: Michael Redd
NFL TEAM: Bengals
NHL TEAM: Penguins
NBA TEAM: Cavs
MLB TEAM: Reds
SOCCER TEAM: haha
Recent Activity
And we have Parris!!
Probably not a bad plan actually,assuming you.a high powered offense that can get you out of a hole quickly..I highly doubt they do it intentionally but stranger things have happened,both before and after noon
I really enjoyed that,they seemed articulate and thorough while also being fair,kinda shocking coming from an SEC channel.Now if they would've picked TCU I would probably feel a little different,lol.But I honestly thought they did a good job,I like seeing fans of other teams and conferences giving a fair analysis of tOSU...
I would also like to see Riep get some run with the starters,obviously the coaches see these kids day in and day out but Rutgers you would think would be a good time to try some different things..
The one column they had the edge in,punt returns,should be one that they will have very few cracks at..at least you would think
If tOSU played in the ACC they would probably be at one hundred percent also,the Big Ten,especially the east is brutal..I think we win em all,but I've also thought that every year I can remember...
62-17 Buckeyes!!!
Back to football and recruiting talk,been a strange month to say the least!!
And I heard he once said water is wet and pissed off every piece of ice in the known universe,smh
If you took that as anything but low brow joke,then well thats too bad,not sure how that could upset anyone,well sadly I do actually..
Who is that next to Garrett in the top picture?Can't figure it out..
You can almost feel football in the air,I'm ready to pound some beaver..and I'm excited about football too!!
Amen,and that website will never get another click from me,I hope they just keep sinking!!
Gotta love stories like this,most news seems to be of the negative variety but love seeing these kind of things from great young men!
Looks like a grown man already!
got stuck in the student section,the usher wished me and my buddy good luck on the way in,kid grabbed my toboggan and that set it off before the first kick..even surrounded by thousands of idiots I wasn't taking that and it was on from there..needless to say it was a very long day and I will never return to that hole in the ground they call a stadium!!
gotta love the pipelines,would love to see glenville or another ohio school get back in that position,but love the out of state ones too!
Tough to wrap your mind around something like this,such a strong person to be taken so young,ya just never know..RIP Mike and prayers for the family and friends..
Idiocracy!
even though I was young,its a shame I don't remember him,at least his name..sounds like he was a very good player..I do remember bacshnagel(sp?)though
I only vaguely remember him but what a sad story,had a bright future ahead of him..life can be taken at any time but you try to do your best with the time you have..RIP #49
good point but purple doesnt rhyme with jobu,thought I could slip it past everyone,but good eye..lol
Jobu in LSU blue,odd looking sight..I wish him well but I still can't root for them as a team except a couple of obvious games(Bama,Miami),maybe a couple others,haven't looked at the schedule..but im pretty sure he doesn't care..Go Bucks!!
Troy,Pryor,Braxton,JT,Cardale..and hopefully Haskins adds to a pretty darn good run of quarterbacks for tOSU
Boom!!Kane is Able..think I saw that on the movie "The Program"..lol