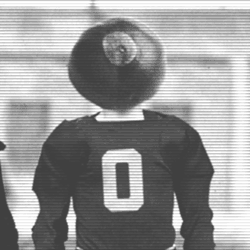 SantaBarbaraBuck
---
MEMBER SINCE February 11, 2015
Recent Activity
"If you've read my stories from my three years covering high school sports (you haven't), or if you want to go back and read them (you don't), you would find out that I love the redemption angle"
I simply love this piece of writing. Funny and self-deprecating while also establishing your street cred. I know you don't care about my analysis, but, there you go :)
Exactly. I thought it looked pretty nasty but based on the lack of commentary during the game I just assumed I was being my normal overly-dramatic self.
Could not agree more. Honestly, with our receiver play, and the effectiveness of our offense, I'm surprised that so many people complain by our lack of tight end targets. I mean, have they SEEN our offense??
I'm more surprised that any hyper-legit tight end prospects actually consider playing here.
"It didn't really get too crazy..." - I thought that was a slightly weird comment.
Agreed. I keep reading about what a great throw that was. It wasn't. Olave is a gamer.
Monsoon is a slight (huge) exaggeration
I agree. Successful, in my mind, means we get the recruit on the good team. But I understand where they're coming from...
Right?? Insanity. The weight programs these kids are on now are so much more sophisticated back in my days.
Didn't read this post or downvote you. You're a sad little man.
Olave is simply that dude on your high school team who ended up making every clutch play. It's actually uncanny.
Ugh. I think it's enough with the "Peds" talk. That regime has gone. If you want to mock James Franklin, I'm all for it. But come on.
By the way, love the Mailbag concept. Super valuable insight and excellent way to engage your readers.
I loved Mack coming out of high school. And I loved his big catch against Michigan (from Haskins). But, honestly, I don't see him as a game changer. I don't think we're missing him on the field at all.
I remember the "why can't we have an Olave". I literally laughed out loud when I read that :)
Works for PSU or Barnes and Noble?
Agreed. I honestly have no idea how anyone can have an issue with the current rankings.
Kudos to Harbaugh (never thought I'd write that). That was a bad-ass thing to do.
Agreed. Safe isn't the term I'd use to describe him. I love him but, man, I get anxiety when he's back there.