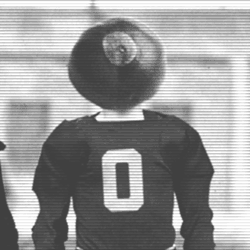 Sanitarian2
---
MEMBER SINCE April 05, 2018
Recent Activity
Not supposed to go back for thirds when drinking the blood of Christ from the chalice.
Without speculation recruiting threads would be 10 posts long and average one post every two months. One could just read the newspaper to find out when a recruit commits.
Few posters on this forum are truly angry with a recruit that decides to take their talent to another university. Disssssapointed certainly, depressed and perhaps a bit miffed but most do not hate. It's the lying, misdirection and gamesmanship, granted from all parties, that grinds upon our souls. When one comes from a world where honor and your word are two of the few things one can truly call their own and others shred those values, it's difficult to understand or accept.
I have a foot in two worlds much like these athletes though my two worlds are those of extreme wealth and that of the middle class. Existing in those two worlds can be difficult and the lessons taught in youth are paramount to navigating the maze. Excuses abound for many a young athlete, age, upbringing but in the end it is they that reap that which has been sown.
Then again, we the fan, put far too much angst and energy into those that represent our favorite sporting teams. Jealous we are of their chance to be more than we could ever hope to be, wishing that we could put our will into their bodies. Knowing, not just thinking but knowing how much more we could accomplish with what the genetic lottery has provided to them.
But momma, it ain't fair, Jimmy's mom let's him be a big time college football star.
I offer my hand to you, through the fog that surrounds us both, you have but to take it.
One has to wonder if some of these recruits have parents, I would certainly never allow my son to act in this manner. If they were truly elite I would push them not to commit so soon either, wait the process out until you are absolutely sure of your decision. They would not be taking visits after they committed either, especially while pretending to be committed.
Pot must be stirred to produce an exceptional turtle soup.
It's not so easy to figure out who will PLAY well in game conditions as many posters seem to think. Just because a player is fast or strong doesn't mean a thing if they can't figure out where to be or HOW to make a tackle. You also have to determine which players compliment each other on the field, which ones are ready for the pressure of the game.
Cardale's flashes were in a pan, he had a great run that nobody can ever take away from him and God love him but he at QB for the entire season would have resulted in two more losses. As the Pro's have proven, he could not read defenses and he lost his 50/50 passes to WR's that could and would make him look good. If Burrow was going to go Pro a year before he runs out of eligibility, why is he still at LSU?
No reason to down vote a poster just because they are wrong in their opinion
Bingo, it's amazing how people tend to think that a player could accomplish as a frosh or Soph what they do as juniors or seniors, all things being equal. Haskins would not even have started as Burrow would have won that contest, easily. Even Haskins notes that he was not ready early on in his career. You also are playing behind a different line with WR's that have a year less in experience with a different WR COACH as well.
Several posters on this forum work in the concession stands, on a percentage of sales. Others rent parking space to strangers on their front lawn, they might lose cash. I personally credit the second to last NC with saving my life so there is that.
One loss years are one loss years, what difference would have it made with Haskins or Burrow as QB? Other than style points it made zero difference in the end, right? One even has to wonder if JT's skill set would have allowed the offense to grind it out a bit more and protect the HORRIBLE defense a bit by keeping them on the sidelines. I will admit that Haskins was more enjoyable to watch but he brought us zero extra wins than JT's average.
And your point, was that bad?
Clearly, we as a people have had it too easy for several generations. Very little true poverty, not having to worry about world events destroying us, plenty of cheap drugs and hot women. It's little wonder the last two generations have been a problem and our society is losing it's way. We worry about cable or Dish going out or only getting 8 hours of sleep a night. We worry about "micro-aggressions" and being obese while our ancestors worried about "Macro-Aggressions" and being 130lbs.
We just be trying to help the young man, if we bitch enough and call him names he won't have to be sitting out next season, it be the NCAA law now. I think one more "Poo-poo Head" gets ur dun. Maybe the God will talk to the NCAA and tell them to let him play next season, that's an option too.
Not so much until just recently when the economy took off, before that it was common to stay at a job you hated because you had a job and that was wonderful. I do agree, sit out a year to pay your dues and it's acceptable. Stop the Fields, someone called me a bad name, or our wonderful backup QB's, they changed the offense/head coach left me, crap.
2019 Starting Center might be in Europe, shared minutes to both.
So he was "made" after the spring game rather than before it? Why take reps away from the other two QB's if this was in the making for months. I feel like leaving because I miss my family or someone is ill or something but if you list me as the starter after the spring game my problems or concerns will disappear.
OSU honored the scholly of an injured player that they knew would not contribute his first season and they get paid back by......................
Day was stabbed in the back by the frosh QB he recruited, not sure one can blame that on him
Not sure what forum you are talking about, Tathan was beaten like a red headed step mule.
The retention rate includes those that drop out of school, not just those that transfer and moving from a branch campus to main campus should also you be included. The rate of transfer for college athletes should be significantly lower than for traditional students as they receive far more support in terms of tutoring, expenses. etc.
If God tells you to transfer you do so, it's clear.
Being named the starting QB would probably have CURED that particular condition, don't you think?
I've turned down more money to stay loyal to those that gave me the chance to rise up the ranks, not everyone feels the need to chase the dollar. I've always told my children that you have to put in your time, to work your way up the food chain and to bide your time. Not all young'uns feel entitled, that they should be making adult cash after two years.