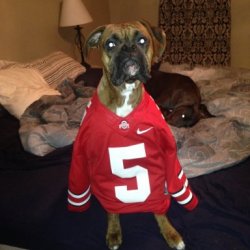 saluki2007
---
MEMBER SINCE August 05, 2014
Favorites
SPORTS MOMENT: Watching tOSU beating the team up north in the shoe live and then watching them beat Miami a couple weeks later.
COLLEGE FOOTBALL PLAYER: Eddie George
COLLEGE BASKETBALL PLAYER: Mike Conley
NBA TEAM: Memphis Grizzles
Recent Activity
I need that Bart Simpson shirt stat!
I was there and it was not a Black out...just like this Friday will not be a black out rather a sea of scarlet.
The party bus I'm taking leaves the bar at 6:15 from Wrigleyville if that helps...
But to be fair, they also had the highest-paid wide receiver in NFL history in that same offense, so they probably just threw it him every down instead.
Still too soon.
I remember when I could buy it for $35. Now if I'm lucky enough to find a bottle it's $45-$50.
So treating your children like they are people is good for both the parent and the child....who would have thought?
If that was the case he wouldn't have been born...
That was soaked in gasoline.
They have one playbook they all learn. Then depending which QB is on the field the called plays will tend to be to that particular QBs strength. Again the whole playbook will be available though.
I read it on the internet so it must be true...¯\_(ツ)_/¯
It may be possible for him to take online courses to finish up...
Nah, that was just a mirage.
I wouldn't go as far as saying he's trash, but there is something about is on field attitude/antics that rub me the wrong way.
The more these hires sink in the more I like them.
Most recently he was the LB coach. Has a history of doing D-Line and special teams as well. Thinking he will take over Urban's role on special teams at the least.
https://mgoblue.com/staff.aspx?staff=3713
As long as LJ is the dline coach they should play a 4-3. Want as many of "his" guys on the field as possible.
JT also got bailed out by some iffy PI calls during that streak.
When this article was first posted "coach" was left out of the first sentence. Was just having a little bit of fun.
I agree. Urban is not only one of the greatest college footballs, but one of the greats balls of any kind!
Prince does the same thing. If it's a pass he some how doesn't get called for a false start and he leaps back 3 yards. If it's a run he just stands there.
I can't tell if the first gif is our punt team or our kickoff receiving team...
I thought the first couple were, but this one and last week have been great.
Not denying what JT did in the 4th quarter last year, but he was helped out a lot by a couple pass interference calls. He threw at least 2 if not 3 terrible balls that were not catchable, but got bailed out by the PI.
That's the PA way of saying, "Bless her heart but..."