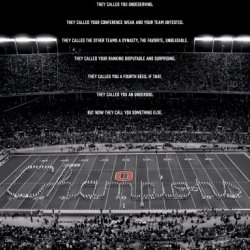 SaltyD0gg
---
Columbus (via Marion)
MEMBER SINCE December 19, 2011
I've seen the Eiffel Tower and the Roman Coliseum; I've toured Irish castles and African villages; I've walked the steps of Ukrainian monasteries and Guatemalan mountains, but I've never seen anything quite like Ohio Stadium.
Favorites
SPORTS MOMENT: 2002, 2015 National Championship game
COLLEGE FOOTBALL PLAYER: AJ Hawk
COLLEGE BASKETBALL PLAYER: Perry Carter
NFL TEAM: Browns
NBA TEAM: Cavs
MLB TEAM: Indians
SOCCER TEAM: Crew
Recent Activity
Didn't Ryan Shazier play for Meyer?
Make the games a bit longer, shorten the shot clock, change the continuation rule, etc. There are tons of things that can be done to impact the scoring. Add a 6th foul for guys. Who wants to see 3 guys a game get bounced? I get that our offense sucked and that's why our scoring was low. However, MSU only scored 62. 62!
While I don't need to see 178 points scored by one team like the NBA all-star game, 50-60 point outputs just suck. And don't get me wrong, I like defense. But if I wanted to see 44 points in a game I'd go see a high school game.
The University of Miami University Bowl
The NCAA needs to make some changes. Collegiate basketball is slow, low-scoring and often boring. Follow the NBAs lead and implement changes that will drive up scoring. Having the leading scorers for the game with 12 and 14 points is just gross.
So, is this fake news or real news about fake things? Maybe someone will make a deep fake about the fake recruit.
Bonus question, just how douchey is Tom Crean?
Dear Browns,
Please don't become the Bengals.
Respectfully,
All of Us
Some people are just drawn to mediocrity.
Wow, Gaffney is long. He thin, but I welcome the length. Can't wait to see these guys suit it up next year.
Yep, Belichick and it's not close.
CJ Jackson will now be know as No J Jackson. His jumper has disappeared.
Yep, when running out the clock or downing a kickoff.
I just don't understand how we can be this bad offensively. When we finally stop turning it over we can't hit anything.
Imagine the readership if a dog person ever wrote the Skully. Easy call 11W.
His speed alone will get him noticed. Add in his leadership, character, special teams ability and hands and he is going to get a good shot.
Let's these guys know how to score and not turn it over. The BasketBucks could use some of that.
Special times when one Buckeye might knock another out of the #1 pick in the draft.
Speak for yourself, the nightly Hurry Up is appointment reading.
Refs, bad.
shooting, bad
MD lights out shooting
not a good mix
I still just scratch my head over Elijah Gardiner.
I think he should go to Clemson.
What if Cooper was still the head coach?
Hopefully, Al Washington has already reached out to Cade Stover.