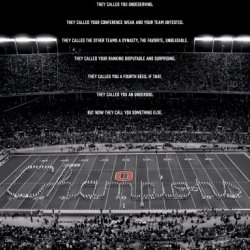 SaltyD0gg
---
Columbus (via Marion)
MEMBER SINCE December 19, 2011
I've seen the Eiffel Tower and the Roman Coliseum; I've toured Irish castles and African villages; I've walked the steps of Ukrainian monasteries and Guatemalan mountains, but I've never seen anything quite like Ohio Stadium.
Favorites
SPORTS MOMENT: 2002, 2015 National Championship game
COLLEGE FOOTBALL PLAYER: AJ Hawk
COLLEGE BASKETBALL PLAYER: Perry Carter
NFL TEAM: Browns
NBA TEAM: Cavs
MLB TEAM: Indians
SOCCER TEAM: Crew
Recent Activity
Why do our b-ball classes keep falling apart?
Chin up, Zo, the rest of us are watching from home as well.
LOL. A little closer to home... I think this works in OSU's favor. They're pretty accustomed to playing in front of almost no one at the Schott.
Well as long as it's only old and sickly people, then who cares.
The callousness of this argument is wearing really thin.
That won't be the last career Jeff Okudah ends.
There's a lot of competition for that title...
I wasn't familiar with him, but I am now. Wow. Can't wait to see him in the fold.
Huge win to get to 20 on the season and assurance of at least .500 in the B1G regular season. If they can pull off one more win in the next 2 games, that would be huge. Two wins might move them up to a 5 seed in the dance.
Surprised to see such a cavalier attitude about this virus by so many. If this was just some common flu this thread wouldn't exist.
As I learned in Boy Scouts, be prepared.
Liddell is going to be a problem for the rest of the B1G in years to come. He's got some meanness in him and his offense is pretty silky for a big.
My thought exactly. I don't know if he's as refined in the low post, but he just looks like him.
It would be interesting to see sacks in relation to interceptions somehow. Would be interesting to see.
Why do all our DCs go to be coaches at MSU? Gross.
If it goes up from the best single season in OSU history, I'll be impressed, pleased, and surprised.
Truly hope DJ gets the help he needs and comes back ready to deal with the life in front of him.
From a purely basketball standpoint, can we just be done with this season and come back next year? It started with so much promise and now it's a new travesty every other day either on or off the court.
With his success and Joey's success, Chase Young will be the easiest, slam-dunk draft pick in recent memory. I like Burrow, but CY is as can't is as they come.
BFB - Big Freaking Boom. Or, if you rather a #CooBoombs.
The current RB recruiting reminds me of DT recruiting a few years back before we finally landed Taron Vincent.
Fresh off the success of Zeke and JK, it's hard to believe that we haven't landed an elite RB. Alford is officially on the clock. If you can't get it done in recruiting, it doesn't matter how good you are on Saturdays in the fall.
An "Inside WR coach", it won't be long and there will be a coach for literally every position on the field. Bullet coach, long snapper coach...
Wow, Jack Pugh on the radar. My son and Jack were on the same 7th grade football team. Jack's older brother Trey played for Jonathan Alder and went on to play TE at Northwestern.
Ok, I just have to say it, "funnest" is not a word.
This team is so weak. Man, how far they've fallen.
This is a very sucky good team. Where is Washington? Why does Muhammad give away his shot for Christmas every year?
carton is going to be very good, but he still makes a lot of freshman mistakes.
He's lasted more than 1 year as a HC for the same team in the NFL. That puts him in like the to 10% of NFL coaches these days.