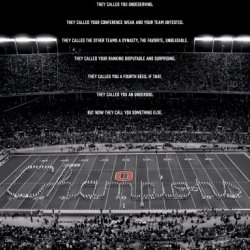 SaltyD0gg
---
Columbus (via Marion)
MEMBER SINCE December 19, 2011
I've seen the Eiffel Tower and the Roman Coliseum; I've toured Irish castles and African villages; I've walked the steps of Ukrainian monasteries and Guatemalan mountains, but I've never seen anything quite like Ohio Stadium.
Favorites
SPORTS MOMENT: 2002, 2015 National Championship game
COLLEGE FOOTBALL PLAYER: AJ Hawk
COLLEGE BASKETBALL PLAYER: Perry Carter
NFL TEAM: Browns
NBA TEAM: Cavs
MLB TEAM: Indians
SOCCER TEAM: Crew
Recent Activity
If they haven't nailed any of those guys then LJ has nothing to worry about. But this is OSU, if anyone is going to get nailed, it's us.
I understand condescending comments.
They should take away Bryce Love's degree. No way a Stanford guy should score that low.
At the rate we're going, I'm surprised it wasn't Vanatsky.
the first quarterback from any Big Ten school to be drafted in the first round since Penn State's Kerry Collins in 1995.
That's a nearly unbelievable stat. A Power 5 conference goes more than 20 years without having a QB taken in the first round. OU is about to have 2 taken #1 in consecutive years.
Yoder is the best pommel worker the US has had in a long time. If you don't know gymnastics it's hard to appreciate just how hard that routine is. Glad to see him cap it off with a title. When he hits that routine no one can touch him.
Let me clarify, I think Day is great. I have no idea about Yurich. But if guys really thought they could be developed here, you'd think they would stick around.
If Day and Yurich are as good as we all keep hearing, you'd think QBs would want to play for them... Makes you think.
#QBgeddon feels like a LONG time ago.
If only we could get a QB to transfer in...
He is still tall and rich.
Here's a fun connection for you...
Jake married a Columbus girl whose grandfather played and coached under Woody at OSU. OSU bloodlines run deep.
Kind of thought we'd hear a lot about the weekend visitors...
I heard Kyler Murry is planning to play in the NBA as well. If he ca do it at his height, then Edwards should get a shot.
Love it. Anything that helps the Bucks path to a B1G championship!
Hard to believe he's a grad transfer already.
I miss the Urban hyperbole. Day needs to ensure that his pressers are some of the best we've ever been around. Elite-level pressers.
I can't tell you how badly I want Kollin Moore to beat Bo Nickal.
Between Carton and Washington that will be one bouncy backcourt.
If Ruckert can't be an impact TE here then I'm not sure we'll ever see one.
He almost single handedly drew Justin Fields... That's why these are so perplexing. It took us so long to figure out Urban's methodology, what was commitable, etc. I wonder if this staff will play some of these differently going forward.