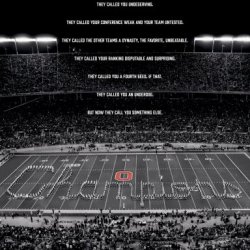 SaltyD0gg
---
Columbus (via Marion)
Member since 19 December 2011 | Blog
I've seen the Eiffel Tower and the Roman Coliseum; I've toured Irish castles and African villages; I've walked the steps of Ukrainian monasteries and Guatemalan mountains, but I've never seen anything quite like Ohio Stadium.
Favorites
SPORTS MOMENT: 2002, 2015 National Championship game
COLLEGE FOOTBALL PLAYER: AJ Hawk
COLLEGE BASKETBALL PLAYER: Perry Carter
NFL TEAM: Browns
NBA TEAM: Cavs
MLB TEAM: Indians
SOCCER TEAM: Crew
Recent Activity
I just threw up in my mouth a little.
But how good is he at dodgeball and lacrosse?
Beautiful strike by Jozi.
I can see that. My wife loves it. If it disappeared from the face of the earth I wouldn't notice.
All I can say is good luck to them. I wouldn't want to be on the other side of a legal battle with THE OSU.
They're welcome to The other OSU.
Oregon State can have The other other OSU.
You must be thinking of a different Clarett. But yes, that is definitely an unpopular opinion.
Skyline is the most overrated chain in existence - ok, except for Starbucks. And Cleveland > Cincy and it isn't close.
You must have moved here from somewhere else. No way a native typed that.
Your daily reminder of just how awful the Nebraska logo is.
So his shaved head was actually the result of a lost bet. True story. And not only did he shave his head but so did his son and step son.
There are only four, count em - four, active coaches who've won a national championship.
That's astonishing when you think about it.
Zombieland's main character being from Columbus is pretty tight, while we're at it.
Well, that's silly. Clearly it's the right decision.
I guess I don't understand. It seems you're saying guys wanted to commit but the staff wasn't prepared to take them. Based on who has offers who are we slow playing among the elite guys we were thinking would pull the trigger this weekend?
Definitely a disappointing FNL this year. So much hype and no update on why nothing happened. Just fizzled out.
The writing seems to be on the wall with Chatfield.
He can barely climb a flight of stairs let alone play competitively.
I think someone forgot to tell the recruits that we were expecting multiple commitments tonight...
My thoughts exactly - a likelihood in between Chip Kelly and Mack Brown. Put another way somewhere between 0% and never.
This is kind of like watching that Dream Team practice game at the Barcelona Olympics. They just need Amir Williams to be Christian Laetner.
It'll only be back and forth if they sign 37 players.
I had to login just to comment on Pre-Madonna (prima donna). So funny