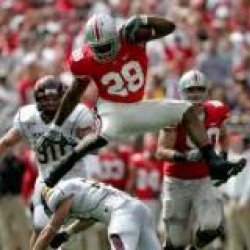 saltybuck61
---
Salt Lake City, UT
Member since 24 July 2013 | Blog
Favorites
SPORTS MOMENT: The 2007 game against TTUN. It's the only game against them I have been to. The O-H-I-O chant in the Big House is something I won't forget.
COLLEGE FOOTBALL PLAYER: AJ Hawk/Ryan Shazier
COLLEGE BASKETBALL PLAYER: David Lighty
NFL TEAM: Detroit Lions
NHL TEAM: Detroit Redwings
MLB TEAM: Chicago Cubs
Recent Activity
Absolutely. Night and day from 2016.
UCF didn't embarrass themselves either, so why didn't they get in? Their omission alone shows that what you accomplish still matters. Alabama got manhandled against their biggest rival and beat two barely quality opponents until the playoff.
I have maintained this year that Ohio State and Alabama were probably the two best teams in college football, despite what the fanbase thinks. The advanced metrics back this up, looking at both the S&P+ and the F+. Both of these teams would have probably won the national championship. No matter if it was Ohio State or Alabama who won, the other would have an argument that they were screwed.
The Oklahoma game was the one where all of the land from Ohio was lost.
I get it for the Clemson game. The offense was anemic all year, with or without JT. Sure, it might have been better with Haskins that game, but Tim Beck was still at the controls. He didn't succeed here or Nebraska, and his first season at Texas left a lot to be desired. Even if they did switch to Haskins, you were going to get a lot of QB runs regardless.
Bowl practices are huge for the development of younger guys. They don't get to play that much over the course of the season, even in practice. They can actually work on getting better during these practices, which is why we have seen a lot of underclassmen emerge at the very end of the year.
I don't know. Michigan, Michigan State, and Nebraska are all in the month of November. Those games will make or break the season if you ask me.
I have watched quite a bit of Alabama over the years since they have been one of the best programs in college football, and it is more of the same. Their fan base shares a lot of the same concerns that we have. Alabama doesn't have the most dominant offensive line, and rarely does. Alabama's receivers seem to be better prepared on the offense, but that is about it. On the defensive side, I don't see a huge difference. Maybe their linebackers, but that is really only this year. The two programs are closer than you think.
I was thinking about it, and Alabama got the benefit of the doubt many years where Ohio State did not. In 2011, they got a rematch with LSU. They should not have won the National Championship that year. In 2012, Ohio State's bowl ban is the only reason they won. In 2015, that Ohio State team would have won the NC easy with Elliot, Bosa, Thomas, Lee, Bell, Apple, Conley, and Barrett. Yet that team didn't get in because the playoff committee had different rules back then.
If Alabama had not won the 2011, 2012, and 2015 championships, we don't talk about them as a dominant power. They have skated on their reputation more than you think, and it is my belief that they will not be much better than Ohio State for the foreseeable future. Their notoriety has helped them win national championships that they frankly didn't deserve.
As far as I am concerned Wilson was a huge success. The offense returned to the effectiveness of the Herman offenses.
Agreed, but we should be saying the same thing about Saban right now. He had an easy schedule and yet he got embarrassed in his rivalry game. Yet he made it because the committee forgave those sins. If they had done the same to Urban Meyer and Ohio State in 2015, they would have been back-to-back national champions, without a doubt.
I have rewatched it, and I wasn't as unimpressed with JT as I was while I was watching it. More than anything, the defense was horrendous, and the wide receivers disappeared. JT threw some bad picks, there is no doubt about it. However, there was little to no effort to establish any type of rushing attack, despite Dobbins and Weber running well.
The linebackers, wide receivers, safeties, defensive line, and offensive line played more poorly than JT. The offensive line played decent, but when Jamarco Jones, Demetrious Knox, and Isaiah Prince all go out with injuries, it was going to be tough to move the ball.
I agree. This year's Clemson is last year's Ohio State. A one-dimensional offense with a good defense. Ohio State is a better offensive and defensive team this year. I think the game would have been a similar result as tonight, to be honest.
I don't mind Alabama in the playoff. I was always of the belief that the S&P+ and the F+ rankings were better at displaying the best teams. For example, I did not think Clemson was all that good this year, despite being the defending national champions and having a difficult schedule. They reminded me of last year's Ohio State team. By the end of the regular season and conference championship this year, the top ten of the S&P+ was
Ohio State
Alabama
Georgia
Washington
Penn State
Wisconsin
Clemson
Oklahoma
Central Florida
Auburn
I still think Ohio State deserved to be in over Alabama based on the resumes, however, that doesn't mean I think Ohio State is the better team. If you wanted to put in the four best teams, put in Alabama, Ohio State, Georgia, and Washington/Penn State. If you wanted to put in the teams that deserved it most, put in Clemson, Georgia, Oklahoma, and Ohio State/USC. Regardless, Alabama's performance is likely proof enough to many that the committee made the right decision.
This is what I was thinking watching last night's game. I like Haskins a lot, but seeing Sam Darnold play showed me what Haskins could potentially be at his best. He will make some throws that are unbelivevable, but he will also make dumb decisions that will cost the team the football game. That is my only reservation with him.
JT Barrett will go down as one of the greatest college football quarterbacks ever. He was a better passing version of Tim Tebow. He wasn't perfect, but he was great, and in a few years, the memories of him will be overwhelmingly positive.
You saw what he can do in the middle of the season from Army to Penn State. Unfortunately, his scheme and play calling was also present during the Iowa game. After that, my guess is Urban went back to the controls. I would like to see it back next year, with everyone having a year to understand it. Also, if Haskins starts, they won't be able to rely on the quarterback run anymore, which will be a nice change of pace.
This offense was a top ten unit all year. It's hard to get mad at that. They can't get much better. This was really the first game that they committed to running the football with the running backs, and it didn't work. After the Iowa game, Urban clipped the wings on the offense. Any part of the extensive passing game that was there was removed in favor of the offense he used last year. It wins games, but it's frustrating to watch.
Absolutely. The first two drives of the second half the offense was moving the ball a little bit. After that fourth down spot though, he went full Tressel. That was a vintage beat down.
They completely gave up. With seven minutes to go in the fourth there was no hustle at all. They accepted the loss early in the fourth.
Two pass breakups and a forced fumble. He was spectacular tonight.
Ever since the Penn State game he's been solid. I think he's made real progress.
I live in PAC-12 country and have watched both of these teams extensively all year. I will be stunned if this game is close. I would pick Michigan or Michigan State to win against USC by double digits. 56-20 Ohio State.
Agreed. I am surprised that people consider Iowa to have been a big game. That Nebraska game in 2016 was against, at the time, a top ten team. JT went out and led the team to a 62-7 beatdown. Was Ohio State the better team? Of course. But they are clearly a better team than Iowa. Sometimes things just happen. The Nebraska game was a much bigger game than the Iowa game. I don't even think there should be a debate.
I think it depends what you mean by equal competition. I will go over the games where I think the level of competition was fairly close over the last four years, and show you his wins and losses. This does not mean talent, as there is probably no team with the exception of Alabama and Clemson that can compare talent-wise with Ohio State. This would leave JT 0-1, which is a useless stat.
2014: L: Virginia Tech W: PSU, MSU, UM
2015: L: MSU W: UM, ND
2016: L: Clemson, PSU W: OU, Wisconsin, Nebraska, UM
2017: L: OU, Iowa W: PSU, MSU, UM, Wisconsin
Total W-L against true competition: 13-6
This is being a little generous with the idea of equal competition. Iowa and Virginia Tech should probably not be considered equal competition. Even Nebraska in 2016 is being extremely generous. However, the assertion that JT has lost most of his games against good competition is incorrect. He wins most of them. He may not pass your eye test, but he generally plays well enough to win in big games.
I always felt like his hire was explicitly a recruiting one. His connections to Texas were seen as enough to look over his ability as a coach and a coordinator. I hope that was the reason. I also hope that Urban does not make the same mistake again.
I can't agree with you there. Losing another runner (JT) will limit how you can run the ball. I think the running game will still be pretty good, but this year Ohio State had two running backs in Weber and Dobbins who gained over six yards a carry, with Dobbins almost gaining eight yards a carry. It is possible that they can do better, but the running game this year has been unbelievable.
I think memories of an underwhelming 2016 offense are tainting the reality of the 2017 offense. This offense may have been Meyer's best yet, with its only competition being the 2013 and 2014 teams. Teams didn't stack the box this year nearly as much due to the increased usage of screens and the improved deep pass.